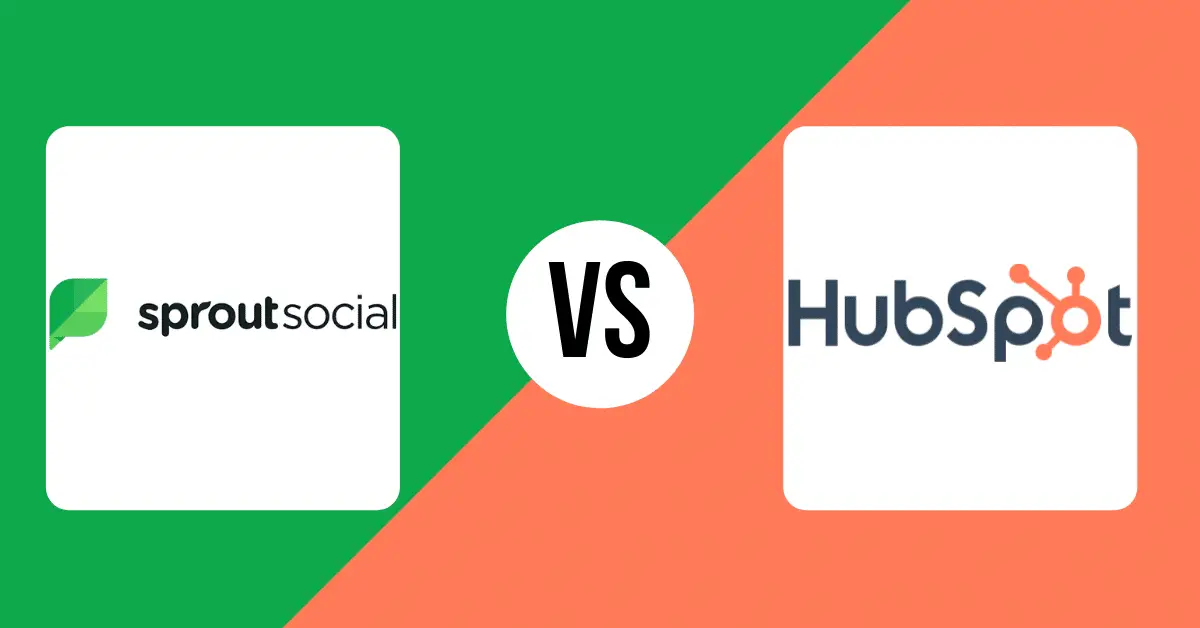 These days, a company's marketing success depends on its social media presence. Social media is an integral part of brand awareness and it's necessary to stay relevant and competitive.
That being said, many companies depend on social media management tools to stay organized and efficient when it comes to social media marketing. 
However, finding the best social media management software to suit your unique needs can be daunting. There are many social media management tools on the market, each with unique strengths and weaknesses. Some are best suited for small businesses that handle digital marketing in-house, while others cater to large corporations or use by large marketing agencies. Some work better with specific social media channels than others.
Sprout Social and HubSpot Marketing Hub are two such software solutions to consider. In this post, we will compare Sprout Social vs HubSpot so that you can determine which tool best suits your needs. 
About Sprout Social and HubSpot
Sprout Social began in 2009 when current CEO Justyn Howard, frustrated by a lack of social media management tools geared toward business and brands, began building the software's early incarnation. A year later, Justyn and current CTO Aaron Rankin founded Sprout Social with Gilbert Lara (Creative Director) and Peter Soung (director of web/mobile). 
The idea for HubSpot came in 2004, when two MIT graduate students, Brian Halligan and Dharmesh Shah, noticed a shift in advertising principles. HubSpot was founded on "inbound" tactics, based on the notion that people don't want to be bothered by marketers or salespeople. What began as a company providing CRM software, HubSpot has grown to offer various tools, including marketing software, sales software, customer service software, and a high-powered content managementsystem. 
Supported Social Networks
| | | |
| --- | --- | --- |
| | Sprout Social | HubSpot |
| Facebook | ✅ | ✅ |
| Twitter | ✅ | ✅ |
| LinkedIn | ✅ | ✅ |
| Instagram | ✅ | ✅ |
| Pinterest | ✅ | ❌ |
| Snapchat | ❌ | ❌ |
| TikTok | ❌ | ❌ |
| Other Channels | Youtube | Youtube |
| | | |
Sprout Social and HubSpot Marketing Hub both support Facebook, LinkedIn, Instagram, Twitter, and other popular social media. However, given that Sprout Social is specifically a social media management tool (as opposed to HubSpot which is a marketing tool with a social media management feature among many others), it makes sense that the platform supports a few other social media channels such as Pinterest and even Google My Business.
Core Social Media Management Features
This section will take a close look at the core features that make Sprout Social and HubSpot Marketing Hub preferred social media management software solutions for users, comparing and contrasting each tool related to these core features.
Scheduling and Calendar views 
Sprout Social's intuitive scheduling and posting tools make it easy for users to deliver social content quickly. Sprout Social users can plan their publishing strategy, maintain oversight from a central location, and organize posts across profiles, networks, and campaigns using a visualized calendar to manage long-term strategies.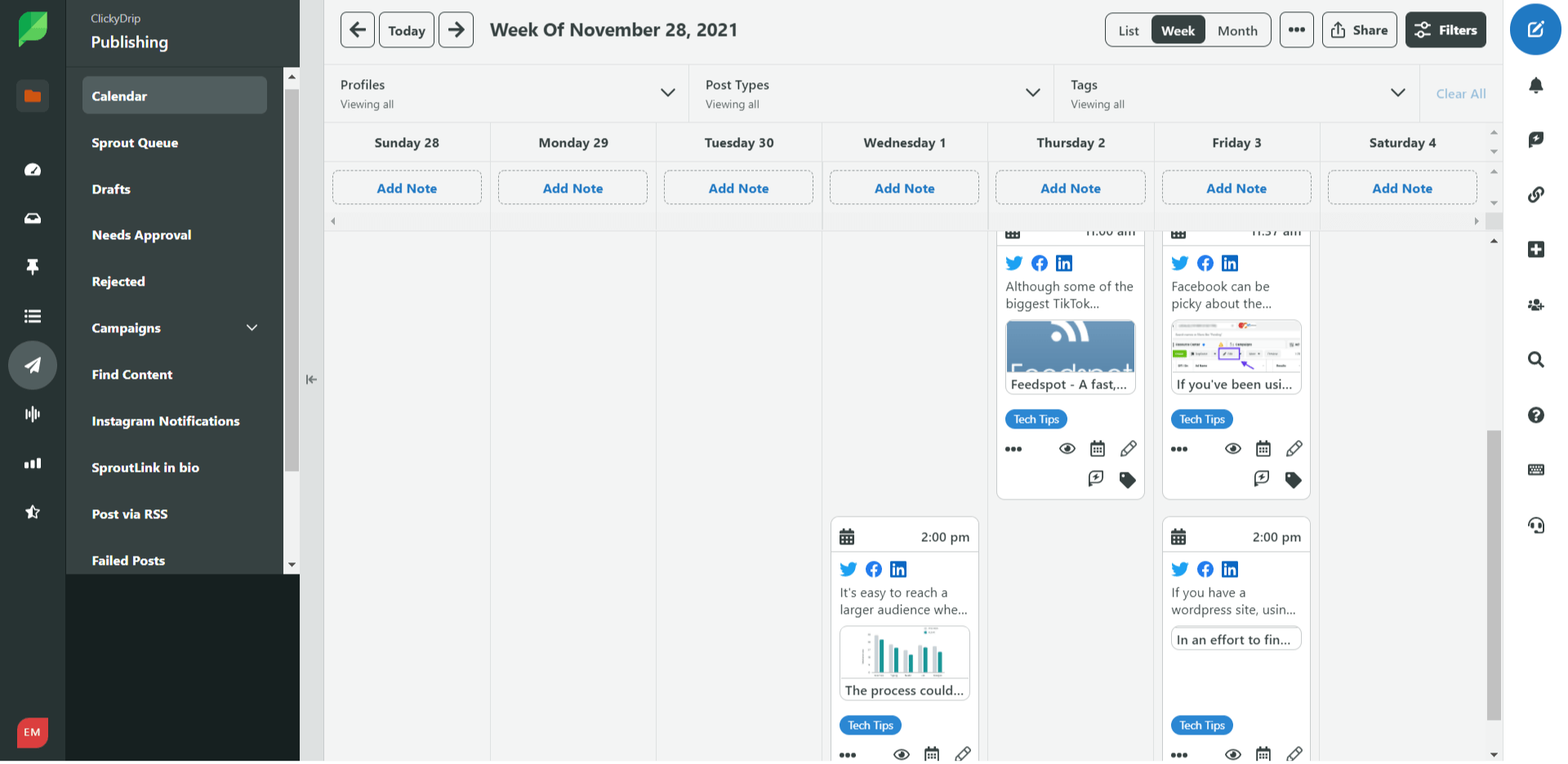 HubSpot's social tools allow users to post to social media immediately, at a custom scheduled time, or on a default publishing schedule. HubSpot Marketing Hub enables users to create custom publishing schedules to quickly set up posts based on the best times for effective engagement.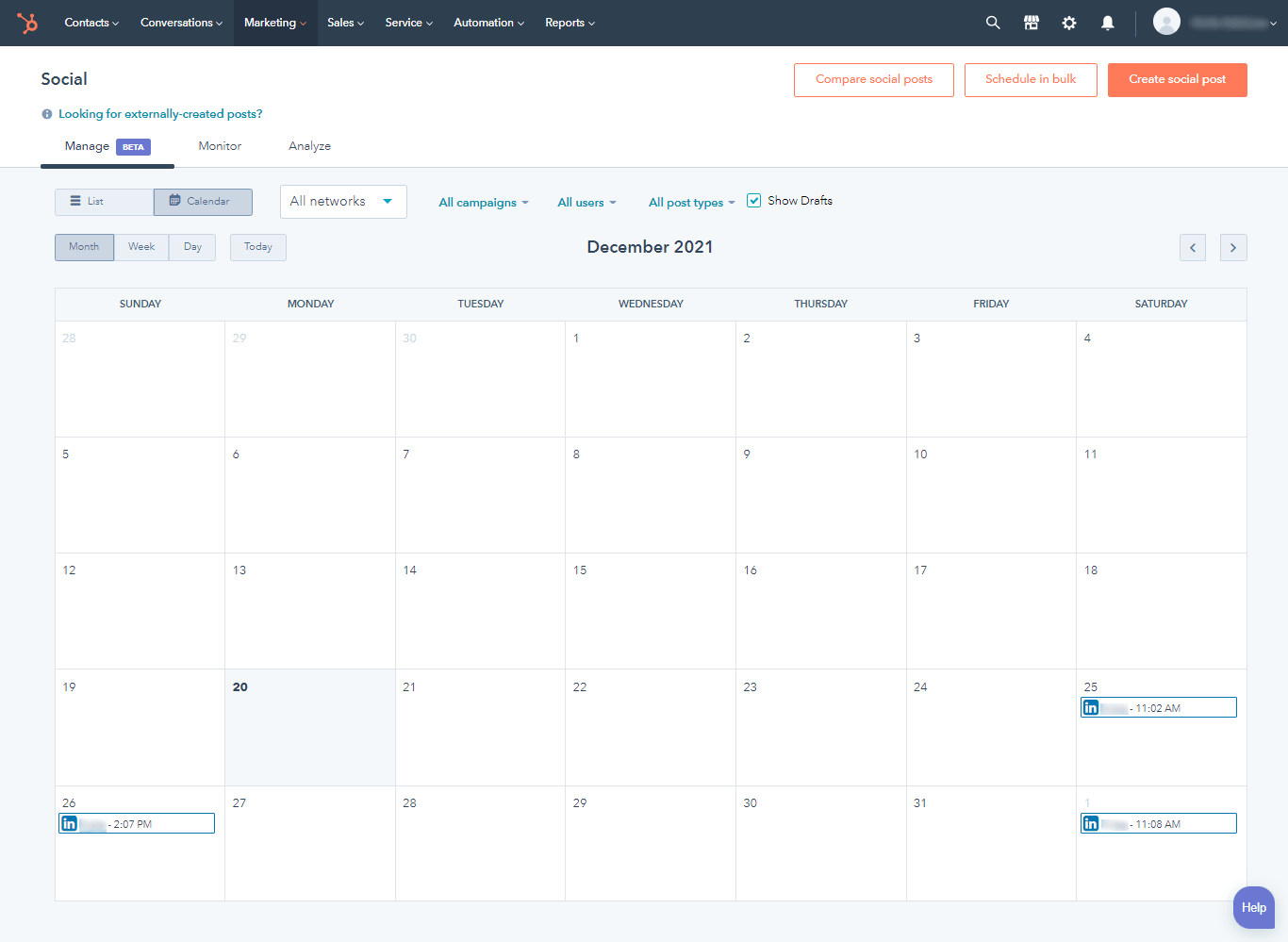 Social Media Monitoring
Sprout's social listening tools help users monitor social media conversations to extract actionable insight, identify industry gaps, and improve brand health. With Sprout Social's social media monitoring features, users can track industry trends and identify influencers. Sprout's social listening tools can help users monitor competitors, identify industry gaps, and leverage opportunities to set their business apart by effectively tracking brand-relevant conversations. 
Additionally, Sprout Social gives users the ability to view direct messages and comments on Twitter, Facebook, and Instagram from a single dashboard. The stream also features social media monitoring of brand keywords, powerful smart inbox filters, and custom tags to optimize interactions. With the Sprout Social platform, you'll never miss a chance to interact with your audience again.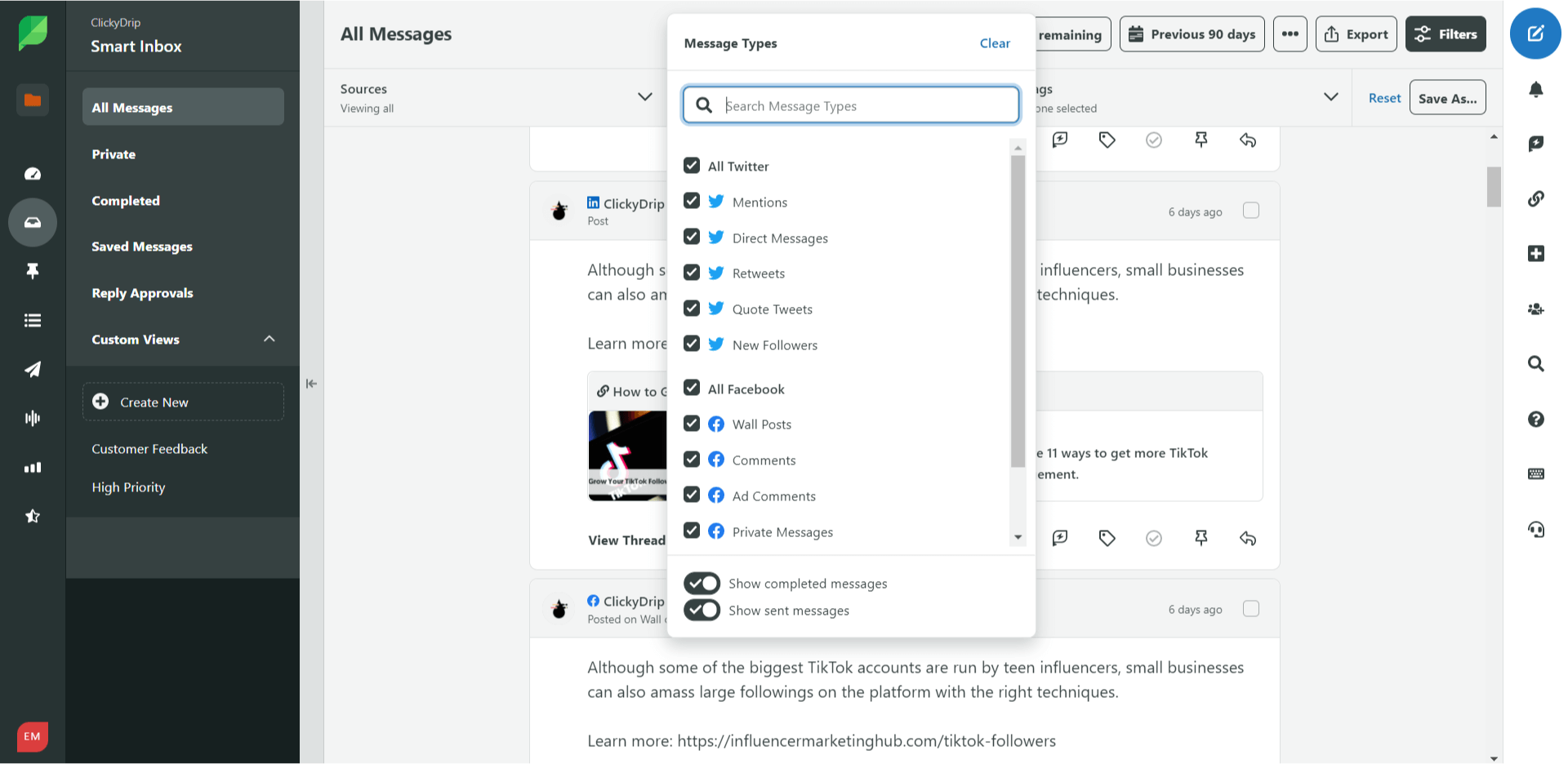 HubSpot offers similar social media monitoring tools that make it easy for users to see all of their social engagement in one place, including audience reactions to posts and the ability to monitor specific keywords and competitors. With HubSpot Marketing Hub, users have the power to easily monitor brand mentions and comments, and you can easily sort these interactions with filters as well.  
Not only that, but HubSpot also allows you to easily respond to brand mentions from one central location.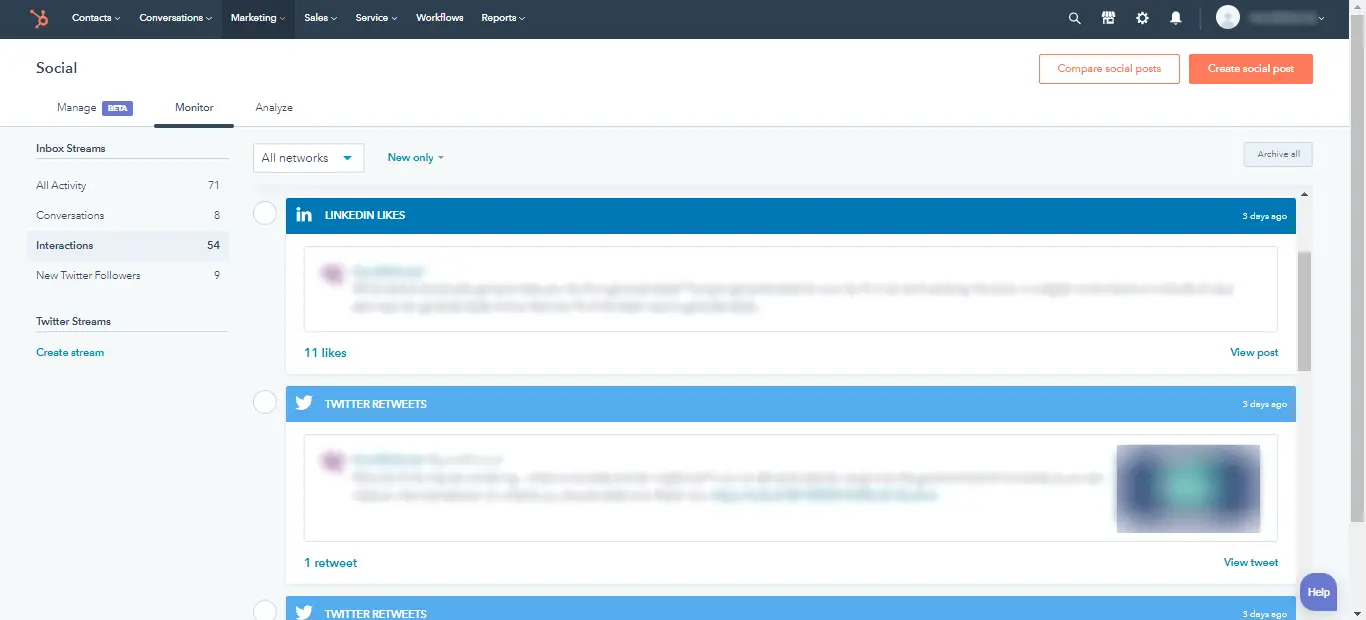 Chatbots
Sprout's chatbots offer users the ability to implement automated conversational workflows as part of the software's Bot Builder tools within its Engagement suite. Chatbots allow companies to automatically respond to direct messages on social media like Facebook and Twitter with canned responses. 
HubSpot Marketing Hub also offers similar conversation automation features using chatbots. However, with HubSpot, you can only create automated responses to messages on Facebook messenger. This feature does not support other types of social media. 
NOTE: Although HubSpot has excellent features specifically for social media marketing, it is also important to note that the social media marketing features are only the tip of the iceberg in terms of what HubSpot Marketing Hub is capable of. Some of the other marketing feature included in this product include: 
Forms

Landing pages 

Email marketing 

Livechat 

Ad management 

SEO tools
Approach to Posting and Scheduling
Sprout Social offers an easy-to-use social media calendar that saves time and allows users an easy way to track and test different strategies. The ability to plan a social calendar months in advance by scheduling posts ahead of time saves users valuable time and energy and helps build greater brand consistency. While Sprout Social offers an unlimited number of social media posts across all plans, it limits the number of scheduled posts to ten per day.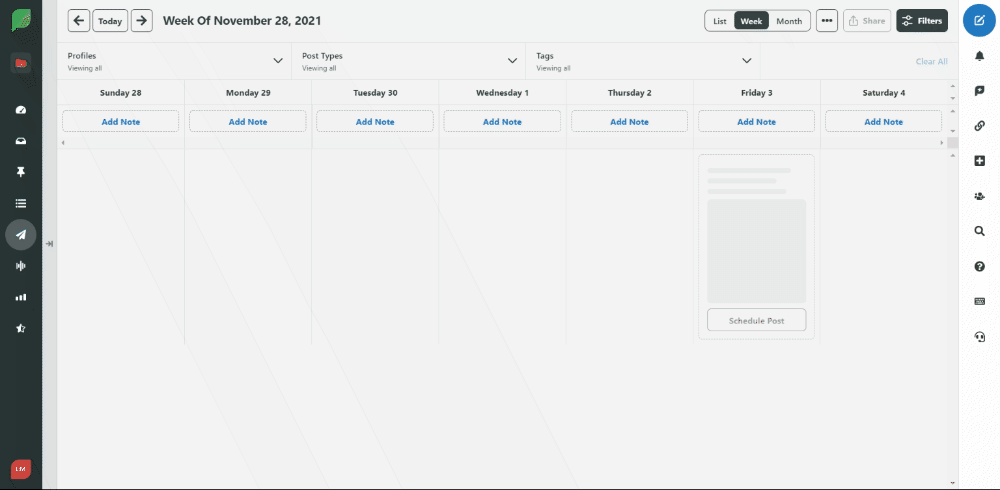 HubSpot's Social Media tool users can schedule posts for Instagram, Facebook, Twitter, and LinkedIn. Users can edit their posts, schedule them, and add @mentions to tag other accounts and users from a central location. Its bulk scheduling feature lets users set up posts, choose a posting time and date, specific social channels, and select a campaign from the drop-down list. You can even see a character count of your post and accounts for shortened links.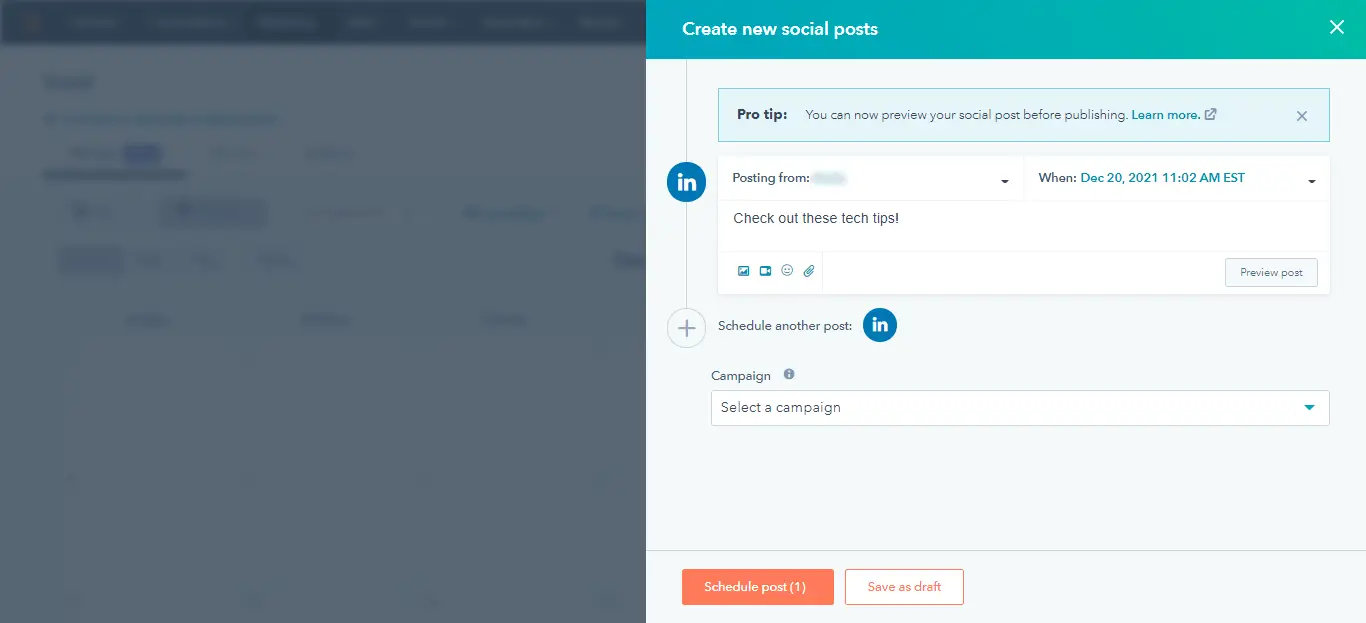 Dashboard Experience and Ease of Use
Sprout Social's sleek dashboard displays two menus. On the left, users can quickly access the various tools the software offers, including Publishing, Social Listening, the Smart Inbox, and more. Users have quick access to many functions on the right-hand side, including posting, collaboration, and support. In the center, users interact with those software features.
Sprout Social's user interface is clean and easy to use, though it can feel a little crammed at times. The dashboard would be better if the center of the interface were more prominent. Fortunately, the left-hand sidebar shrinks automatically when not in use. The "Dashboard" section features a handy Get Started checklist for new customers and a To-Do section that showcases new messages, assigned tasks, and pending approvals.
HubSpot's Social Media tool is just one aspect of the HubSpot Marketing Hub's features. HubSpot Marketing Hub Hub offers a responsive and easy-to-use user interface that provides proactive advice along the way. Its social media tool allows users to publish an email blast directly from Facebook, Instagram, LinkedIn, Twitter, or YouTube and then delivers detailed reporting. HubSpot has also added Google Search integration to add analytics directly from Google. The tool also allows users to easily create Facebook lead-gen campaigns and build out prepopulated lead capture forms that live in their Facebook stream. 
Reporting and Analytics
Sprout Social's data-driven social media analytics tools allow users to track, measure and benchmark their top posts. With Sprout Social, users can track Facebook Page impressions, count Twitter link clicks, measure follower growth on Instagram, evaluate engagement on LinkedIn, assess content performance on Pinterest, and so much more, all from one central location. Best of all, with Sprout Social, users can quickly organize and share data by creating easy-to-understand, presentation-ready reports.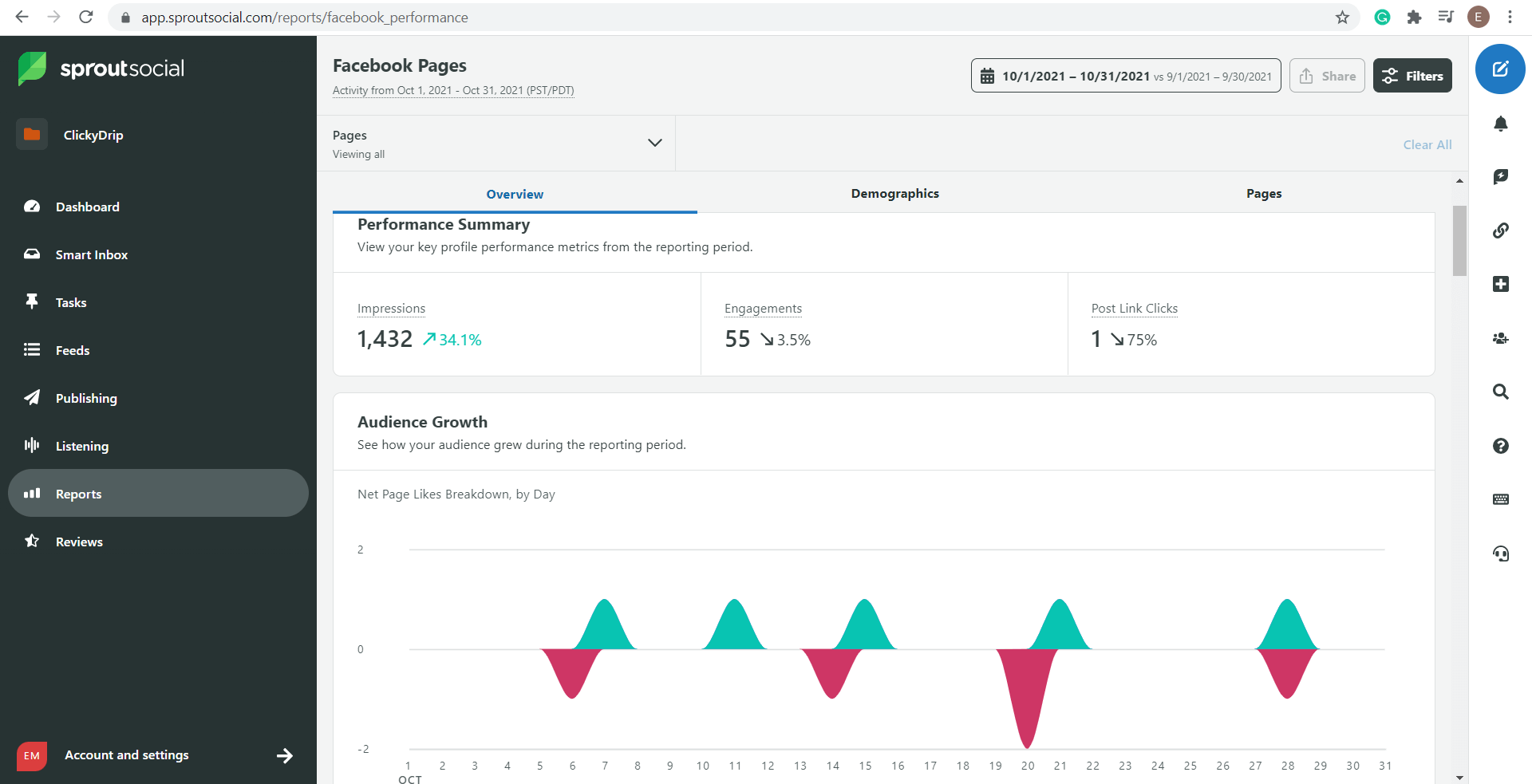 With HubSpot Marketing Hub, users can measure the performance of all of their social media marketing campaigns in one central location using built-in analytics, reports, and dashboards. With HubSpot, analytics are integrated into the whole user experience from the start. Users can see detailed information on every one of their marketing assets, including website and landing pages, emails, blog posts, social media channels, calls-to-action, and so much more. Users can add any report to their dashboard to track their most critical metrics in one place and easily share those insights with others.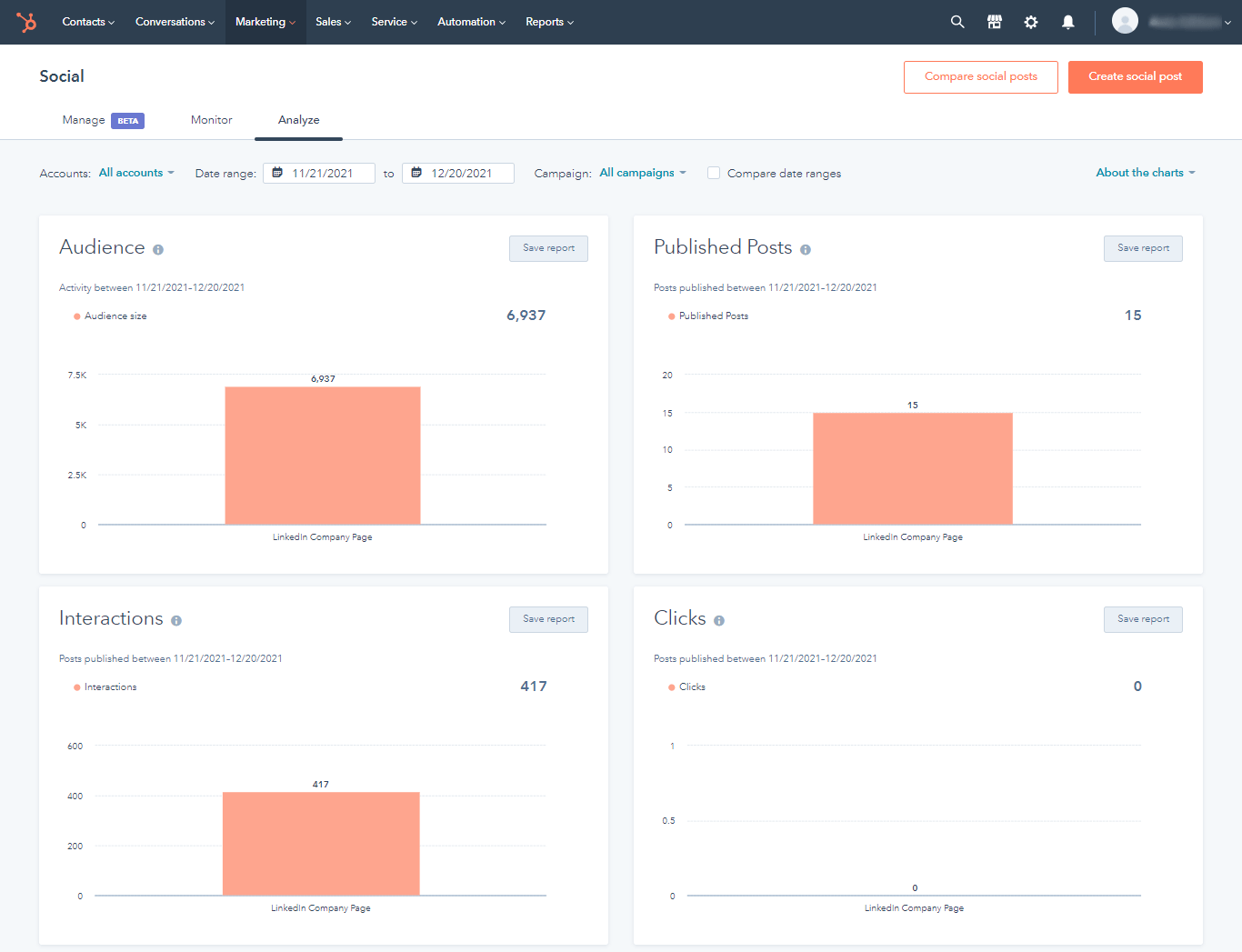 Team Management
Social Sprout's social collaboration tools were designed specifically for teams and are featured throughout the management system. For example, Social Sprout's Smart Inbox allows for a collaborative workflow using custom tags and filters for seamless collaboration. Live activity inbox updates show, in real-time, when a teammate is viewing or replying to a message. Users can quickly transform messages into actionable tasks as well. Users can even see who is available online and route messages to alert the appropriate team member.
Social Sprout also allows for complete task workflow visibility and the ability to measure and analyze your team's workflow efficiency. User-based publishing permissions provide team members custom access, and the shared publishing calendar provides team-wide management across multiple profiles and networks.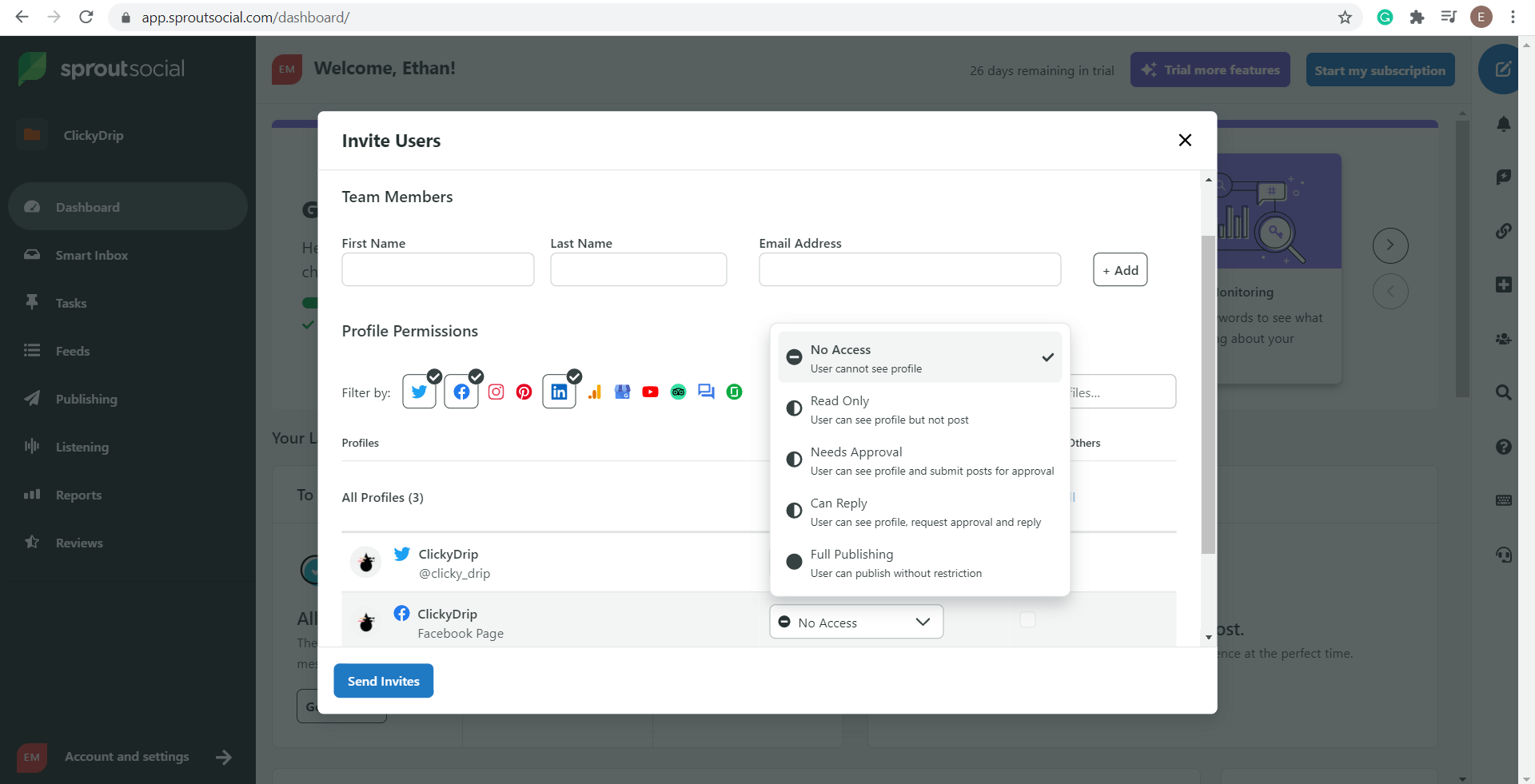 Teams can seamlessly collaborate with HubSpot's Marketing Hub to plan and execute large-scale marketing campaigns. HubSpot's marketing collaboration tools allow for group communication and sharing, task management and progress tracking, and more. Different users can be assigned different permissions based on how much responsibility each team member should have. For instance, you can give certain users the ability to create post drafts, but not the ability to publish them. 
HubSpot also allows for seamless collaboration between different teams (marketing and sales, for example) to provide the best customer experience through a host of great marketing automation tools.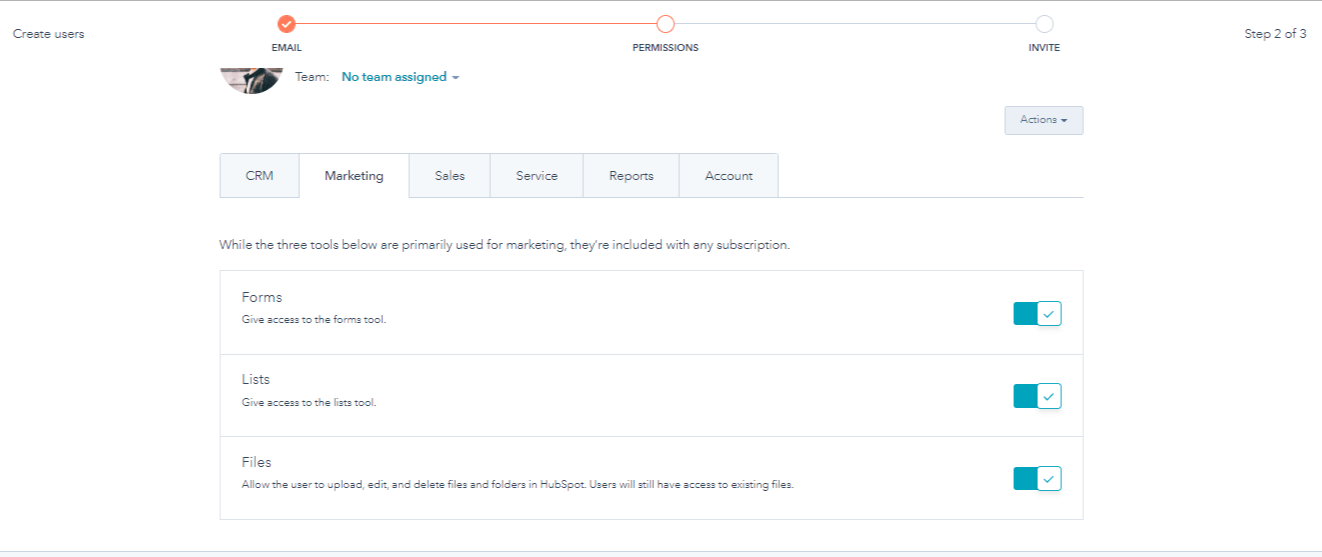 Pricing
Social Sprout offers users a free 30-day trial and three pricing teirs after that. 
Standard plan ($89/mo/per user, billed annually, or $99/mo/per user, billed month-to-month):

Social Sprout's Standard plan allows up to five social profiles, an all-in-one social inbox, the ability to publish/schedule/draft/queue posts, a social content calendar, review management, profile/keyword/location monitoring, tasking/social CRM tools, group/profile/post-level reporting, paid promotion tools to boost Facebook posts, and iOS/Android mobile apps.

Professional plan ($149/mo/per user, billed annually, or $169/mo/per user, billed month-to-month):

Social Sprout's Professional plan comes with all features of the Standard plan plus up to ten social profiles, competitive reports for Instagram/Facebook/Twitter, incoming and outgoing message content tagging, custom workflows for multiple approvers/steps, scheduling for optimal send times, response rate/time analysis reports, trend analysis for Twitter keywords and hashtags, paid social reporting for Facebook/Instagram/Twitter/LinkedIn, and helpdesk/CRM/Social Commerce integrations.

Advanced plan ($249/mo/per user, billed annually, or $269/mo/per user, billed month-to-month):

Social Sprout's Advanced plan comes with all features pf the Professional plan plus message Spike Alerts for increased message activity, a digital asset/content library, chatbots with automation tools, saved/suggested replies, inbox rule builder for automated actions, automated link tracking, and Twitter surveys to define CSAT or NPS.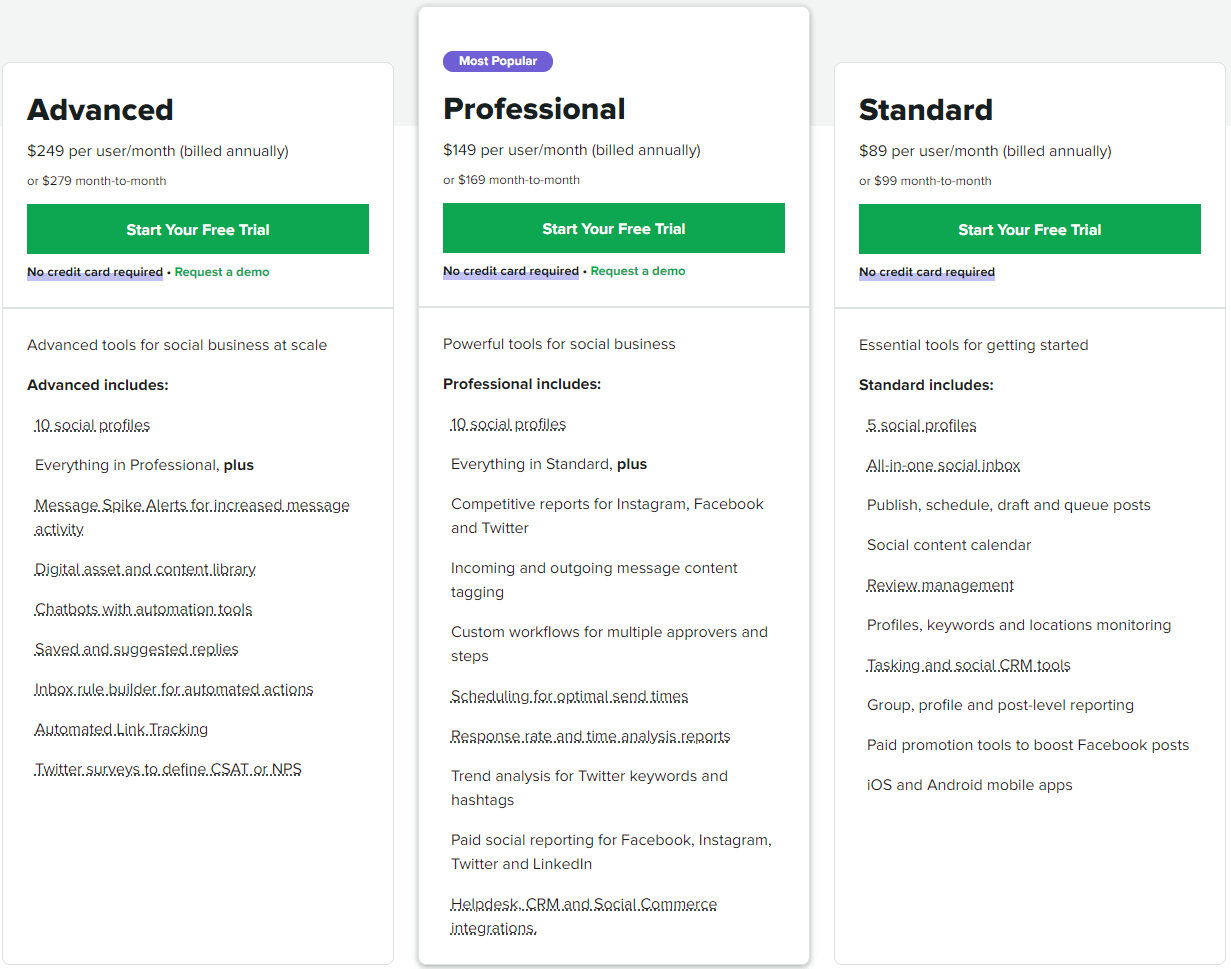 HubSpot Marketing Hub offers a free plan with a whole host of great features, including forms, email marketing, ad management, landing pages, shared inbox, list segmentation, team email, live chat, basic bots, mobile optimization, reporting dashboard, messenger integration, custom properties, the HubSpot mobile app, form follow-up emails, marketing events object, email reply tracking, email health reporting, ad retargeting, user management, and custom user permissions.
HubSpot Marketing Hub's paid plans are as follows: 
Standard plan ($45/mo, $540/yr, includes 1,000 marketing contacts. Additional marketing contacts are sold in increments of 1,000 from $45.00/month. ):

Marketing Hub's Standard plan offers all free tools with increased limits, plus the ability to remove all HubSpot branding from forms, email marketing, landing pages, live chat. This plan also offers email and in-app chat support.

Professional plan ($800/mo, $9600/yr, includes 2,000 marketing contacts. Additional marketing contacts are sold in increments of 5,000. ):

Marketing Hub's Professional plan offers all Starter plan tools plus omni-channel marketing automation, ABM tools/automation, dynamic personalization, multi-language content, video hosting & management, contact/company scoring, collaboration tools, campaign/team management, A/B testing, ads optimization events, website traffic analytics, campaign reporting, custom reporting, salesforce integration, and telephone support.

Enterprise plan ($3,200/mo, $38,400/yr, includes 10,000 marketing contacts. Additional marketing contacts are sold in increments of 10,000 from $100/month. ):

Marketing Hub's Enterprise plan offers all Professional plan tools plus single sign-on, partitioning, hierarchical teams, permission sets, field-level permissions, email send frequency cap, custom objects, salesforce custom object sync, adaptive testing, multi-touch revenue attribution, behavioral event triggers/reporting, and predictive lead scoring.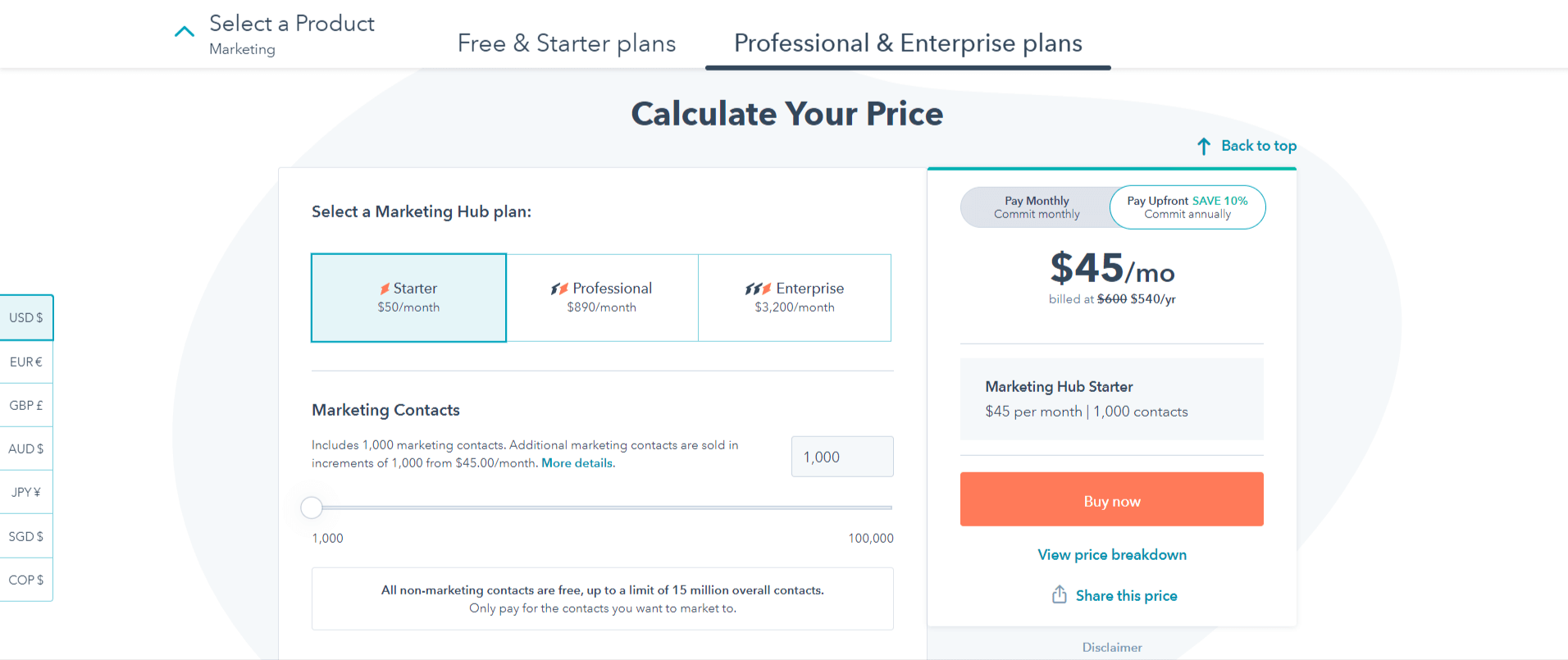 Integrations
In addition to integrating with popular social media platforms such as Facebook, Instagram, Twitter, LinkedIn, YouTube, Pinterest, and Google My Business, Sprout Social integrates with TripAdvisor, Glassdoor, Facebook Shops, Zendesk, Reddit, Google Analytics, Microsoft Dynamics 365, Slack, Dropbox, Google Drive, Bitly, Feedly, Canva, Shopify, and even HubSpot.
HubSpot's ecosystem allows users to tap into an expansive network of app and solution partners to help them provide an exceptional end-to-end customer experience in one easy-to-use platform. HubSpot integration seamlessly connects third-party tools or solutions you currently use to the HubSpot platform, allowing you and your team to stay productive. The HubSpot App Partner Program presently features more than 500 integrations, including the suite of tools built and supported by HubSpot.
Customer Support
The Sprout Social support team is available Monday through Friday on a 24-hour basis through live chat support within the Sprout dashboard. You can also call the support team toll-free Monday through Friday or use its ticket support system. The company offers a Premier Success option for an additional fee that guarantees a two-hour response time from the Support Team. Sprout Social also provides self-service training recordings for new users who want to get up to speed on how to use the platform.
HubSpot Marketing Hub support options are based on the user's product plan. HubSpot Marketing Hub offers email and in-app chat support to standard users and telephone support to professional and enterprise users. Hubspot also offers a whole host of information to all users through the Hubspot Community, knowledge base, and blogs. 
When to Choose Sprout Social vs HubSpot Marketing Hub
Both Sprout Social and HubSpot Marketing Hub are relatively easy software tools to use and offer many great features to help businesses meet their social media management needs. 
Ultimately, choosing between Sprout Social vs HubSpot should ultimately come down to whether you just need specifically social media marketing tools or a full suite of digital marketing tools. 
If your quest for finding the right software for social media management is based solely on social media marketing goals, then Sprout Social is the right software for you. As far as social media marketing tools go, Sprout Social is a bit more sophisticated in this respect than HubSpot. It's better for teams that truly want to invest lots of time and energy specifically on social media marketing. 
On the other hand, If you're looking for a platform that offers not only social media marketing tools but also a landing page builder, an email marketing platform, a form builder, and more, then HubSpot will certainly be your best bet. While the social media marketing feature might not be as advanced as Sprout Social's, HubSpot's various other marketing features give the platform great bang for the buck.
You can see how other social media management tools stack up to Sprout Social in the following comparisons: