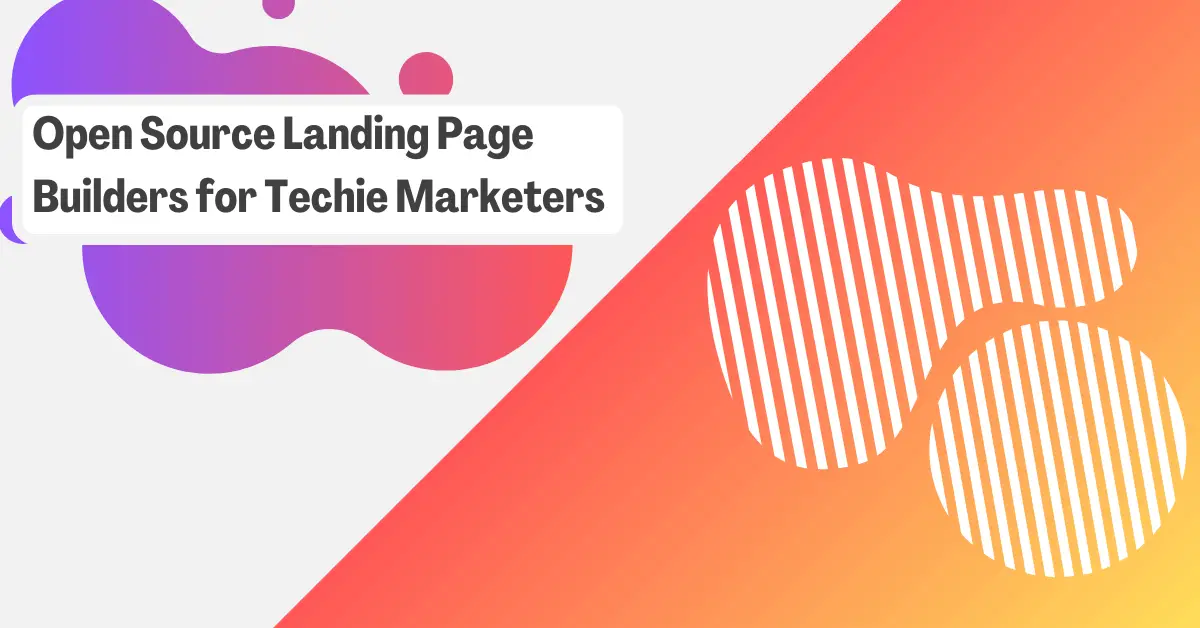 If you have a product or a special offer to promote, one thing is certain: you'll need a landing page. Fortunately, there are numerous tools that allow you to design landing pages. While many of these tools are closed source SAAS solutions, there are also various open source solutions as well that are ideal for techie marketers who want greater flexibility when designing landing pages. 
In this article, we'll share the best open source landing page builders and their main features that can be used to design high-converting landing pages.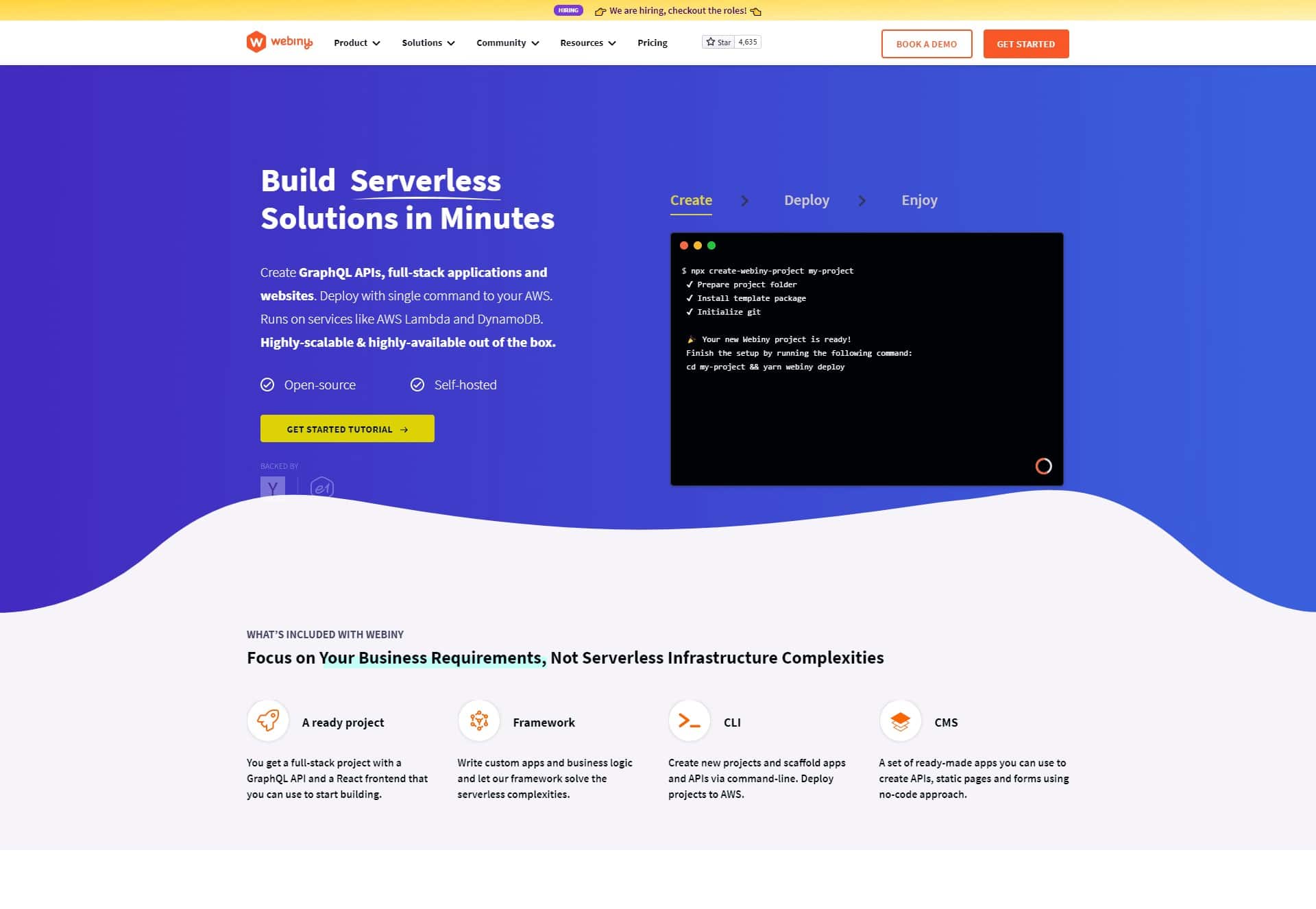 Webiny is a serverless, self hosted landing page builder with drag and drop features that make it easy to create a website. The pages you create with Webiny are completely mobile responsive and since the page builder requires no server or hosting, there are no technical updates or maintenance headaches to worry about. 
Thanks to its serverless architecture, Webiny is easily scalable and can grow with you as your business grows.
The builder has a simple and intuitive interface and you can use it to create landing pages as well as marketing websites. You can easily add elements such as text, images, columns, and more. On top of that, Webiny comes with a set of premade page elements and sections that you can easily add to your page. 
In addition to that, you can optimize each page for search engines and organize your pages into categories. Webiny also includes the correct Open Graph data for each page, ensuring they're optimized for sharing on social media.  
The Grapedrop CMS is powered by grape.js which is open source and free. This easy to use page builder makes it easy to create any type of landing page and since it's a hosted solution, there is no need to download or install anything. You can focus entirely on building your landing page while the team behind Grapedrop handles all the technical details. 
Grapedrop has dozens of basic elements and built-in blocks that you can drag and drop them inside the canvas. You can also style each block individually to get the exact look and feel that you want for your landing page. In addition to that, Grapedrop integrates directly with Unsplash so you can easily find stunning images for your landing pages. 
You can also embed Youtube videos and take advantage of the built-in tools to optimize your landing page for the search engines. Grapedrop also integrates with numerous other tools so you can easily send visitor information to your email marketing platform, CRM, or other app. 
WordPress is one of the most popular Content Management Systems that powers more than a third of all the websites online. The beauty of WordPress is that it can be used for any type of website, thanks to numerous themes and plugins that extend its functionality. 
Speaking of WordPress plugins, there are dozens of page builder plugins that allow you to build simple as well as more complex landing pages. WordPress is also very SEO friendly, not to mention almost all of the themes you'll find for WordPress are responsive. To make things even better, a good majority of themes and plugins can be downloaded for free.
As far as features goes, most of the WordPress page builder plugins use drag and drop features to help you create your page layouts. You can also add contact forms, image galleries, sign up forms, pricing tables, and more to create the perfect landing page for your offer. 
What sets WordPress apart from other open source landing page builders is its community. There are hundreds of WordPress blogs and even Youtube channels with tutorials and walkthroughs to guide you every step of the way.
Publii is a free and open source static site generator. In other words, it produces static HTML from your content but without you having to code everything from scratch. Unlike other page builders mentioned so far, you'll need to download Publii to your computer to get started on your landing page build. 
Publii has an intuitive and user-friendly interface and you can choose between three different editors to create your content: WYSIWYG, Block editor, and Markdown editor. 
Once you're done creating your landing page, you can use a variety of hosting options to make it live. Publii integrates with GitHub Pages, Netlify, GitLab, and more. 
It's worth mentioning that there are a handful of themes for Publii that you can use as a starting point for your design. 
Publii is also designed to load fast and has plenty of options to optimize your landing pages for search engines. In addition to that, since the app works locally, you don't have to worry about security updates or managing databases.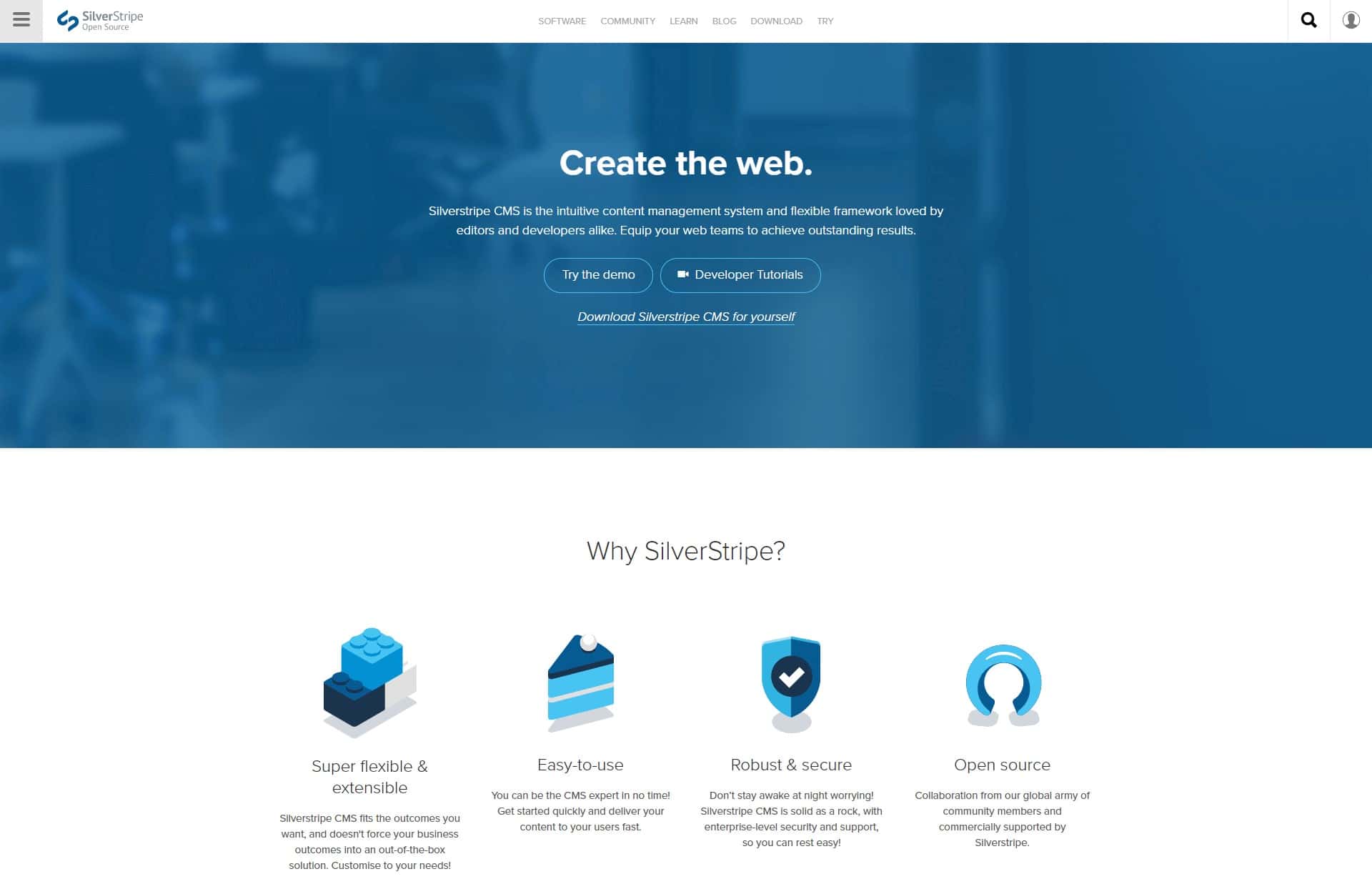 SilverStripe is a robust CMS built with PHP and MySQL. It's geared primarily for developers so you can rest assured that this page builder is secure and packed with features. For starters, this page builder has enterprise-level security and support. Secondly, it's flexible and adaptable so it can easily grow with you and adjust to your business needs. 
The page builder itself uses an editor that's similar to word-processing programs so you can easily add and format text, images, video, and tables, and more. You'll also find an active community and several add-ons that allow you to add extra features to your landing page. 
The downside of SilverStripe is that since it's geared for developers, it doesn't offer you a lot of control in terms of page layouts or customization options. However, if you're looking for a secure platform or if you want to create a lot of content with complex data, SilverStripe is a viable option.
ModX is another open source platform that is geared for developers. While it's often compared to WordPress, it's not as user-friendly or beginner oriented as WordPress is. That said, ModX promises to make it easy to build a landing page or any type of website without any unnecessary code or tech issues that come with other CMS platforms. 
It's important to mention that ModX doesn't include many drag and drop or point and click features that you can use to build your landing page. It does, however, allow you to customize the look and feel of your website or landing page. It also allows developers to define content types and templatize often used parts of the code to speed up the development process. 
There are also dozens of plugins and extras that add more features to your landing page such as Google Maps, eCommerce solutions, and more. If you're thinking about using ModX because it's flexible and focused on security, you'll be happy to know that it does offer extensive documentation and resources to help you every step of the way.
If you're looking for a lightweight page builder, DjangoCMS is a great choice. It's built on the Python framework in combination with MySQL for database management. While DjangoCMS is lightweight, that doesn't mean it's lacking in features or that it cannot scale. In fact, since DjangoCMS is geared towards developers, it's pretty easy to scale as your needs grow. 
You can use it to create any type of landing page or even more complex websites. The user interface is drag and drop friendly and you can even use it to create multilingual pages and websites. 
You can customize your landing page to match your brand and you can integrate the DjangoCMS with other applications such as CRM platforms, email marketing platforms, and more. On top of that, you can take advantage of third-party services and add-ons to gain access to additional themes to use for your landing page design. 
DjangoCMS has extensive documentation, plenty of tutorials, and a vibrant community so you can always find a helping hand or a resource to guide you in the right direction.
Drupal is another popular, open source self-hosted platform. In fact, Drupal is the second-most popular CMS used for websites. While you can download and use Drupal for free, you'll need to pay for a hosting server so people can access your landing page. Drupal is an extremely powerful platform that can be used to create any type of website.; landing pages included.
Similarly to WordPress, it has hundreds of themes that you can use as a starting point for your landing page design. Each Drupal theme has its own set of customization options that allow you to customize colors, fonts, logo, and more.
It also has thousands of modules that allow you to extend Drupal's capabilities even more. Similarly to WordPress, you can find free and premium Drupal themes and modules.
Drupal is most famous for its multilingual capabilities and flexible taxonomies that can handle lots of data with ease. 
However, Drupal does have a more complex user interface which many beginners find confusing and difficult to navigate. As such, Drupal is better suited for more experienced users.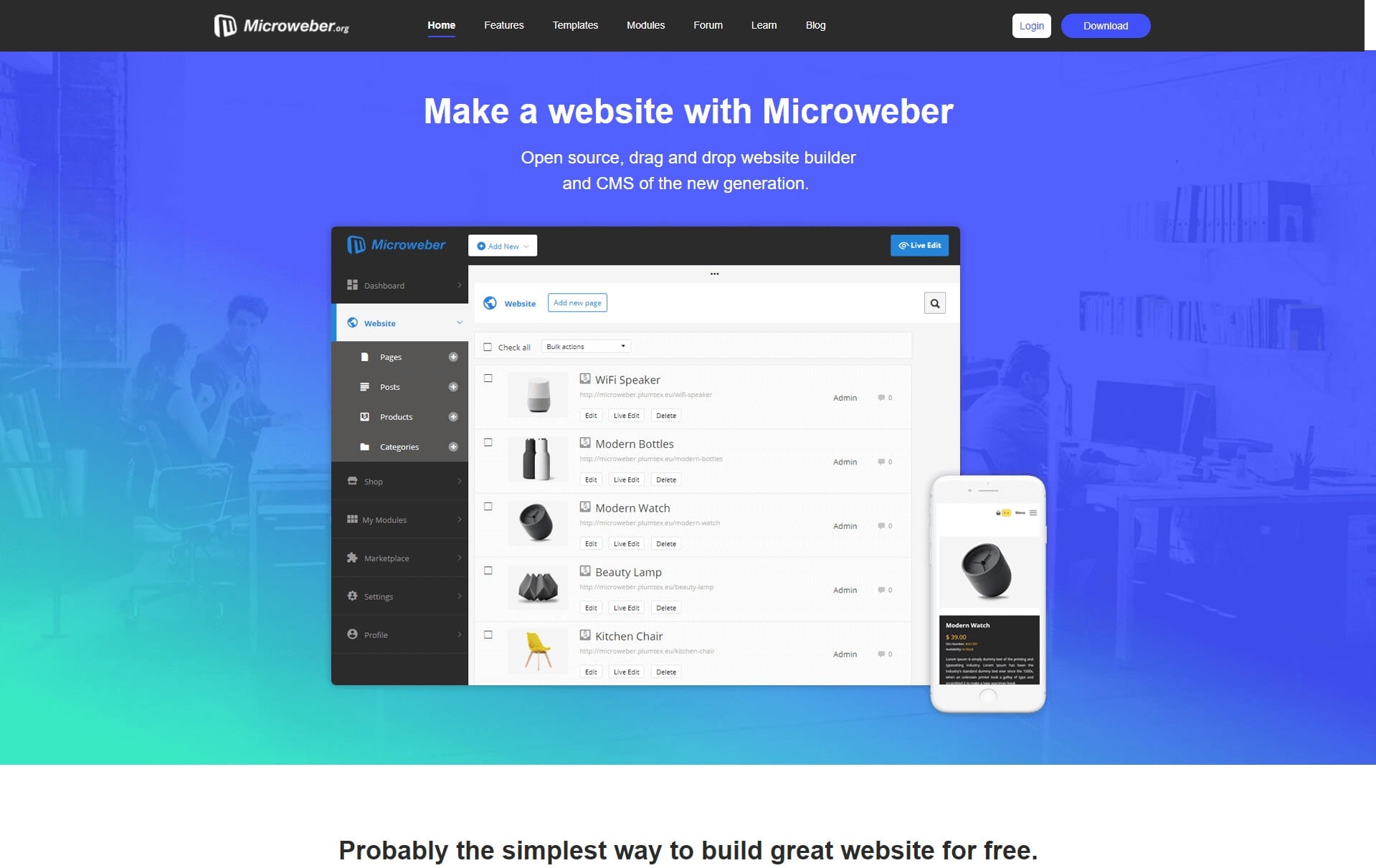 Microweber is built atop of the Laravel framework and comes with a default theme installed that has dozens of premade pages to use as a starting point for your design. Microweber has a user-friendly interface and relies on drag and drop features to allow you to easily build and edit your pages. You can also edit your content in real time and see the changes as you're making them. 
Microweber makes it easy to customize your landing page with your choice of colors, fonts, and more. Unfortunately, there aren't a lot of themes to choose from when it comes to the design but the themes that are offered feature a modern design. 
There are also a handful of modules to add extra features to your site such as dynamic text, pricing tables, and more.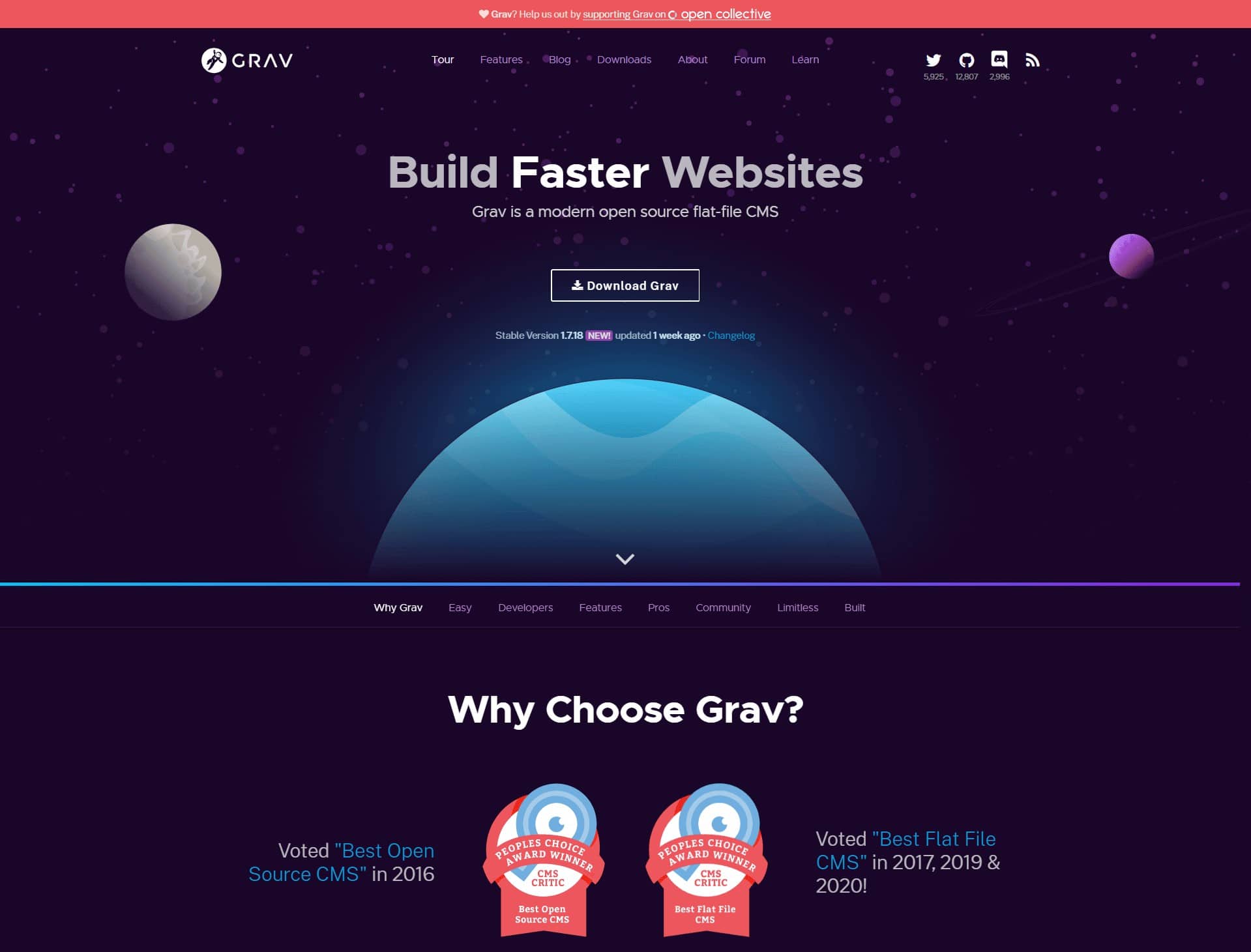 Grav CMS is an open source landing page builder hosted on GitHub that's focused on helping you build faster websites. It has a robust API which makes it easy to extend its functionality even more and build any type of website or landing page with it. 
The user interface is pretty straightforward, however, you'll need to download the admin plugin to make it easy for you to create and manage your content. Grav has built-in support for multilingual websites as well as plenty of options to customize your pages for SEO. 
Several themes are available that you can use as a starting point for your design as well as dozens of plugins to extend Grav's functionality. You won't find a drag and drop builder here but you can easily add content using a markdown editor. 
Grav CMS is another page builder plugin that's geared for developers but it's easy enough to use if you are a marketer and want a lightweight and robust platform to create a simple landing page.
Final Thoughts
Building a landing page might seem daunting but the good news is that it doesn't have to be. With the help of the right landing page builder, you can easily create a stunning landing page without hiring a designer or learning how to code. 
What's even better is that you don't have to spend a lot of money either as most of the tools on this list offer a free plan or have affordable pricing plans. In this article, we've shared the best open source landing page builders that you can download and use for free. The only thing left to do now is to pick one and create your landing page. Good luck!