As social media such as Instagram grows increasingly popular, bio link tools have also become widely used as well.
Shorby and Linktree in particular are some of the most well-known tools of their kind.
However, while the function of these tools is simple, there are key differences between these platforms that are worth taking note of.
In this post, we will discuss the differences between Direct.me vs Linktree in terms of features, user experience, and designs of the bio link pages you can create with each.
Lets dive in.
About Direct.me and Linktree
Direct.me is a free bio link tool that has quickly grown in popularity of the last few years. This tool is widely used by creators and influencers looking to monetize their social media.
One thing that makes Direct.me unique among bio link tools is that the platform has an app marketplace that you can access to enhance your Direct.me bio link page. For instance, the Tipjar app allows you to collect donations from your followers when you add it to your page.
Linktree is a leader in the bio link tools space, with over 18 million users. It was one of the very first companies to provide a solution to the issue of the one-link limitation for Instagram bios.
Today, Linktree is by far the most popular bio link tool and Linktree's regular updates with new features made the tool one of the most effective bio link tools year after year.
How Does Direct.me Work? A Brief Dashboard Walkthrough…
Upon signing up for Direct.me, you are taken to the main dashboard:
The platform guides you through setting up your page with a series of prompts such as "Set up your avatar". However, you are also free to build our your page on your own at your own pace.
By clicking the "Add Item" button you can add any of the following elements to your page: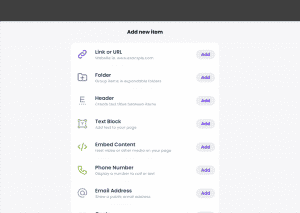 Once you add these elements to your page, they will show up under "My Profile and Links". As you can see, a simple text box was added that says "Welcome to my page!":
It is extremely easy to add elements this way, and you can even reorder them by dragging and dropping right from the dashboard. However, it is a bit of an inconvenience that you can't see how the actual page itself will look in real time from the dashboard as you add and edit elements. You must open your bio link page in a new tab to see how the changes you have made are reflected in the live page.
At any point, you can change the theme of your page. Simply click "Edit theme". From here you can choose any of the following themes:
Unfortunately though, while the theme options looks aesthetically pleasing, there aren't too many options to pick from. There are only a handful of themes. Fortunately, Direct.me gives you the option to build your very own theme from scratch.
If you are interested in downloading apps for your page, you can go to the app store within Direct.me. You can browse through various Direct.me and third party apps:
These apps can be a great way to customize your page. For instance, with the Spotify app you add a special link to a Spotify playlist. With the Buy Me A Coffee app you can enable your followers to support you by paying a small tip that you can use to buy yourself a coffee. There are many possibilities.
Moving on, you can check out the performance of your page by clicking on the stats tab:
From here you can get some basic data on the performance of your bio link page. For instance, you can see the number of views, clicks, click-through rate, and where in the world people are viewing your page.
Lastly, on the Discover tab, you can explore profiles of other Direct.me users:
You can scroll through and view everyone from celebrities to average joe social media users who use Direct.me. Direct.me gives you the ability to follow these individuals and there is even a messaging feature on Direct.me as well.
This is certainly a feature that not every bio link tool has and its something that makes Direct.me stand out in the world of bio link tools.
How Does Linktree Work? A Brief Dashboard Walkthrough…
After clicking the "free sign up" button, you first see the dashboard to add your links. You can add unlimited links from the first page you visit. Compared to Tap Bio, Linktree is more flexible regarding different link types. Linktree's free version has the following link types available:
Music links: Links for music from Spotify, Soundcloud, and other platforms that can be played from your page
Video links: Embedded videos from YouTube, TikTok, and other sources
Store link: For displaying products from ecommerce stores
Form link: For collecting email addresses
Support me link: Can be used to collect donations for a cause
Request link: For receiving requests and payments from visitors
Linktree Pro subscribers have access to these additional link types:
Leap links: Can be used to forward visitors directly to a destination, bypassing your Linktree altogether
Priority links: A great way to highlight your most important links
Schedule links: This gives you the ability to schedule when you want your links to appear
Gated links: These links require visitors to enter a password of some sort to click through them
You can also add thumbnails or icons to your links to customize them further and view analytics for each link displayed.
Once you are done adding the links of your choice, you can move on to the appearance tab to customize the design for your landing page. Here you can add your profile pic, and add your bio text as well.
At this point, you can choose the theme that you would like to use for your page. Fortunately, there are a few options that come with the free plan, but there are many more designs that you can access with the paid version. Each theme has a different design, color scheme and button shapes for your links.
After you have chosen your theme of choice, you can move on to the settings tab. This is where you can configure settings such as mailing list integrations, ecommerce integrations, social icons, and more.
Upon clicking to the analytics tab, you can view the performance of your links in terms of visits to your LinkedIn page and the number of clicks for each link. With the pro version, you can unlock valuable statistics such the referral source for Linktree page visits (where on the web visitors have come from to view your Linktree page), and more.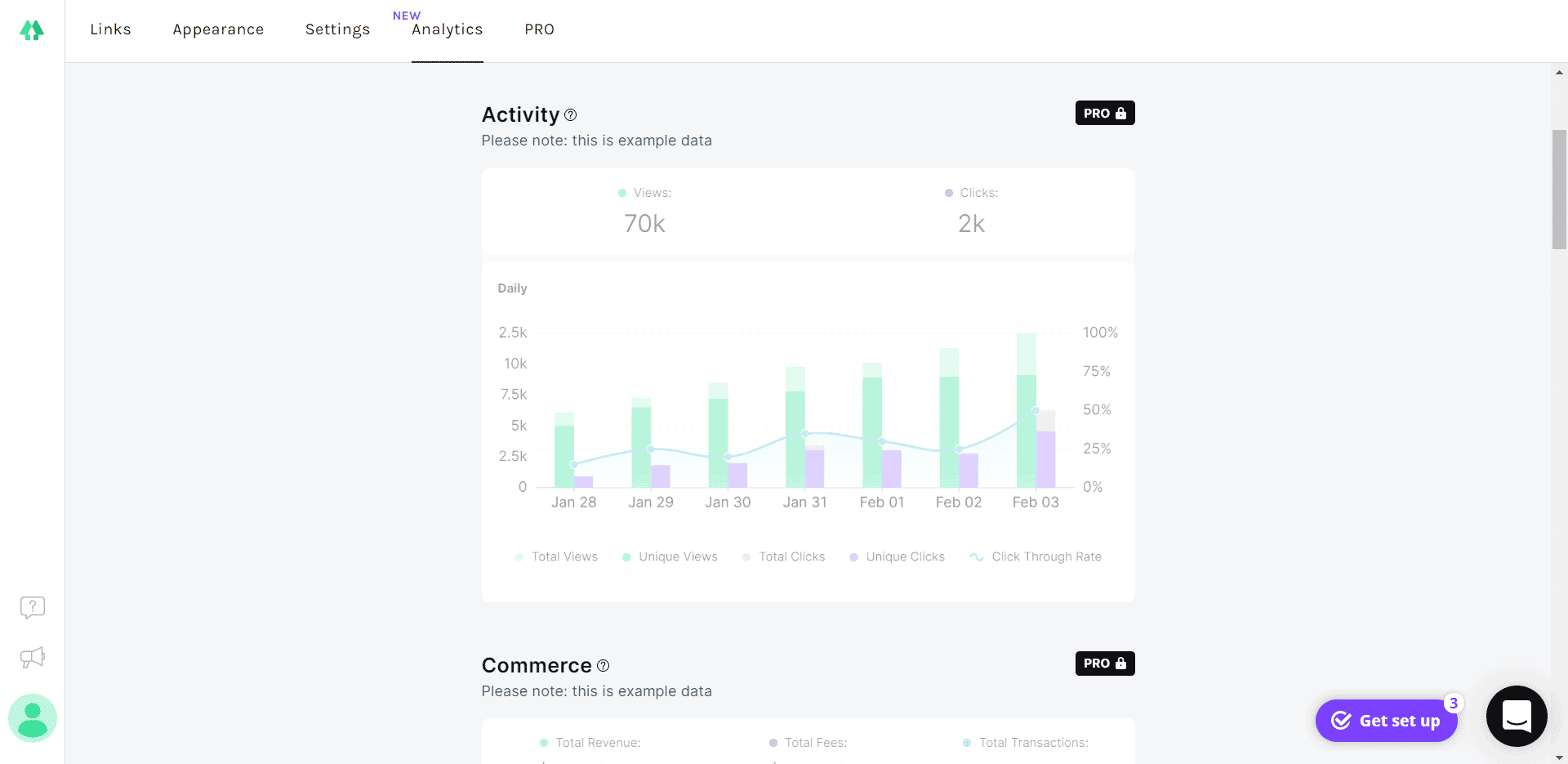 Aesthetics and Appearance
In terms of aesthetics and appearance, Direct.me's selection of themes is a bit underwhelming compared to Linktree's selection. You only get a handful of basic-looking themes.
As mentioned before, you have the freedom to build out your very own custom theme. You can customize everything from background image or pattern to button design, the header of your page and more. However, this can be a time-consuming process that many users don't have the patience to undertake.
With Linktree, you get way more themes to choose from and most of them look amazing… but the drawback is that you only get a handful of themes for free: most themes are premium themes only accessible with a paid plan.
Additionally, with the paid plans you can change the colors of your buttons, change fonts, upload a custom background, and more. Linktree's design editor is also extremely intuitive, making it easy to build out a beautiful custom design for your page in just a matter of minutes.
Nevertheless, keep in mind that if you want these design capabilities, you will have to bite the bullet and get a paid plan.
Pricing Comparison
One of the greatest benefits of Direct.me is that it's 100 percent free. There isn't even a paid version that you can upgrade to. All the features that you get, which are often premium paid features on other platforms, are completely free.
"So how does the company make money?", you might ask. Keep in mind that you have the ability to sell products, membership programs, and even collect donations through the platform. Direct.me simply takes a small percentage of every transaction that happens through the platform.
Linktree offers four plans:
A free version 

Starter: $5/month 

Pro: $9/month

Premium: $24/month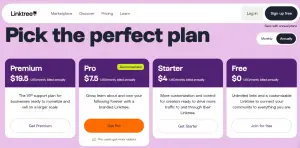 The paid plans give you additional features such as access to different link types, custom background, integrations with other marketing platforms, advanced analytics, the ability to add other admins, and more. 
All in all, Taplink's plans are slightly more affordable than Linktree's comparable plans. 
Direct.me vs Linktree: Which Is Best For Me?
Direct.me is a fantastic solution for those who want a free bio link that is full of powerful features.
The platform really does pride itself in offering free features that are typically paid features on other bio link tools. If this resonates with you or if you don't have the budget for a paid tool, this might be the tool for you. However, if design is really important to you, Direct.me might not be the best solution for you. The themes are limited and the design editing features aren't necessarily the easiest to use.
Linktree on the other hand, is certainly a great premium solution if you are interested in paying a reasonable monthly subscription cost. Yes, the platform, has a free version, but the free version is way more limited in comparison to Direct.me.
Nevertheless, Linktree without a doubt one of the most established players in the bio link tool space and if you are interested in using a well-established tool that has refined its product since 2016 when it was established, Linktree might be the best choice for you.
Related: simple email templates