Most creators and small businesses can't afford to hire specialists for every marketing channel they use.
Ideally, there would be an email marketing tool that's simple to use for people in these situations, but also has some of the power that the most advanced email marketing platforms have.
That's where ConvertKit and HubSpot really shine.
They both offer basic email marketing features, but also advanced automation, and even landing page creation. Instead of having to purchase subscriptions to several different tools, you get most of what you need in either of these tools. 
While they have a lot in common, there are some big differences between ConvertKit vs HubSpot, which we'll make clear in this comparison review.
About ConvertKit and HubSpot
ConvertKit was first launched in 20131 with a focus on providing email marketing for bloggers. It was really the first email marketing platform to niche down so much, and the blogging community loved having a tool that was designed for their needs.
Over time, ConvertKit has grown and has expanded its focus to providing email marketing features for creators, which includes writers, but also other types of small businesses (e.g. musicians, YouTubers, painters, etc.). Today, ConvertKit offers many other marketing features to complement its core email marketing functionality such as a landing page builder. 
Launched back in 2005,2 HubSpot is a completely different story. At the time, it was a unique suite of tools for small businesses that use inbound marketing, which is a marketing methodology pioneered and evangelized by HubSpot.
Inside of HubSpot's Marketing Hub product, there is a slew of excellent marketing features such as live chat, forms, and most notably a powerful email marketing feature. In addition, you can also sign up for its sales and customer service hubs. These all connect seamlessly with each other in the platform, and these products, or "Hubs" if you will, all revolve around the platforms CRM which you can get for free. 
However, although HubSpot has much to offer, in this review we will be focusing on HubSpot's popular Marketing Hub, and we will be covering specifically the email marketing feature most extensively. 
Features
Email Templates and Editor
Almost every email marketing platform uses a simple drag-and-drop editor for their email editor…except ConvertKit. However, this isn't necessarily a bad thing.
ConvertKit has a simplified editor that's really nice to work in once you get used to it. Instead of dropping in elements, you simply add blocks inline, similar to the Gutenberg editor in WordPress (which many creators are familiar with).
There's a large variety of blocks (e.g. images, files, headings, etc.), including some that are specifically useful for creators like countdown timers and galleries.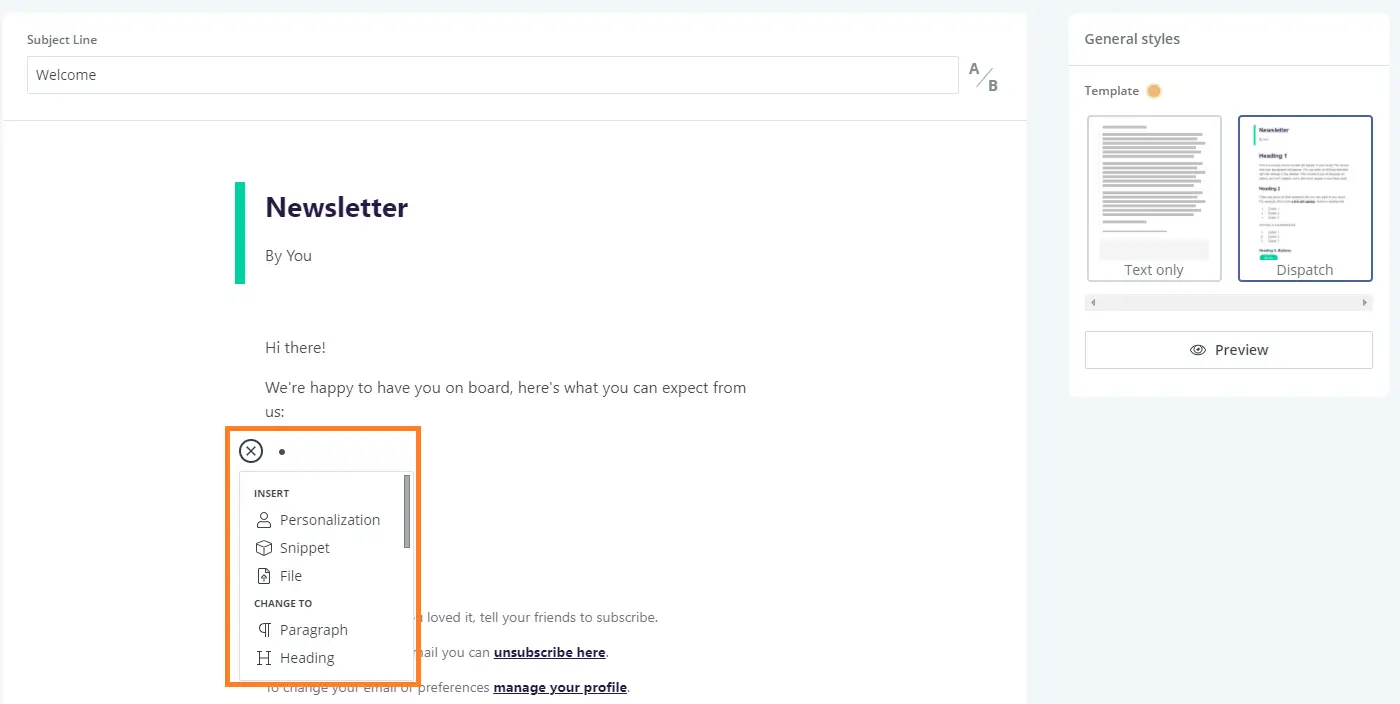 The one awkward part is the templates. There's a small selection of newsletter-style templates to pick from, and you can create your own from scratch as well.
The awkward part is that you need to edit templates outside of the email editor. Then you have to come back to the email editor and select the template. It's not a big deal, but it just might take some getting used to if you have previously used another popular email marketing tool. 
If you're used to traditional email editors, then Hubspot's will be intuitive to use.
HubSpot's email editor is a standard drag-and-drop interface, which isn't a bad thing. It's been refined over the years and is one of the smoothest that we've used.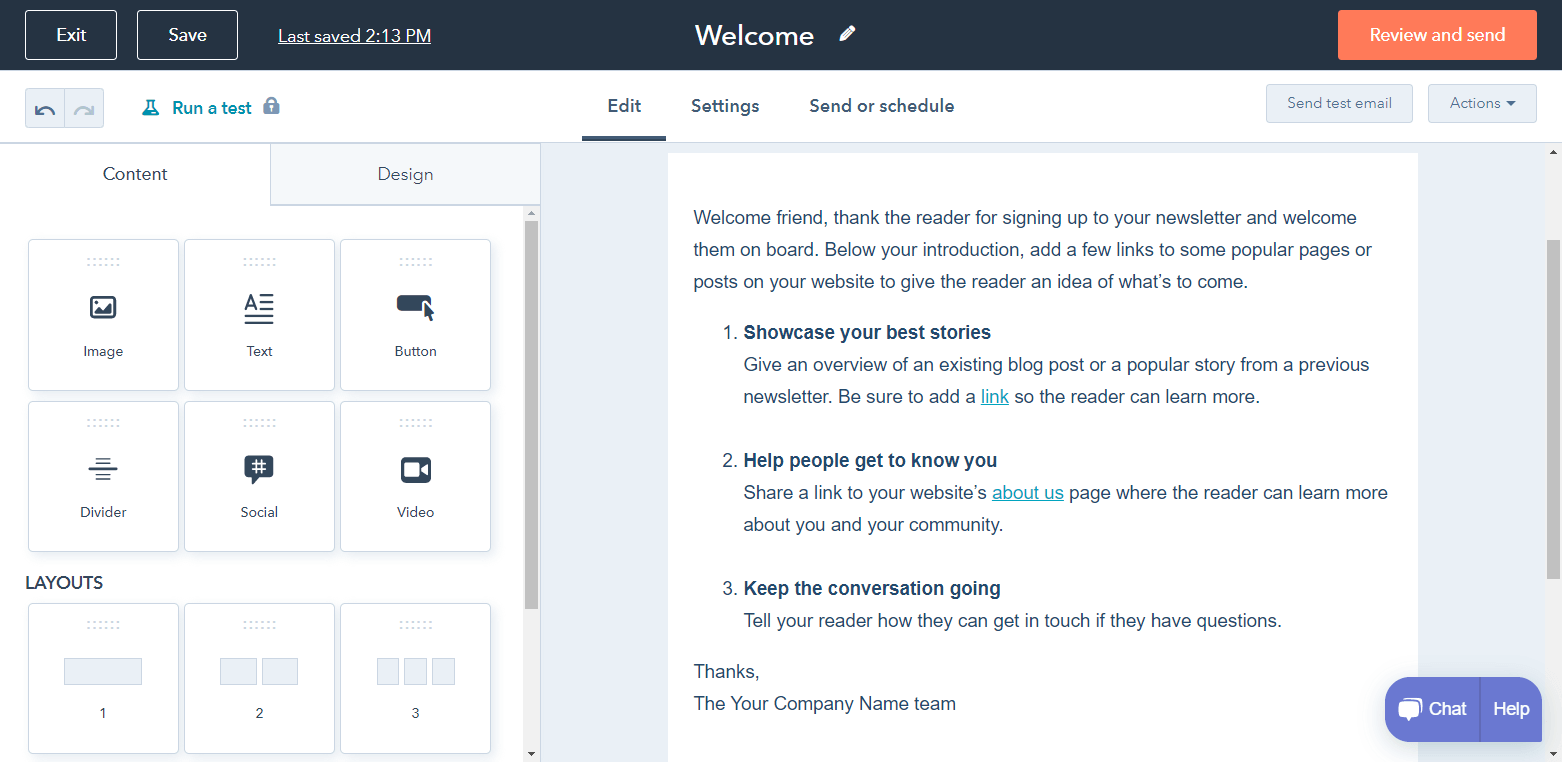 You can choose from either content blocks (e.g. images, buttons, social sharing icons), or layout blocks (e.g. 2 or 3 columns) to quickly edit your emails.
Finally, there's a decent selection of templates, and it's fairly easy to customize them if needed.
List Management
Being able to efficiently view and filter subscribers is essential to evaluating the effectiveness of your email marketing strategy.
ConvertKit is a bit lacking in this area.
You can view your subscribers easily enough, but you can only filter them down based on basic tags or segments.
On many platforms, you can create segments based on activity like opening the latest email or clicking a link in it. While you can create segments in ConvertKit, there aren't any options to create them based on behavior.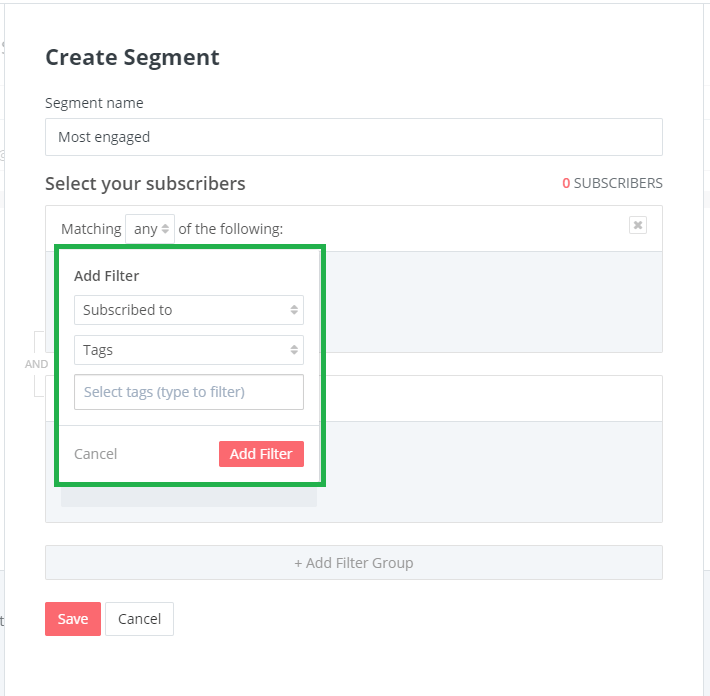 Instead, you're stuck with basic segments based on if they are subscribed to a particular list or signed up through a form. This is fine for many small businesses but for complex marketing campaigns, the lack of flexibility can be limiting. 
Conversely, HubSpot has some of the most powerful list management features of any popular email marketing tool.
While you're viewing contacts, you can create targeted segments based on a huge list of behavior-based conditions. This includes activities like opening or clicking emails, as well as making purchases or being at a certain location in an email sequence. However, this is just scratching the surface— there are dozens of other criteria you can choose from.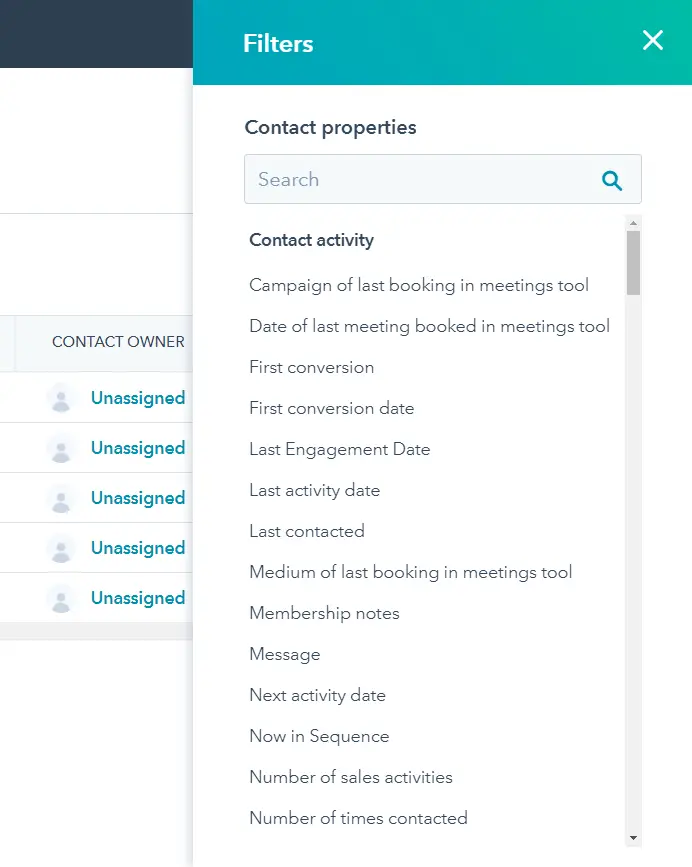 The one big downside is that these segments become intertwined with your contact lists, so you can easily end up with a big messy collection of lists if you don't stay organized.
Marketing Automation
Automation is where ConvertKit really shines to us, and where it makes up for its lack of list management features.
On top of being able to create basic autoresponder sequences, you can also use the beautiful visual workflow builder that's fairly intuitive to use to create automation workflows.
Yes, there is a learning curve, but this is simply due to how many events, actions, and conditions that there are to choose from. Considering the complexity, ConvertKit makes automation relatively simple to use.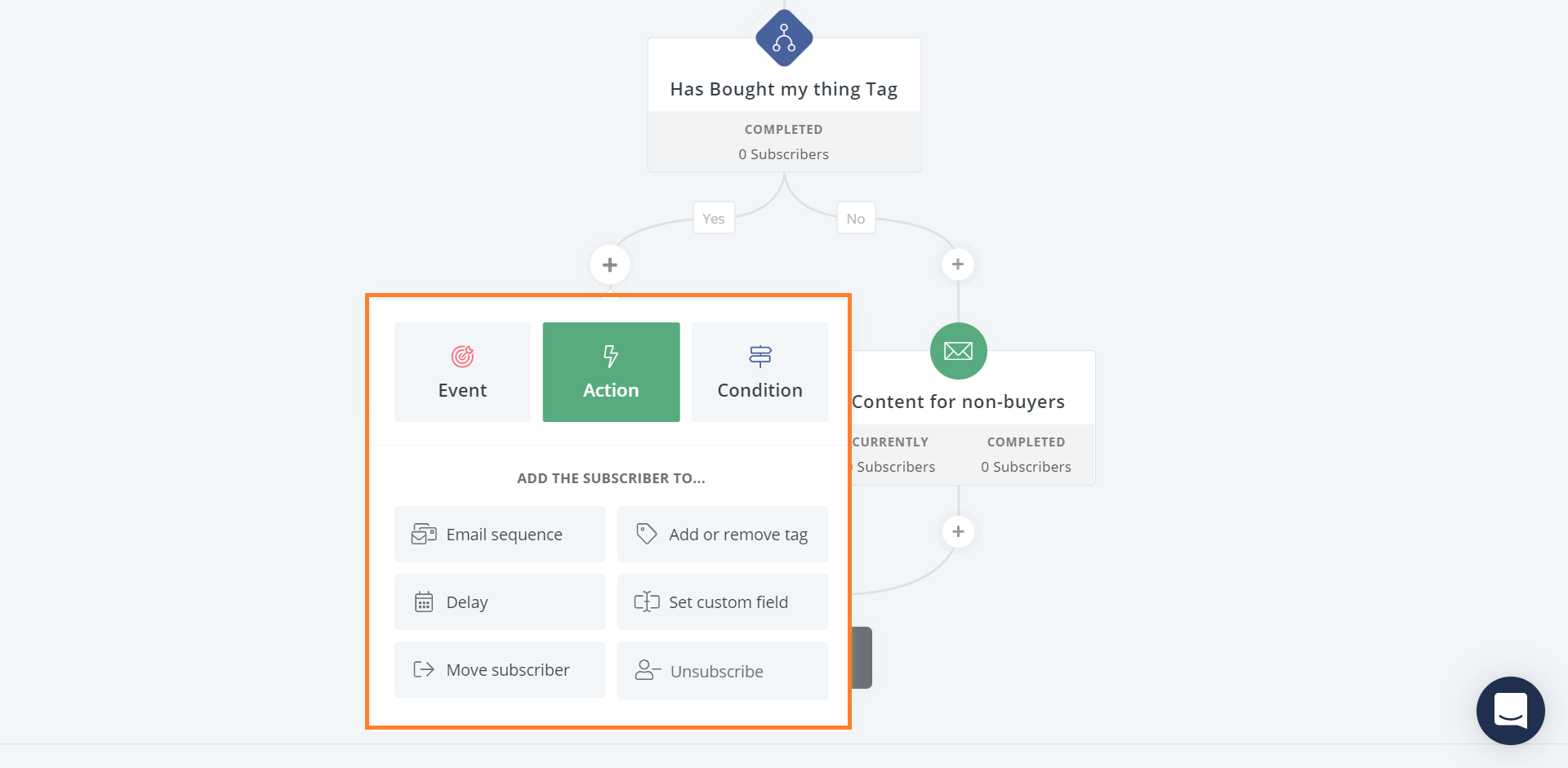 You can create workflows from scratch, or choose from pre-built templates for things like newsletters, hosting a webinar, or launching a product.
In the workflow builder, you can add tags or segments to subscribers that take a particular action. For example, you can set a condition of purchasing a particular product, and if they don't buy it, you can automatically send them follow-up emails to encourage them to purchase.
HubSpot also offers powerful email automation options.
The workflow builder isn't quite as intuitive, but that's mainly because HubSpot gives you more options for building out relatively more intricate workflows. 
Just like ConvertKit, you can use "if/then" branches in order to send subscribers customized content. You can send emails and based on user actions like email opens, link clicks, or purchases… however, there are numerous other conditions you can create as well.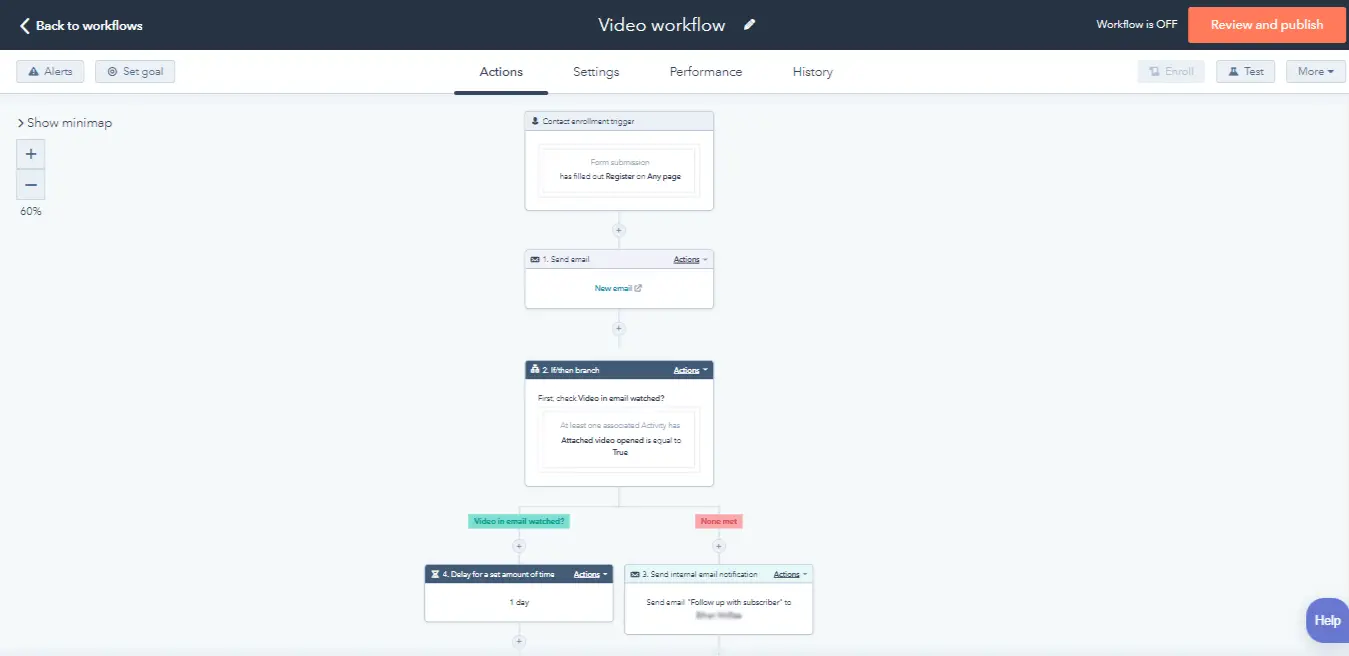 Both ConvertKit and HubSpot offer comparable automation features that are on par with even email marketing tools aimed at the enterprise level.
Forms and Lead Generation
ConvertKit offers both a landing page and form creator on all its plans.
When it comes to forms, you can choose from multiple types:
Inline

Modal

Slide-in

Sticky bar
You can choose from 9 templates that look really good compared to the usual form templates that many other email providers offer.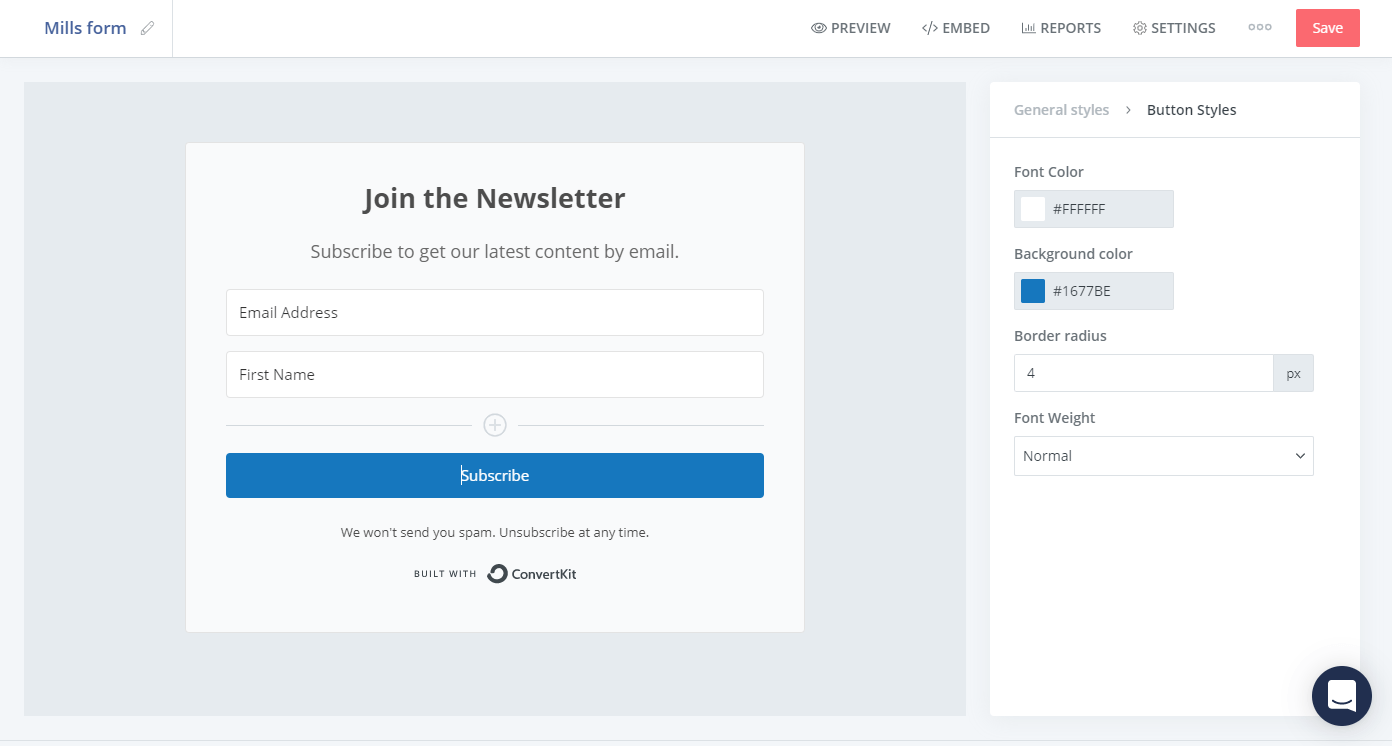 While you likely won't need to customize them too much, you can add any elements or fields that you need, and customize them by simply clicking them.
It's a minimal and intuitive form builder that we have no complaints about.
HubSpot also has one of the better form builders that you'll find in email marketing tools.
Again, you can choose from a good selection of form types:
Embedded (inline)

Pop-up

Slide-in

Dropdown
The default forms aren't as pretty as ConvertKit's templates, but the minimal styling still looks pretty good.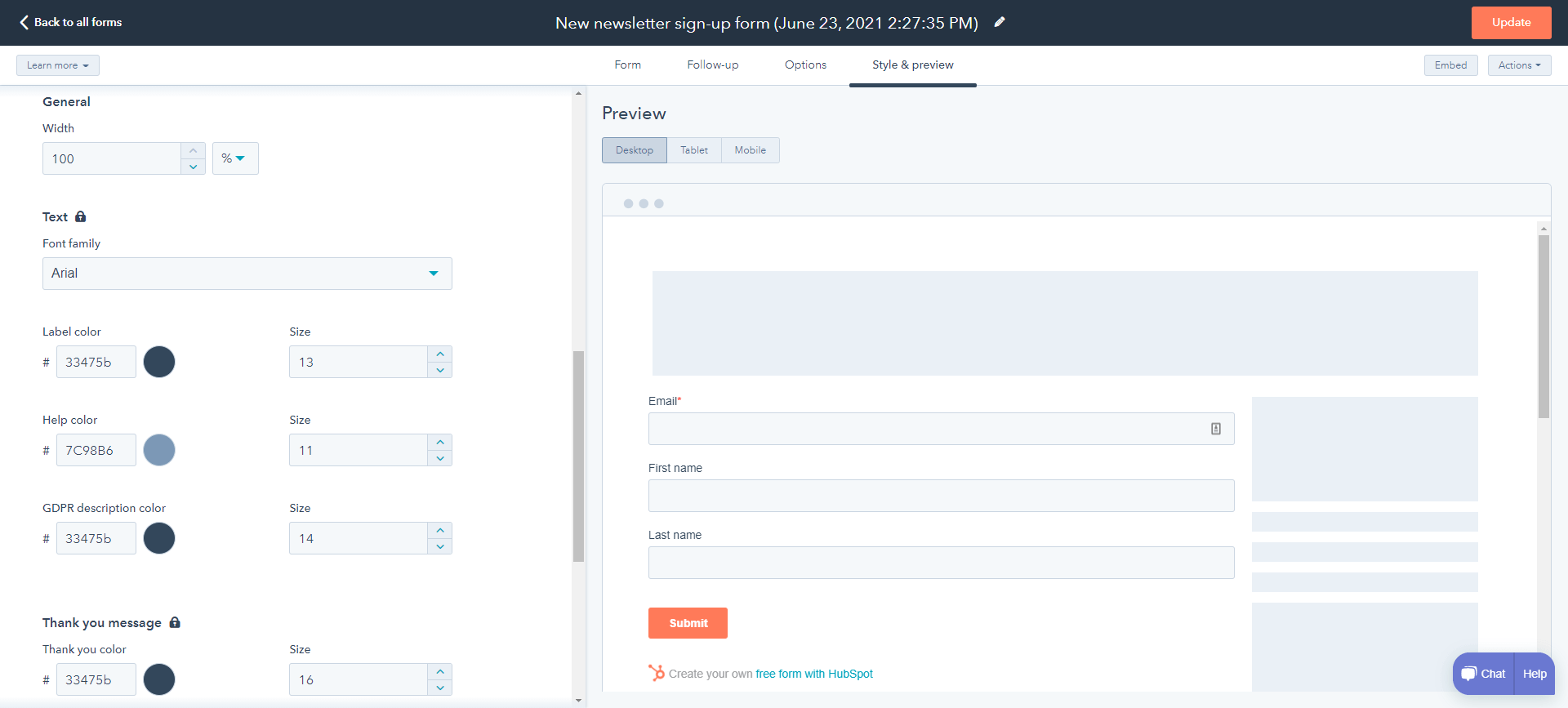 You can add or remove fields easily, and style the entire form from the sidebar.
Additionally, you can preview the form on desktop, mobile, or tablet.
Reporting and Analytics
There's no single reporting section in ConvertKit. Instead, performance analytics are tied to each individual area (e.g. broadcasts, sequences, workflows), which is intuitive for the most part.
There's nothing too special about ConvertKit's reporting, but it has all the most essential statistics.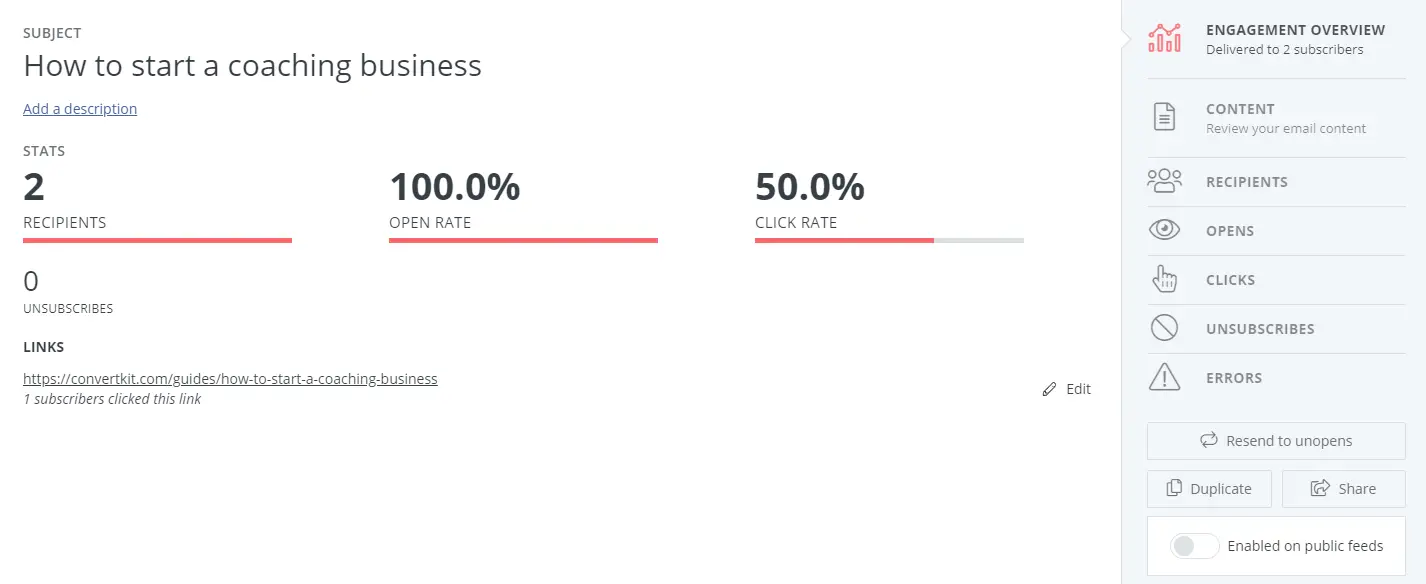 You can quickly see how many times an email has been sent and opened, as well as which links have been clicked. There's also an overall graph showing how your emails have performed over time compared to each other. With ConvertKit's Creator Pro plan you can get more advanced statistics such as deliverability reporting. 
The statistics vary based on what you're looking for. For example, forms and landing pages show you views, subscribers, and conversion rates.
HubSpot also gives you easy to read email reports, with a few extras.
On top of open and click rates, you can also see a click map, which is essentially a heatmap that makes it easy to see which links were clicked. This is useful if you send out long-form emails to subscribers.
In addition, you can also see some advanced performance data like how much time was spent reading an email, or how the email performed based on the email client.
While they may offer slightly different analytics interfaces, both ConvertKit or HubSpot will give all the data that almost any small or midsize business needs.
Pricing
Neither of these platforms are aiming to be the cheapest email marketing provider. There are plenty of others trying to do that. Instead, they want to offer powerful and easy-to-use email marketing features for small businesses, which comes at a bit of an extra cost, though still affordable for most. 
As far as which marketing platform is more expensive, generally speaking, HubSpot takes the cake. However, this is partly because HubSpot is intended for small and midsize businesses that can afford a markedly more advanced and feature-rich platform. Yes, HubSpot is relatively pricier, but in many respects, it can do much more than ConvertKit.
ConvertKit offers a free plan with many of its core features that supports up to 1,000 subscribers. Once you get enough subscribers to upgrade, you get access to the automation features that are essential for many small businesses. 
One thing we haven't mentioned is that ConvertKit also has features to sell digital products and paid newsletter subscriptions. These are features that are pretty unique to ConvertKit given that the platform caters to creators.
HubSpot also offers a free plan. However, although this free plan gives you access to many of its marketing features, these features have limited capabilities with the free plan. For instance, without a paid plan, you won't be able to access most of the automation capabilities.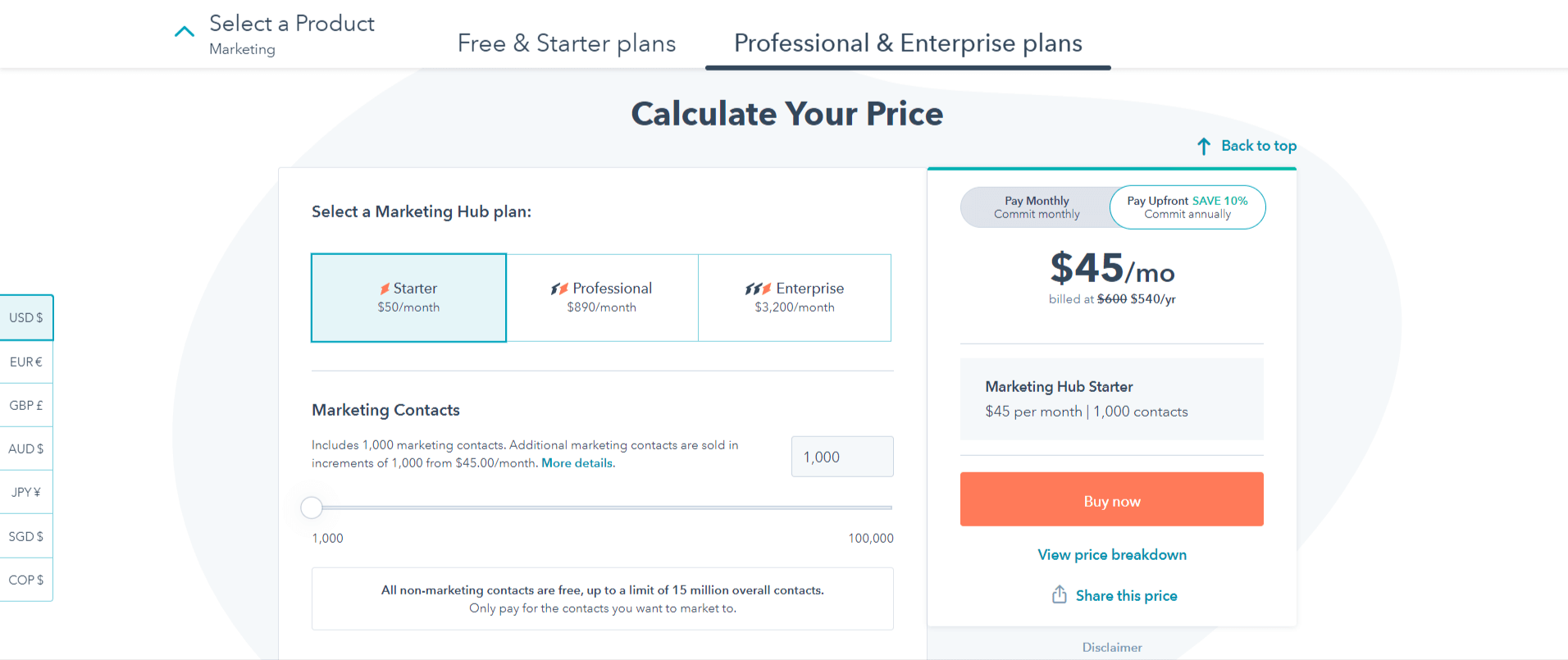 The paid Marketing Hub plans removes HubSpot branding and unlocks the full potential of the various marketing tools like email, landing pages, forms, and live chat that you can only use in a very limited way with the free plan. But these features come at a cost even higher than ConvertKit.
Ease of Use
Email marketing used to be pretty scary and overwhelming for beginner bloggers (and other small businesses). That's why it shouldn't be surprising that ConvertKit has put considerable effort into making the platform easy to use.
If you're new to ConvertKit, there are quick tutorial videos and a checklist that walks you through the most important features.
Even if you skip those, the minimal user interface design makes most features easy to find and use. Other than a few small quirks that we've mentioned before, ConvertKit is one of the easiest email marketing tools to use.
HubSpot is also really well designed, and like ConvertKit, it's very intuitive. But there's so much more…stuff. 
Even though the user interface is clean and easy to use once you get used to it, the incredible number of features can be overwhelming if you're a beginner. Without a doubt, there is more of a learning curve that comes with HubSpot. Expect to spend a few hours poking around to find everything and reading documentation guides.
Deliverability
You shouldn't have any deliverability problems with either of these tools.
ConvertKit sends over a billion messages per month and internally says they have a delivery rate of well over 99%. This seems to only factor in bounced emails, not those that end up in the junk box.
HubSpot doesn't release any internal deliverability metrics, so we can turn to EmailToolTester's deliverability testing to compare the two platforms.
It puts both ConvertKit and HubSpot right above 90% deliverability, and this test does include emails sent to spam so this is a very good score. It's among the best of any popular provider.
Integrations
Because both platforms provide a wide variety of features, you probably won't need to connect your email marketing with much more than your website. But there are always exceptions which is where integrations come in.
ConvertKit has just over 100 integrations in its library, which is a decent number. It has most of the big ones like WordPress, Shopify, and Gravity Forms, but is missing a few including PayPal.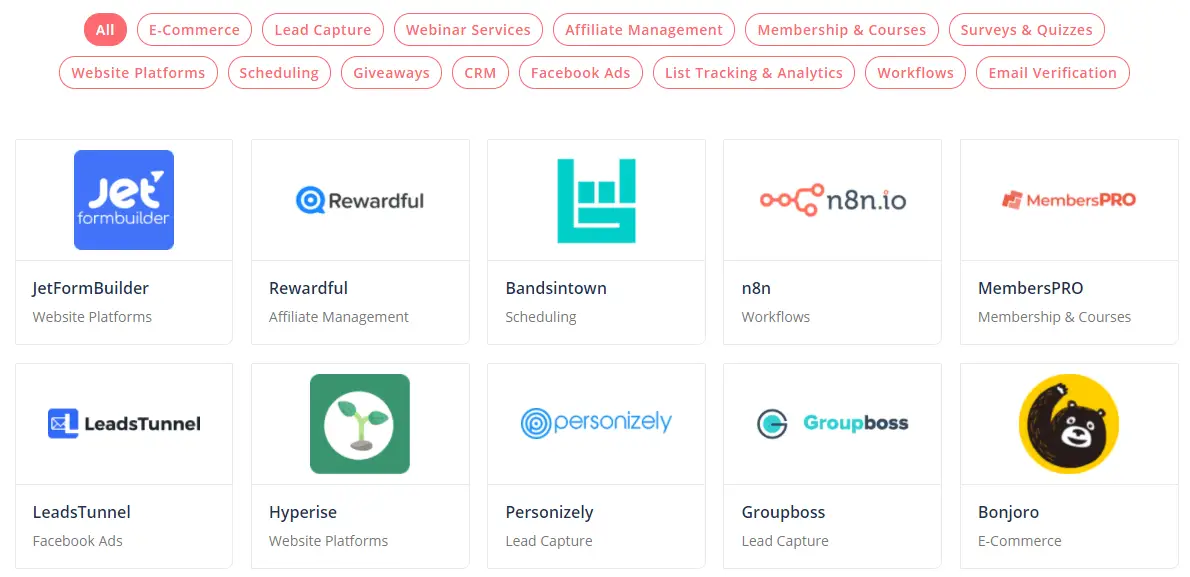 If you need to connect your email marketing to any other third-party tools, you'll want to check if ConvertKit supports them before signing up.
On the other hand, HubSpot has almost 500 integrations, which includes just about any semi-popular tool you can think of.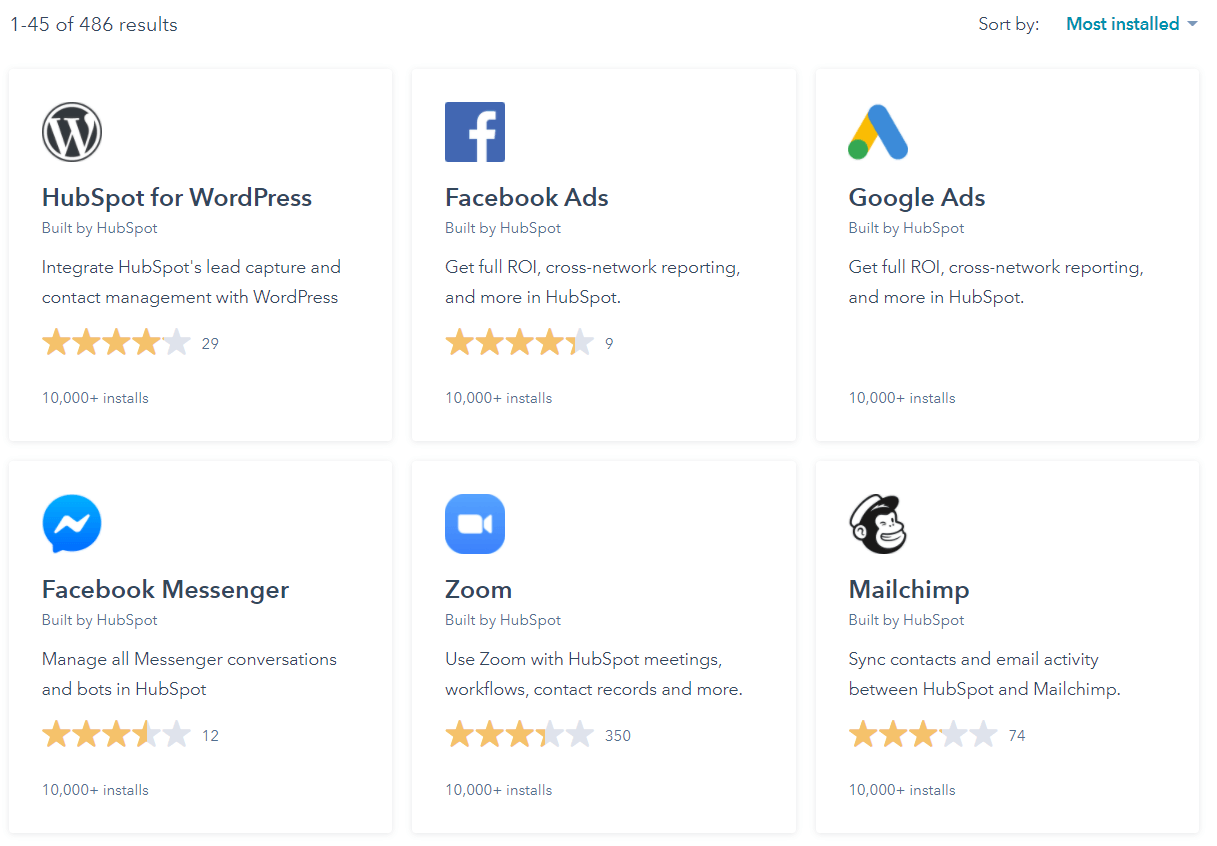 The selection is as good as you can get, although the quality varies widely. Some integrations don't work as well as you'd expect and have quite poor ratings.
Customer Support
The only real downside of ConvertKit's support is that there's no live support.
However, there is email support on all plans, and hundreds of excellent tutorials in the knowledgebase.
In addition, there are valuable resources for creators like the creator community (to get business help from others like you) and free online business classes. These will help you not just with using email marketing tools, but actually using email marketing to grow your business.
As a larger company, HubSpot is able to offer both email and live chat support on all paid plans. The knowledgebase also has hundreds of support guides.
And since HubSpot coined the term "inbound marketing", it's not surprising that it also has an active community of business owners and an online academy where you can earn certifications.
When to Choose Each: ConvertKit vs HubSpot
ConvertKit is mainly designed for creators and small businesses, while HubSpot caters more to small to midsize businesses. However, with the overlap in their core features, most businesses can benefit from both. 
We'd recommend going with ConvertKit if you're looking for the easiest platform to use, or if budget is a main priority.
But if you have a need for a more sophisticated product with has advanced marketing capabilities and numerous features, HubSpot is the way to go. In addition, you get access to a larger library of integrations and live support.
You can see how other email marketing tools stack up to HubSpot in the following comparisons:
Related: Constant Contact vs HubSpot