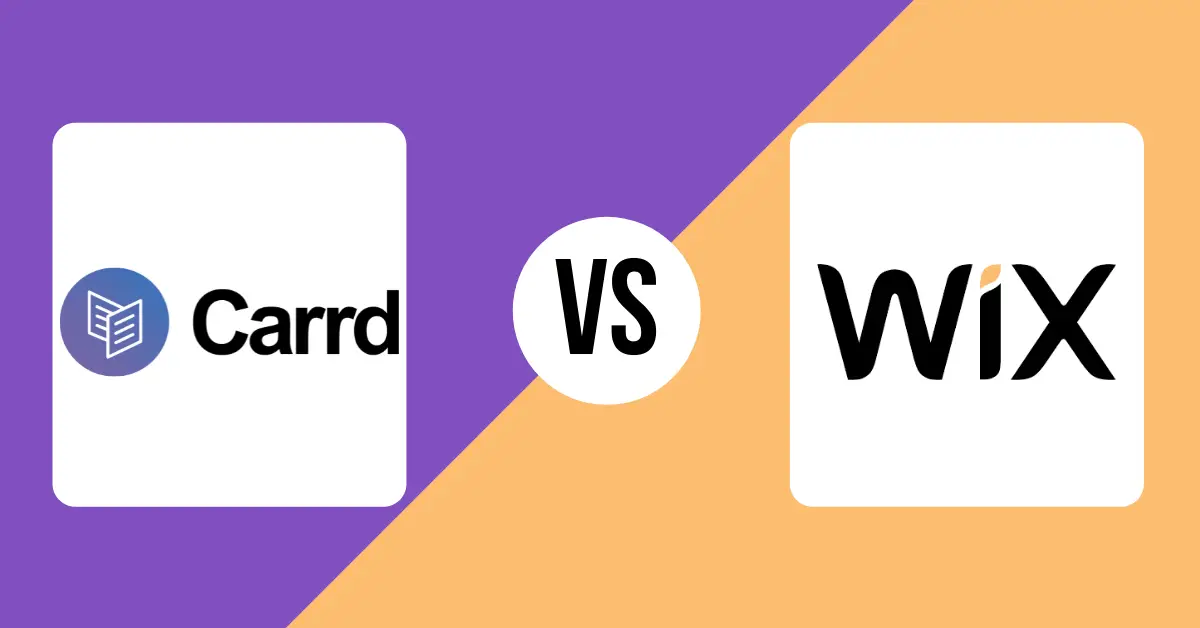 Fortunately for small business owners and entrepreneurs, dozens of website builders have popped up over the years. With so many options, it's easier than ever to get started online. 
However, the downside is that with so many platforms to choose from, it can be difficult to narrow down your search. After all, every website builder has different capabilities, pricing, and a different target audience that can make the best use of the tool. 
But what about Carrd and Wix? 
While the two site builders are similar in many ways, there are some important differences to be aware of before moving forward with one or the other. 
In this post, you can discover the key differences between Carrd vs Wix in terms of features, pricing, and user interface. Let's dive in…
About Wix and Carrd
Wix is an all-in-one website building tool that you can use to build everything from simple one-page websites to massive blogs and even e-commerce stores. Launching in 2006, the solution has been delivering intuitive and effective site-building tools for more than 15 years.1
Carrd is a convenient, easy-to-use, and attractive software for building one-page sites. You can design personal profile pages that you can share on social media, landing pages for capturing emails, and more. Additionally, Carrd also allows you to build up to three sites without paying a penny. The business got started in 2016 and has been growing in popularity ever since. 2
Features
Templates
Templates ensure you don't have to build your entire site from scratch. Fortunately, both Wix and Carrd have numerous templates designed for various goals from capturing leads to displaying a portfolio or photos. 
Wix has hundreds of templates that are tailored to numerous industries such as design, restaurants, music, video, and photography. Each template is professionally designed to look modern and stylish.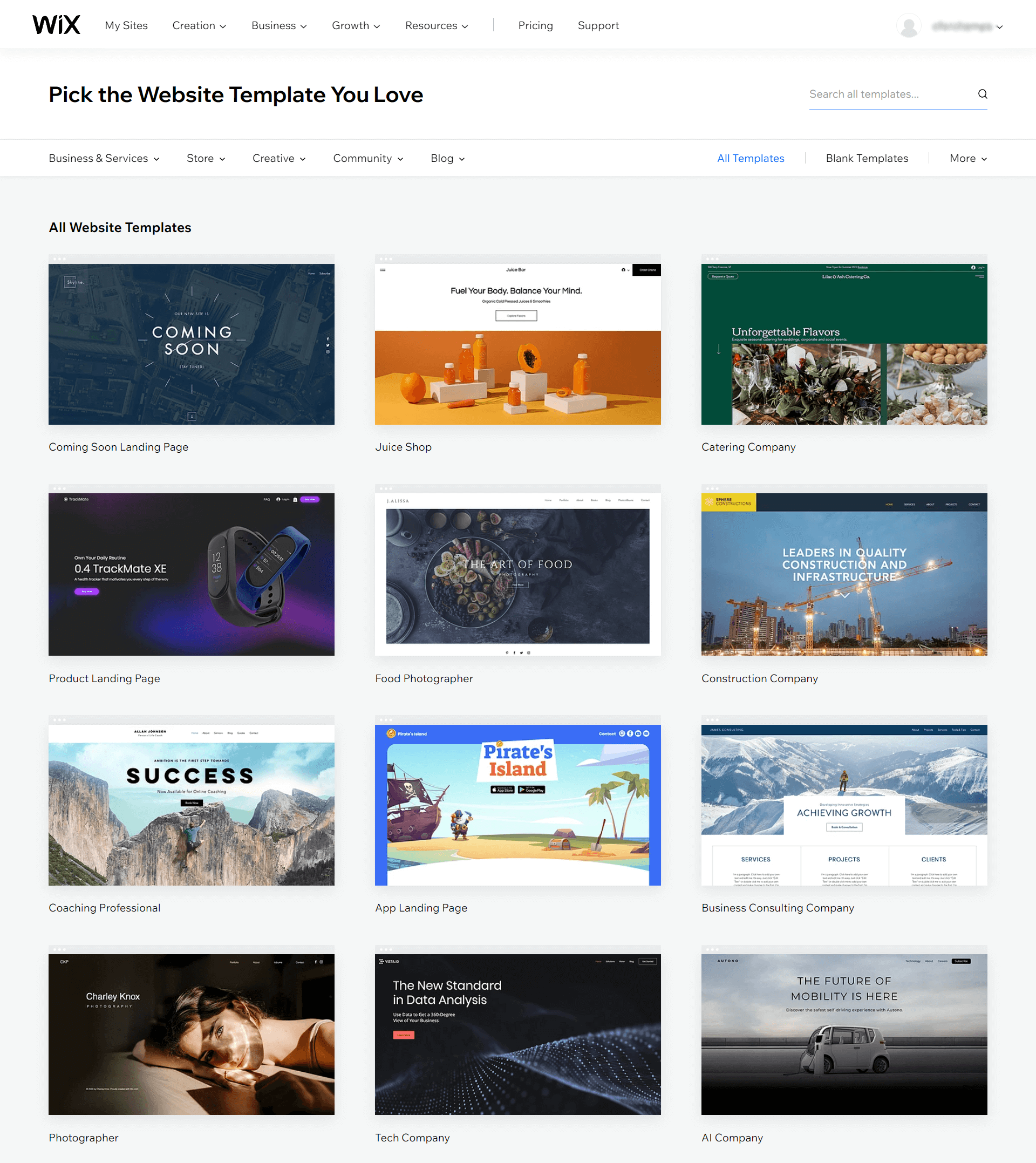 The only downside to Wix's template selection is that the sheer number of templates can be overwhelming. Fortunately, when you first get started with the platform, you get walked through a series of basic questions about your business which helps Wix determine a more narrow selection of templates that would be fitting for you. 
Carrd allows you to start exploring templates instantly before you've even created an account. All the templates available are for one-page websites, with around 75 to choose from. Your options are split into different "starting points", like forms, portfolio pages, sectioned sites, and landing pages.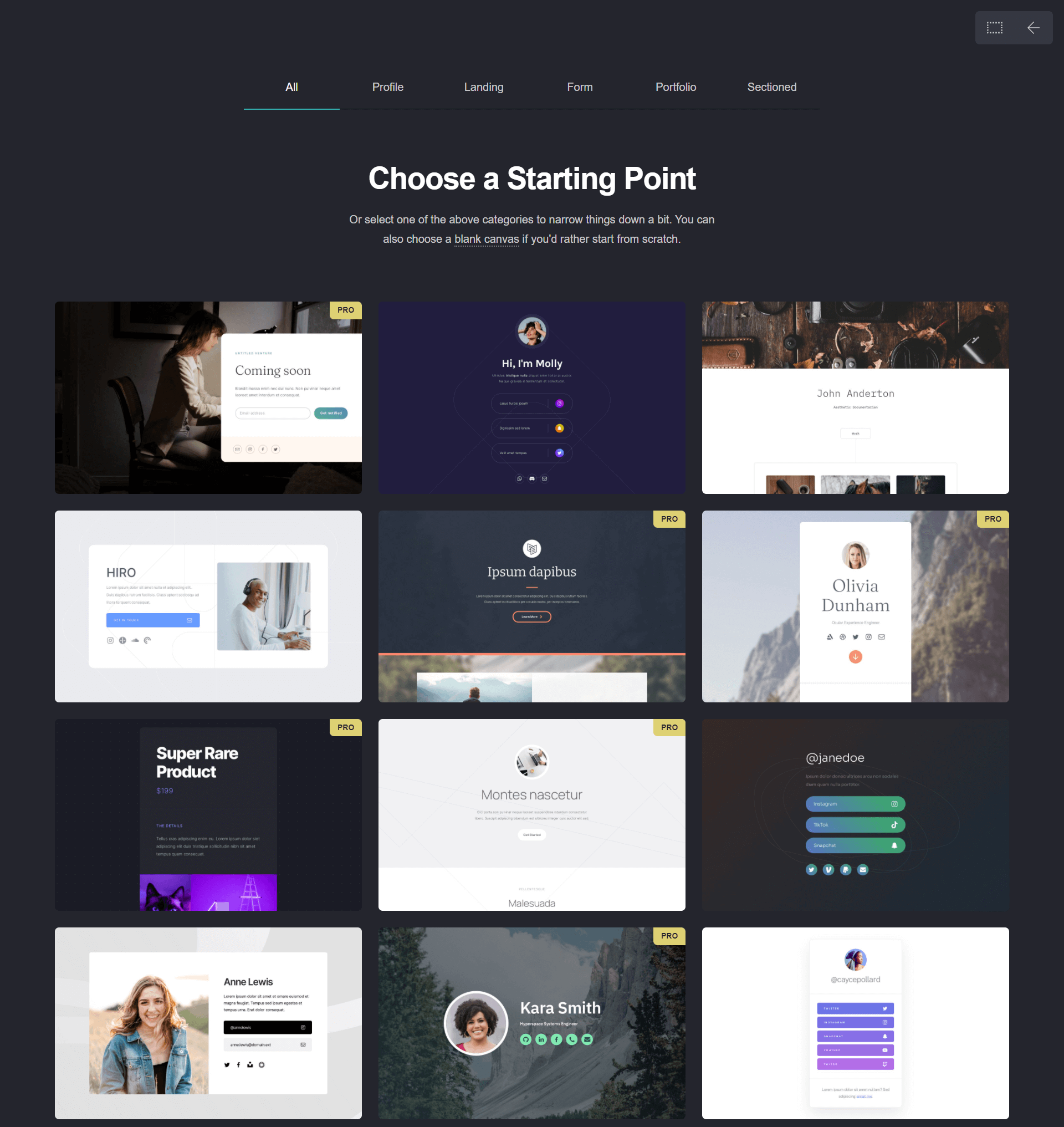 Some of the templates are restricted to "Pro" users, but you can sign up for a free trial if you want to see how they work. Once you select a template, you'll be taken through to the editing page, and receive some information on how you can change various parts of your website.
Page Editor
The page editor section of your website builder is where you customize your website. Here, you can add or change elements like pictures, buttons, and form fields. There's also the option to alter things like website colors and upload your own logo. 
Wix has an extremely flexible website editor. You can easily make large changes to the theme of whatever template you choose by changing the color scheme or shifting the layout of the menu for instance. With the drag-and-drop builder, you can design web pages by adding elements such as text, images, forms, and graphics.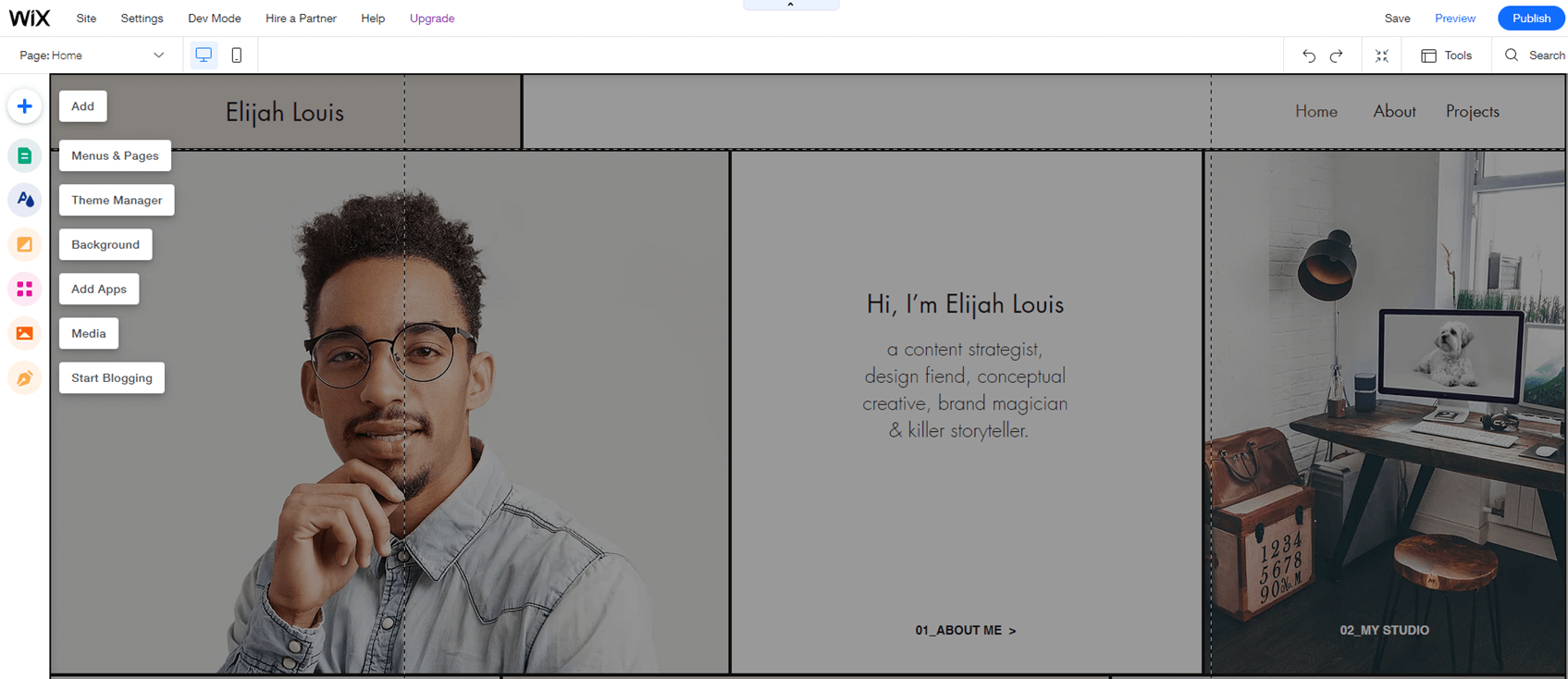 As you edit your pages, Wix will allow you to preview them in both desktop and mobile mode, to ensure they look perfect.
Alternatively, instead of designing your site manually, you can also use the Wix ADI (Artificial Design Intelligence) to create a website for you based on the information about your business you have provided to Wix. 
Similar to Wix, Carrd makes the website creation process as straightforward as possible. Clicking on a template will bring you straight to the editor, with instructions that you can walk through to get the hang of the editor. 
The elements are drag-and-drop, so it's easy to move everything into the right place. However, there are placeholders for elements. In other words, there are areas on each template where you can and can't move certain elements. For instance, you might not be able to move an image so that it's right up against another image if the placeholders don't allow for this.
This is certainly a limitation of Carrd's editor, however, if you are content with the templates Carrd offers and you don't foresee too much design editing for your site, these limitations might not be a concern. On the other hand, with Wix, you have much more flexibility over the position, and size of your elements.  
Carrd also allows you to view what your website might look like in mobile mode, so you can ensure everything is fully responsive.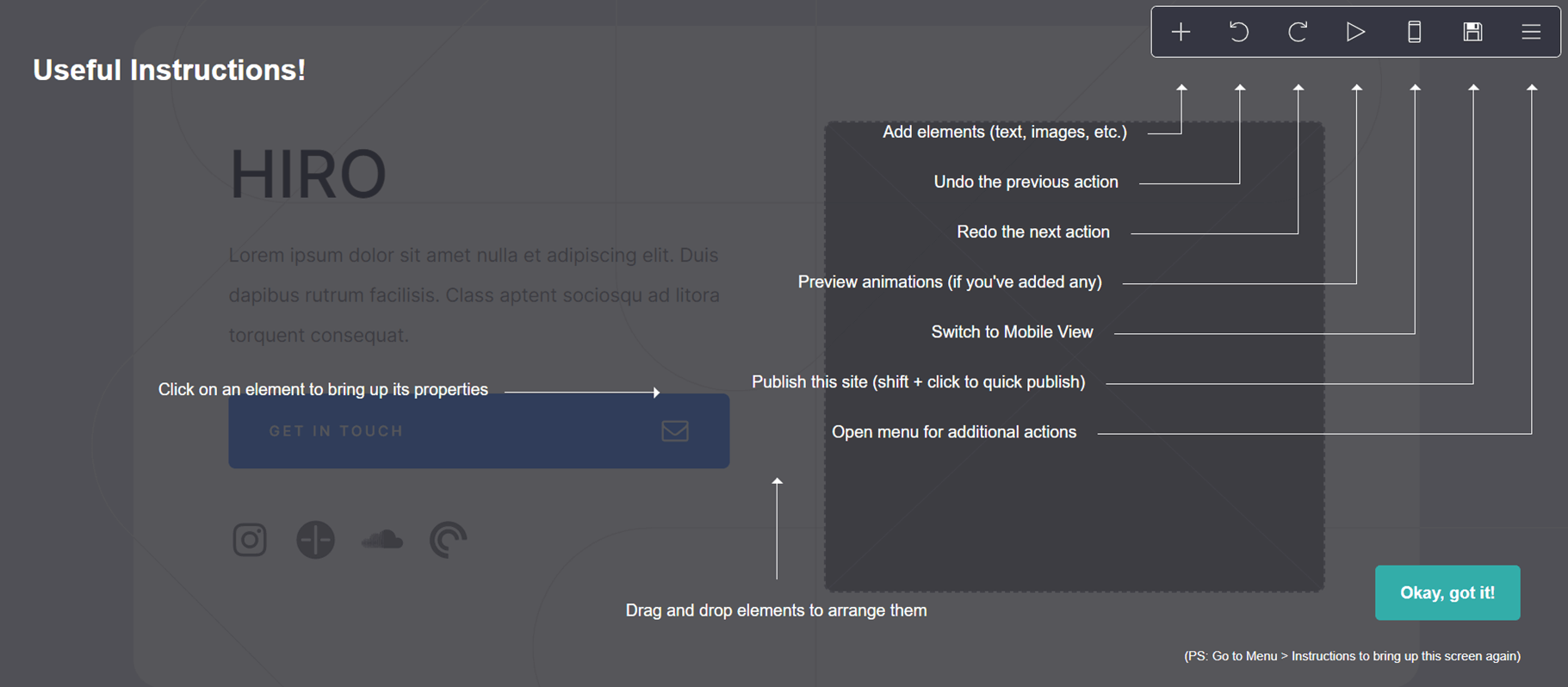 Once again, you'll be limited in the features you can access depending on whether you're using the free service or not. You won't be able to add slideshows or forms to your site unless you're on a Pro plan. However, you can add icons, tables, galleries, audio, and a range of other features easily.
Conversion Tools
If you're building a website specifically to capture leads and sell products or services, you need conversion tools. Fortunately, both Wix and Carrd have these features. 
Wix happens to have a wide selection of form designs that vary in style and purpose (such as contact forms, subscribe forms, multi-step forms, and e-sign forms). However, given how flexible the editor is, you can practically create your very own unique form designs.  
Wix also has payment processor functionality. You can build in popular payment processors such as PayPal directly into forms, allowing you to collect payments from your customers directly on your website.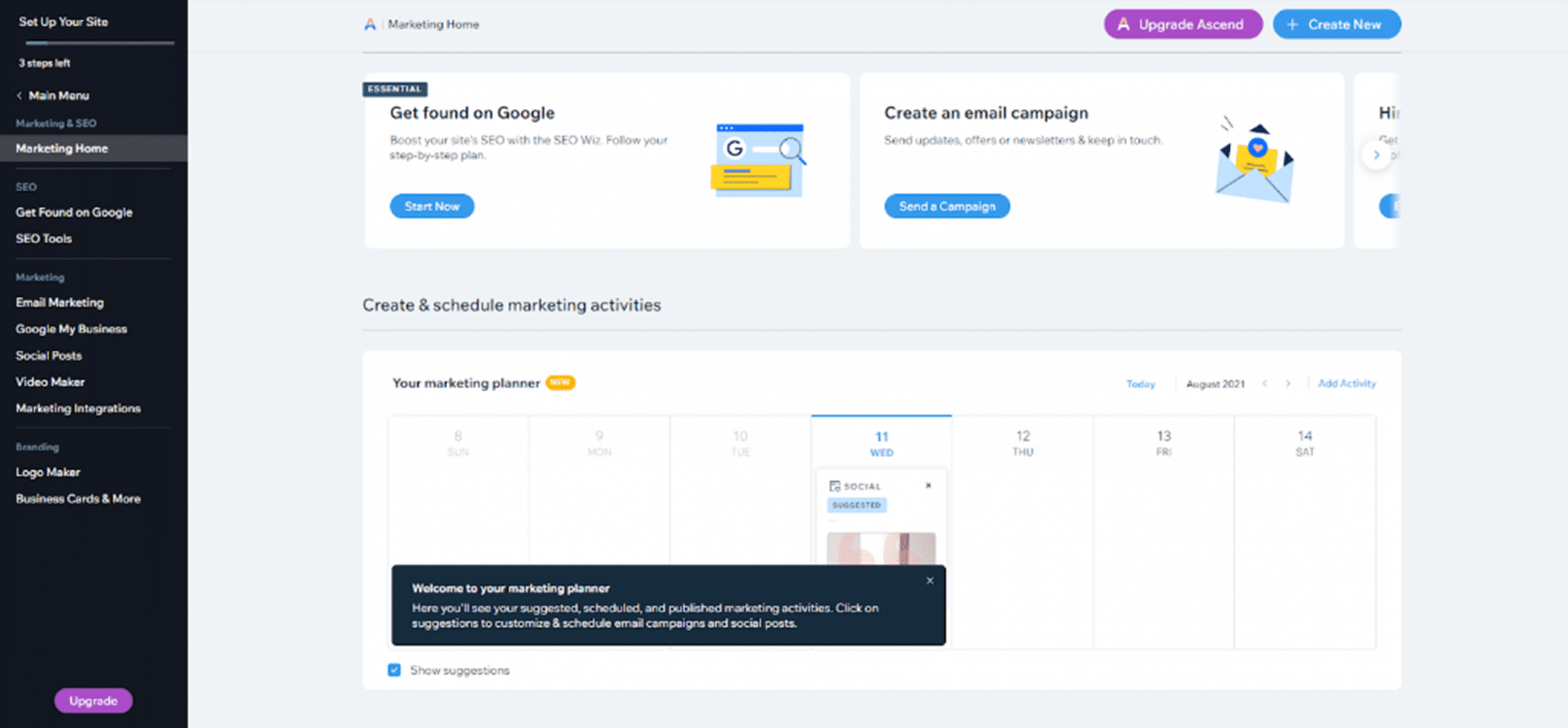 Carrd on the other hand is a bit more limited in terms of conversion tools compared to Wix.
However, Carrd still has basic features for collecting leads. For instance, Carrd has a collection of templates designed for lead generation. Equipped with forms for collecting subscriber information, you can use these templates to build high-converting landing pages. 
As far as collecting payments goes, with Carrd Pro you can integrate with various payment processors such as PayPal and Stripe. That being said, you can effectively sell products or services directly through your Carrd site. Furthermore, you can even integrate with Ecwid and create a full-blown ecommerce store right from your Carrd platform. 
Again though, selling products through Carrd can't be done with the platform's native features. You must integrate with third-party tools to do so.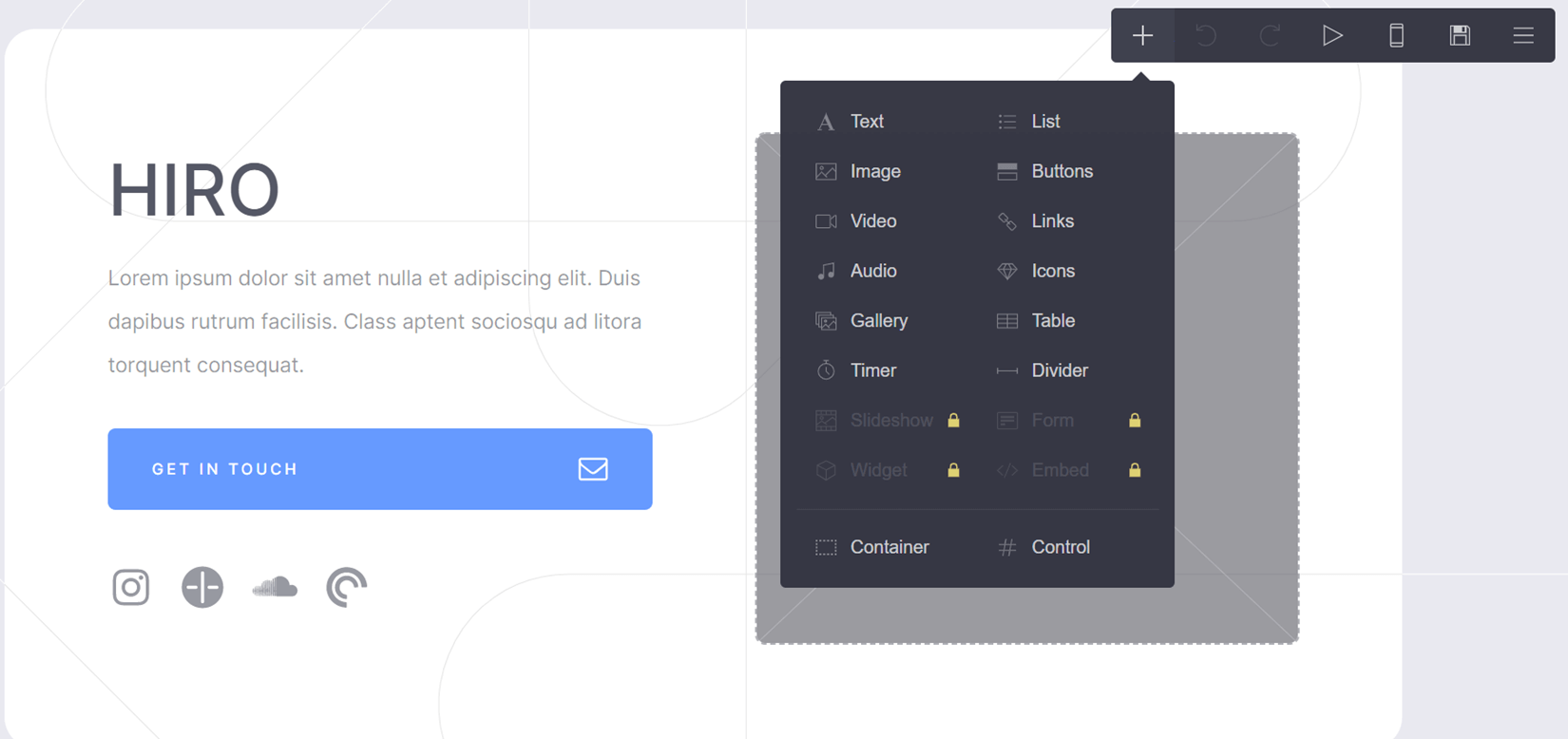 Carrd also doesn't have features for pop-ups or alert bars. Though these features aren't natively integrated into Wix either, you can access them through the Wix app store. 
Analytics and Reporting
Wix offers a decent selection of reporting and analytics tools. To find out what's going on with your site, you can visit the "Analytics and Reports" section of the website and get a basic overview into things like how much traffic you've generated over a certain period of time, how many unique visitors you've had, and what kind of conversion rate you're getting for forms.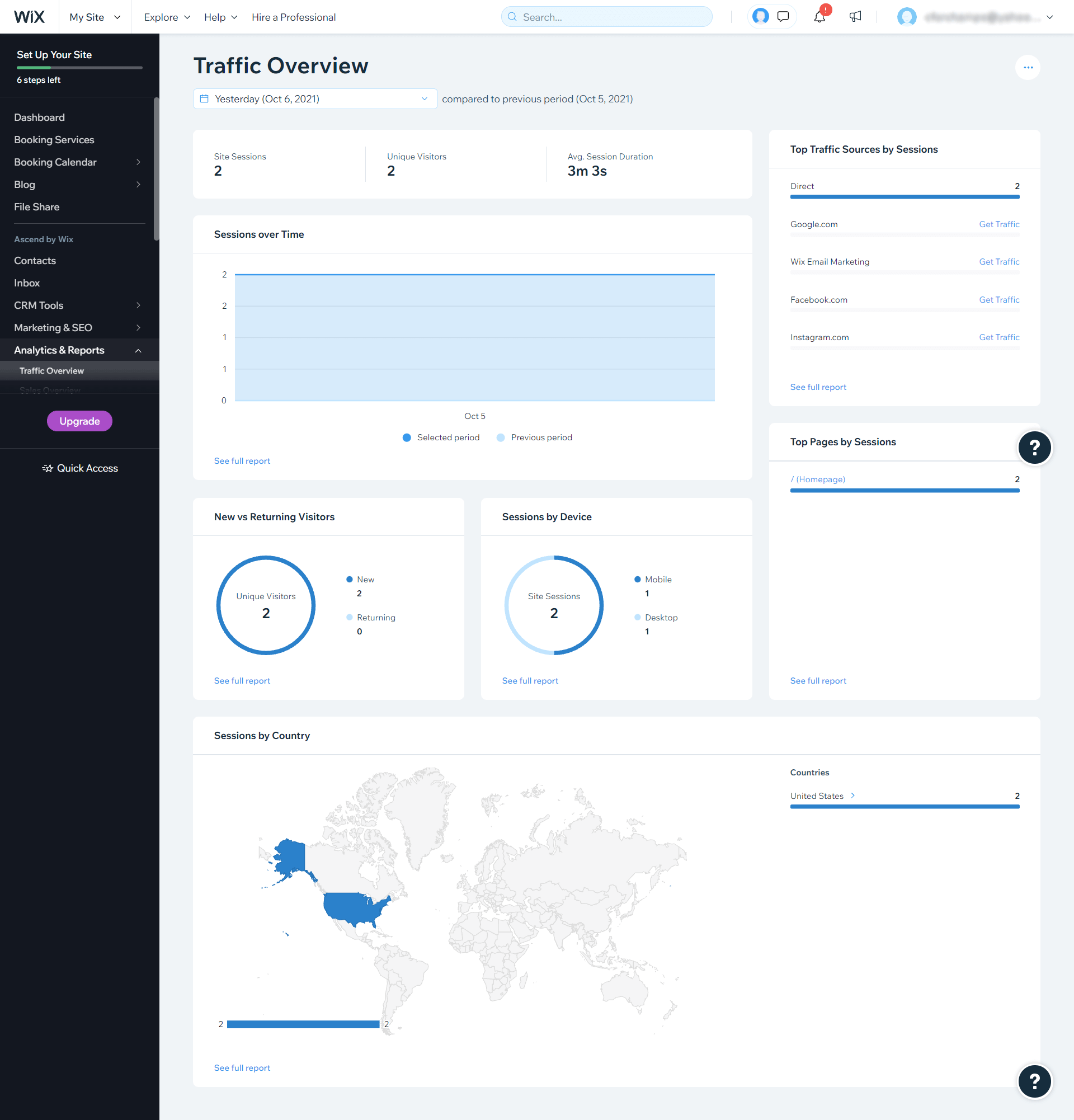 You can also set email alerts to inform you when you reach specific benchmarks. 
Carrd doesn't have its own in-built solution for reporting and analytics, but you can examine your site traffic by connecting it to Google Analytics. You'll need a Google Analytics account to do this, and a "Pro" account or higher with Carrd.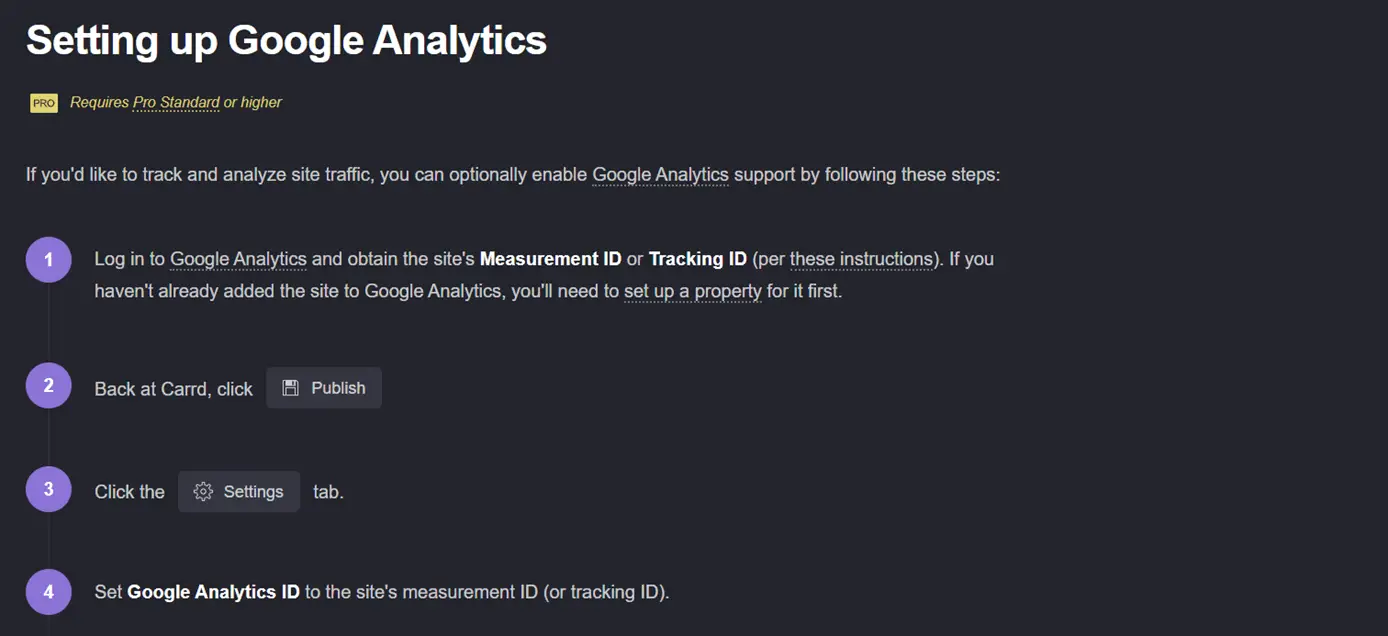 Using Google Analytics will allow you to keep track of things like traffic, where your customers come from, which pages your visitors are landing on and how many conversions you're getting on average. 
Pricing
While budget might not be the most important thing on your list when choosing a site builder – it's something no company can ignore. Fortunately, both Wix and Carrd are extremely affordable.
Wix Pricing depends largely on whether you're looking for a website for blogging and similar activities, or whether you need to manage ecommerce transactions. You can start with a free plan which allows you to build and experiment with different site designs. From there, paid pricing options include: 
Combo:

$14-$18 per month: Removes Wix ads and allows basic site building

Unlimited:

$18-$23 per month: Enables the creation of multiple pages with storage

Pro:

$23-$28 per month: Supports branding and marketing features

VIP:

$39- $47 per month: Priority support and bonus storage.

Business Basic:

  $23-$28 per month: Adds ecommerce functionality

Business Unlimited:

$27-$33 per month: Extra storage and store options

Business VIP:

$49-$56 per month: Designed to grow online stores with more support

Enterprise:

$500+ per month: Custom plan with account manager support
Carrd is free to use for the basic features, but you won't be able to access things like forms and Google Analytics until you upgrade to "Pro". The paid plans gives you access to custom domains, SSL encryption, Forms, widgets and embeddable tools, and custom branding. Packages include:
Pro Lite:

$9 per year for 3 sites with no Carrd branding

Pro Standard:

$19 per year for custom domains, video uploads, 10 sites, embeds, forms, widgets, Google analytics, meta tags and more.

Pro Plus:

$49 per year for 256 sites, custom domain, slideshows, custom templates, redirects, password protection, advanced settings and downloadable sites
Notably, those prices are all "per year" not per month. This makes Carrd one of the least expensive ways to build a website around. 
Ease of Use
Wix is one of the most popular site builders largely because its easy to use for people that don't have a technical background. The drag-and-drop website builder means editing your designs is quick and simple. The back end of the website is clean and easy to navigate as well. However, with so many features, it can be easy to get lost in the backend dashboard at first. 
Carrd is another very simple site-building solution. Everything is labeled to help you get started as quickly as possible, and there's an instruction overlay you can access at any time to help you.
All in all, given that Carrd is a relatively more basic platform than Wix, it's much easier to get acclimated to. 
Integrations
Wix comes with its own "app market" where you can browse through a host of potential connections with other crucial tools. There are dozens of different integrations to explore, and Wix makes it easier to find what you need by arranging your options into categories like:
Marketing

Media and content

Selling online

Events and services

Design elements

Communication
Carrd's integrations are somewhat limited. You can connect your site to Google Analytics, PayPal, Ecwid, and other various platforms. However, by using tools like Zapier, you can greatly expand the selection of tools you can integrate with. 
Customer Support
If you need a little extra help with your site, Wix has you covered. You can access a host of videos and articles to assist you in learning how to build the most effective site – even if you're only publishing a one-page portfolio. There's customer care available through email 24/7, and priority customer care is available for VIP clients too. 
There's a handful of knowledgebase articles available from Carrd to assist you with getting started, but customer service is limited. If you have an issue, you can use the online contact form to get in touch via email. 
When to Choose Either: Carrd vs Wix
Choosing between Carrd vs Wix largely depends on your goals for your website. 
People tend to use Wix to build blogs, company websites for selling products or services, e-commerce stores, and landing pages. It's quite versatile, to say the least. 
Given how feature-rich and powerful the platform is, its fully capable of supporting large websites that receive thousands of visitors per month. However, the affordability of the platform makes it great for freelancers and small-time bloggers as well. 
In light of this, if you are looking for a relatively more sophisticated platform, Wix is a great choice. 
Carrd on the other hand is often used to create
Personal profile pages to add on social media,

Portfolios of art or photos

Resource pages with links to various other websites about a certain topic

Landing pages for collecting email addresses

"Contact me" pages for collecting inquires and comments
Generally speaking, Carrd is a relatively simple website builder that's great for building websites quickly and easily.
If Carrd is appealing to you, but its not quite what you are looking for, fortunately there are many other similar Carrd alternatives that are great for easily building one-page websites.
Related: Leadpages vs Wix: A Side by Side Comparison