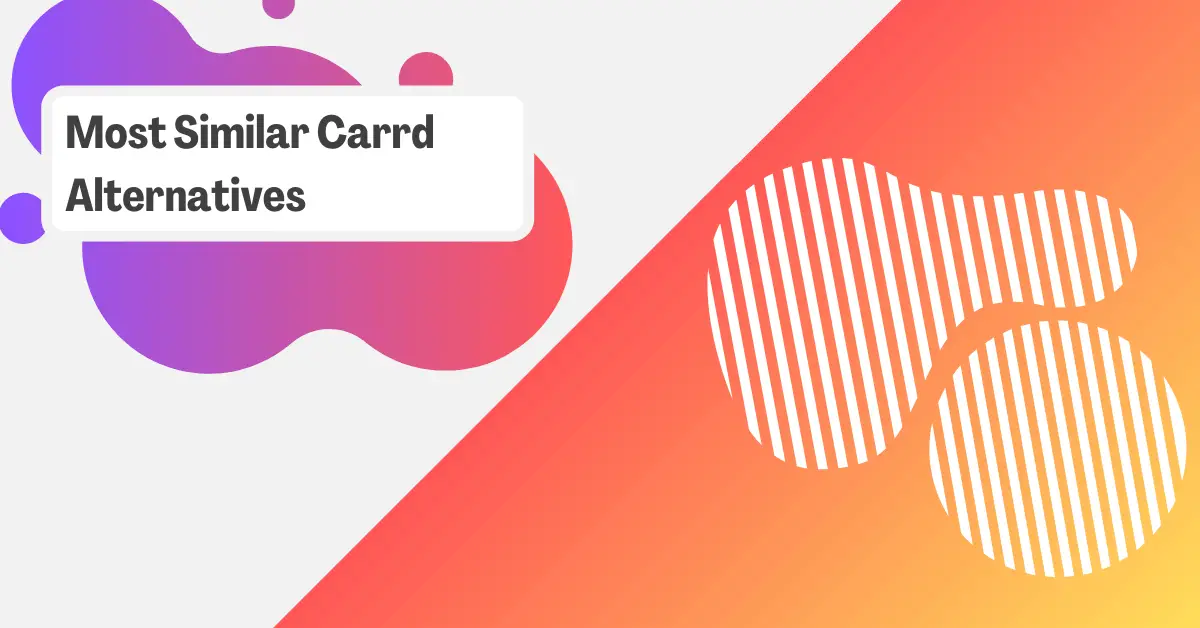 Carrd is one of the most popular page builders available, and for good reason too. After all, its stunning templates and intuitive interface makes creating simple one-page sites a breeze.
However, Carrd isn't the only page builder of its kind. There are various other options that you can choose from for building small sites and landing pages.
In this post, you can discover 12 Carrd alternatives that are most similar to the platform.
But before we dive in… what makes these alternative solutions similar to Carrd in the first place?
Generally speaking, there are three qualities these solutions share with Carrd: 
1. Affordability: Carrd is one of the most affordable website builders available. A huge portion of Carrd's website templates can be accessed completely for free. Practically all of Carrd's features are free as well. On top of that, to get the premium themes and features you can upgrade to the Pro version starting at just $9 per year. 
2. Ease of use: Carrd is easy enough to use for those who have little to no technical experience. With simple drag-and-drop functionality, you can whip up landing pages just minutes after signing up. 
3. Versatility: Carrd is often used to create profile/bio pages. However, Carrd can also be used to create portfolio sites, lead-generating landing pages, sales pages, and much more. There are numerous types of pages you can create with the platform. 
While the following platform discussed here may be different from Carrd in terms of features, interfaces, user base, and other factors, these page builders have the same qualities that make Carrd so appealing. 
Wix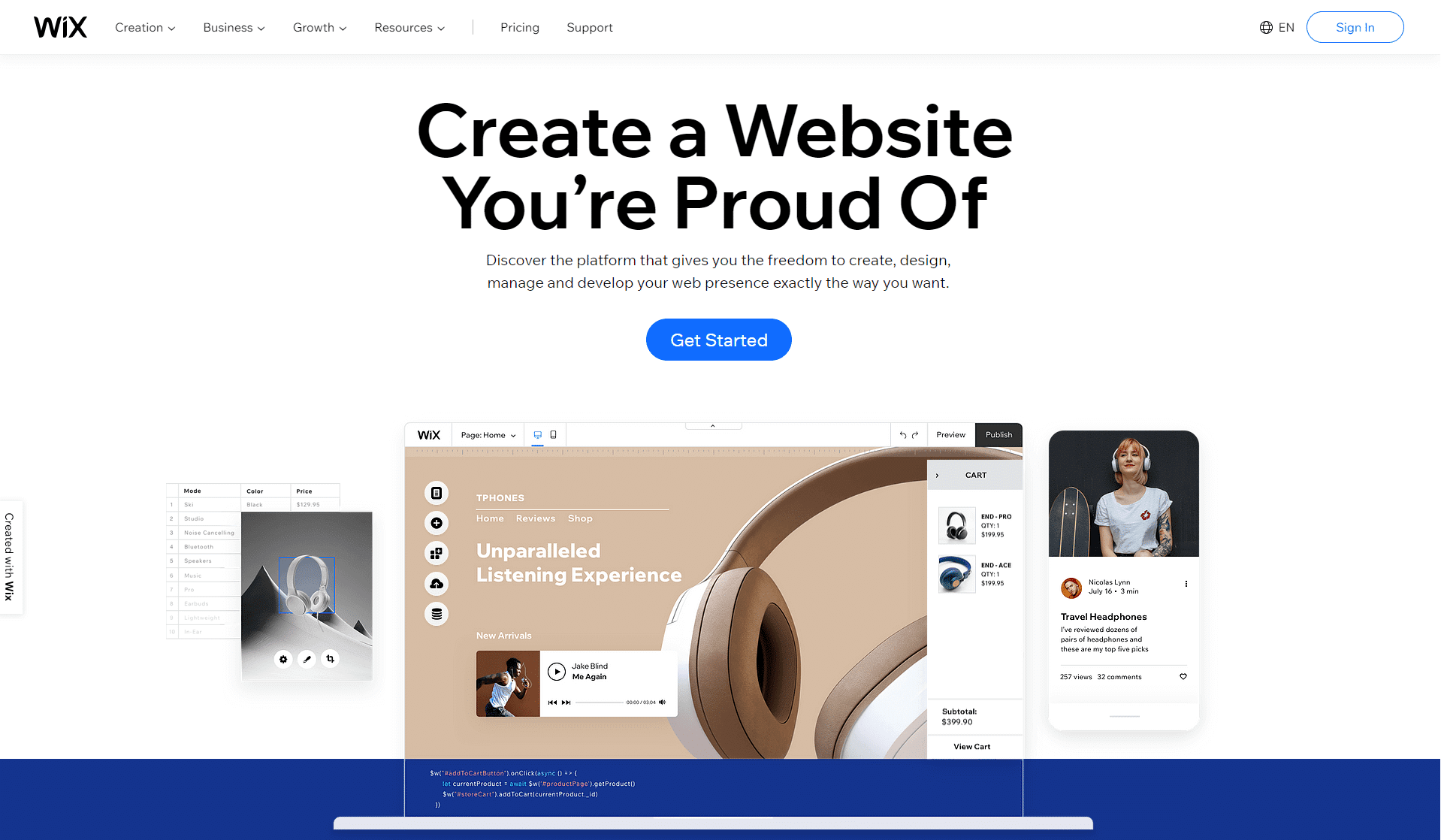 Wix is a popular page builder that makes it easy to create a simple one page website, a landing page or a full-blown multi-page website. What sets Wix apart is the platform's AI-powered technology that builds a personalized website for you complete with text and images. All you have to do is answer a few simple questions and ADI (Artificial Design Intelligence) will take care of the rest. 
Like Carrd, Wix offers beautiful and minimal design templates that you can use as a starting point. They're suitable for a variety of industries. On top of that, Wix allows you to edit the mobile version of your site to ensure it's completely responsive and you'll have access to SEO tools to optimize your site or landing page for the search engines. Wix also has a free plan to get you started. Paid plans start at $4.50/mo.
Tilda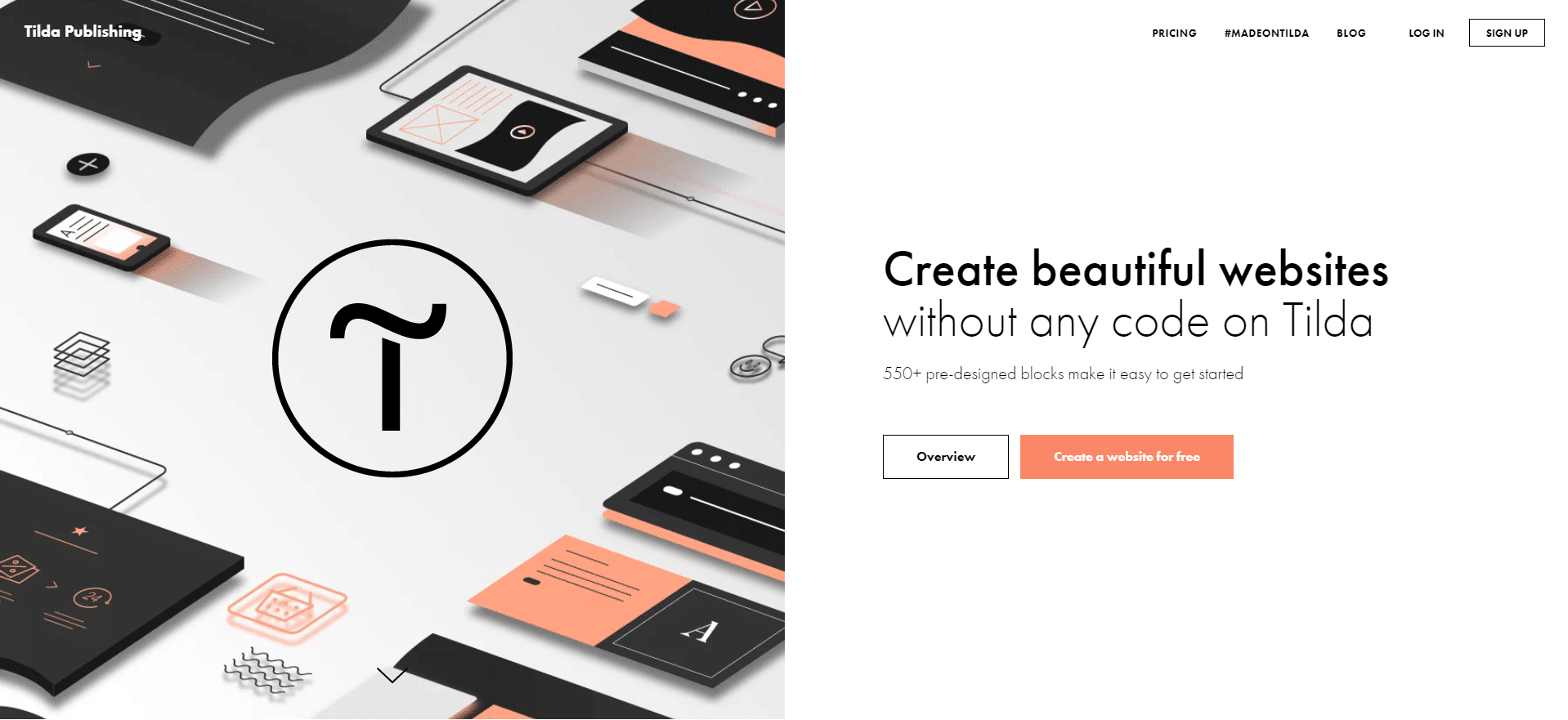 Tilda boasts itself as a website platform that allows you to build a beautiful website without any coding. Tilda is intuitive and completely adaptive which means your one page website will look great no matter which device or screen size your visitors are on. Tilda offers 550+ blocks that you can easily add to your page and all of them have a modern and trendy design. 
Aside from blocks, Tilda also offers block collections and you can easily create custom blocks from scratch and save them for later use. Tilda offers a free plan to get you started and their templates are sleek and minimal. You can also connect Tilda with other platforms and integrate PayPal and Stripe payment buttons. Paid plans start at $10/mo and you can use Tilda's hosting to host your website or export it to your own server.
8b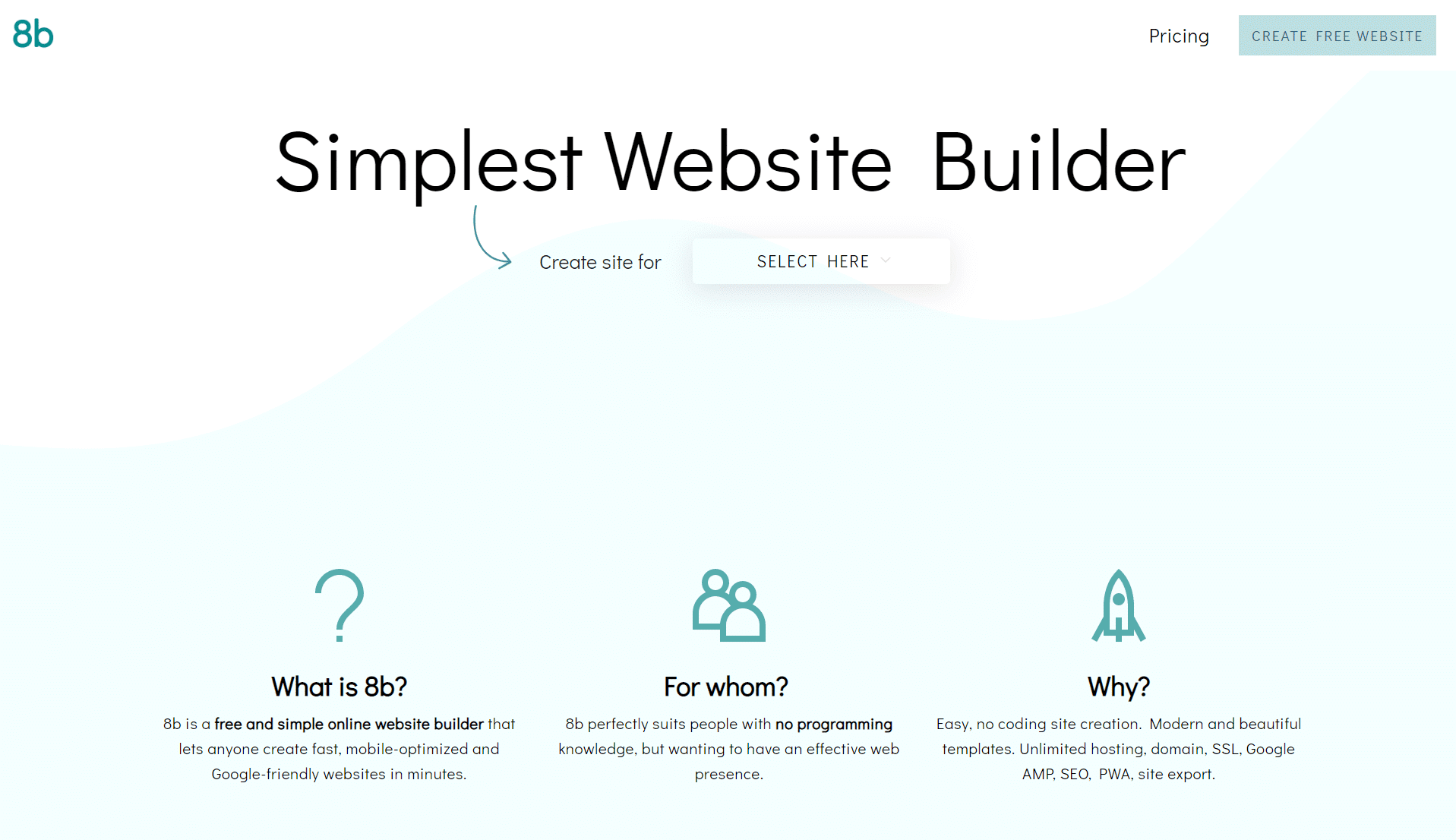 8b is a simple website builder that is suitable for any type of one page website or a landing page. The builder has an intuitive interface and immediately lets you choose what type of website you want to build. It offers a number of different templates and the ability to enable SSL on all of your websites. What sets 8b apart is that it offers PWA support, which means it is possible to turn your one-page website into a mobile or desktop application effortlessly.
The templates have a modern and clean design and they're mobile responsive. Creating a website with 8b couldn't be simpler: choose your template, customize it, and publish it when you're ready. What's even better, you can create your website using your phone or tablet. 8b offers a free plan with all the core features. Paid plans start at $2.99/mo billed annually.
uKit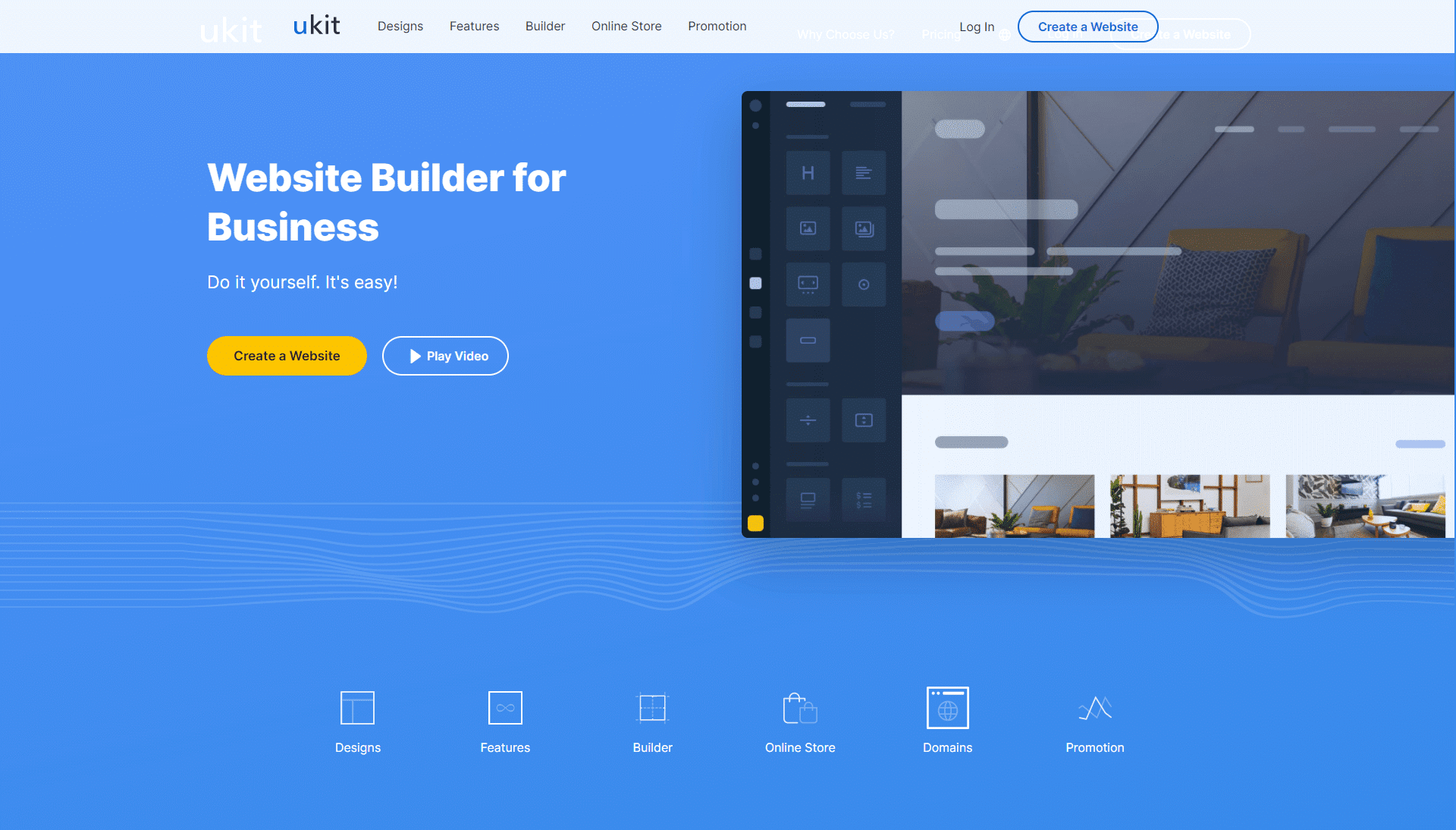 uKit markets itself as the website builder for businesses. However, thanks to its ease of use and modern templates, you can easily use it to build a profile page, a one page website or a landing page. uKit offers 350+ designs across 38 different industries. You can also use the intuitive drag and drop builder to create your website from scratch. However, since it's geared for businesses, uKit does offer more features than Carrd such as the ability to create an online store. 
Similarly to Carrd, you can connect your own domain name and integrate Google Analytics to see how your site is performing. The builder also integrates with other tools so you can easily link your social media profiles and add email sign up forms. uKit doesn't have a free plan but they do offer a free 14-day trial so you can test out all of the builder's features. Paid plans start at $5/mo.
About.me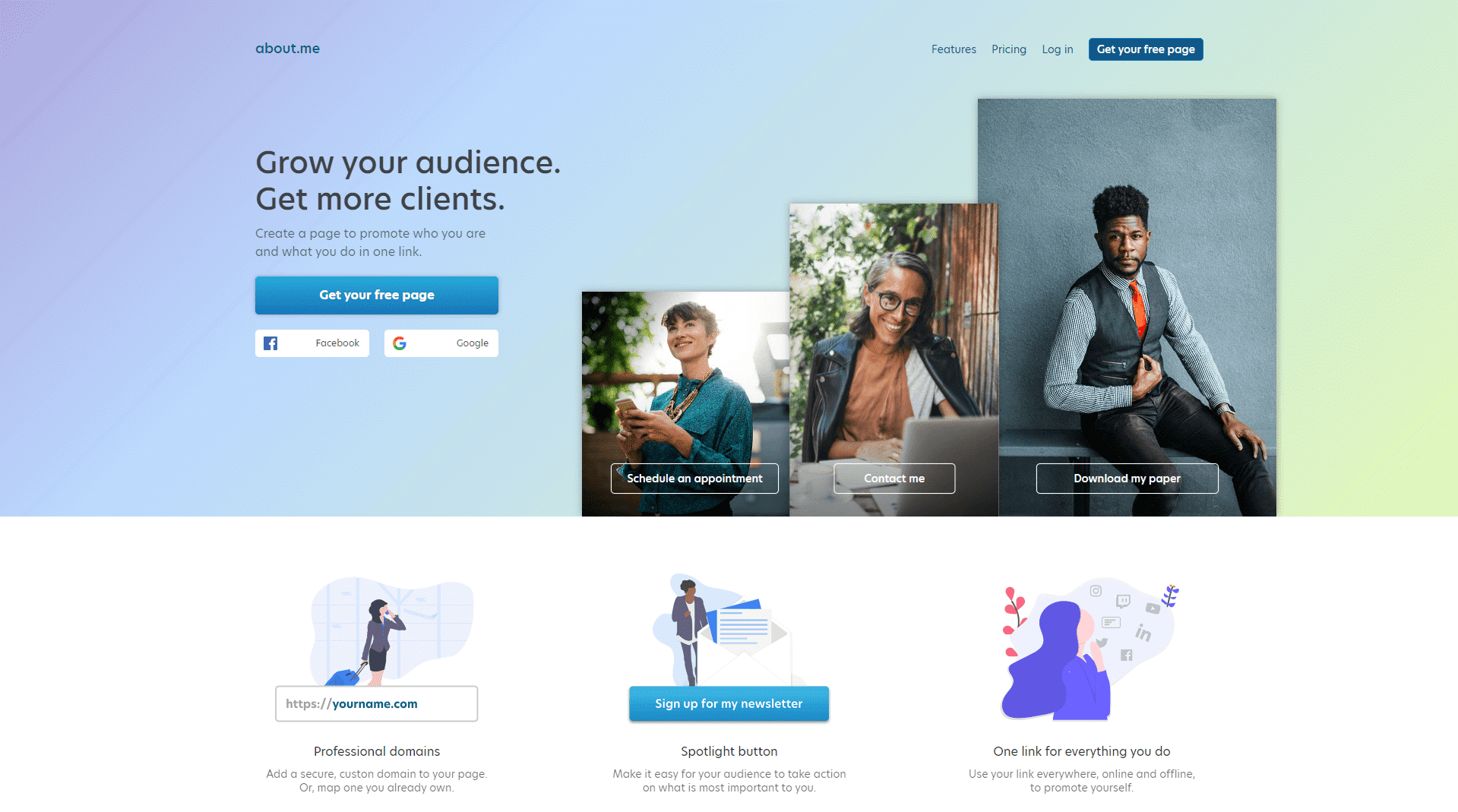 About.me is perfect for any individual that wants a simple profile or bio page. It allows you to easily create a website and you can even add a spotlight button for people to book an appointment, visit your website, listen to your podcast, or more. Once you sign up for the platform, you'll go through a series of questions and then be able to choose a template for your page. The design options are somewhat limited but if you're looking for something quick and easy, the About.me could be perfect for you. 
The About.me doesn't have as many templates as Carrd does but the templates do look modern and they're responsive. You can get started for free and that allows you to point people to any link such as your Youtube channel, Instagram or LinkedIn profile, another website, and more. If you want to connect a domain, you'll have to upgrade to a paid plan which costs $8/mo.
Related: About.me Alternatives (Free and Paid)
Strikingly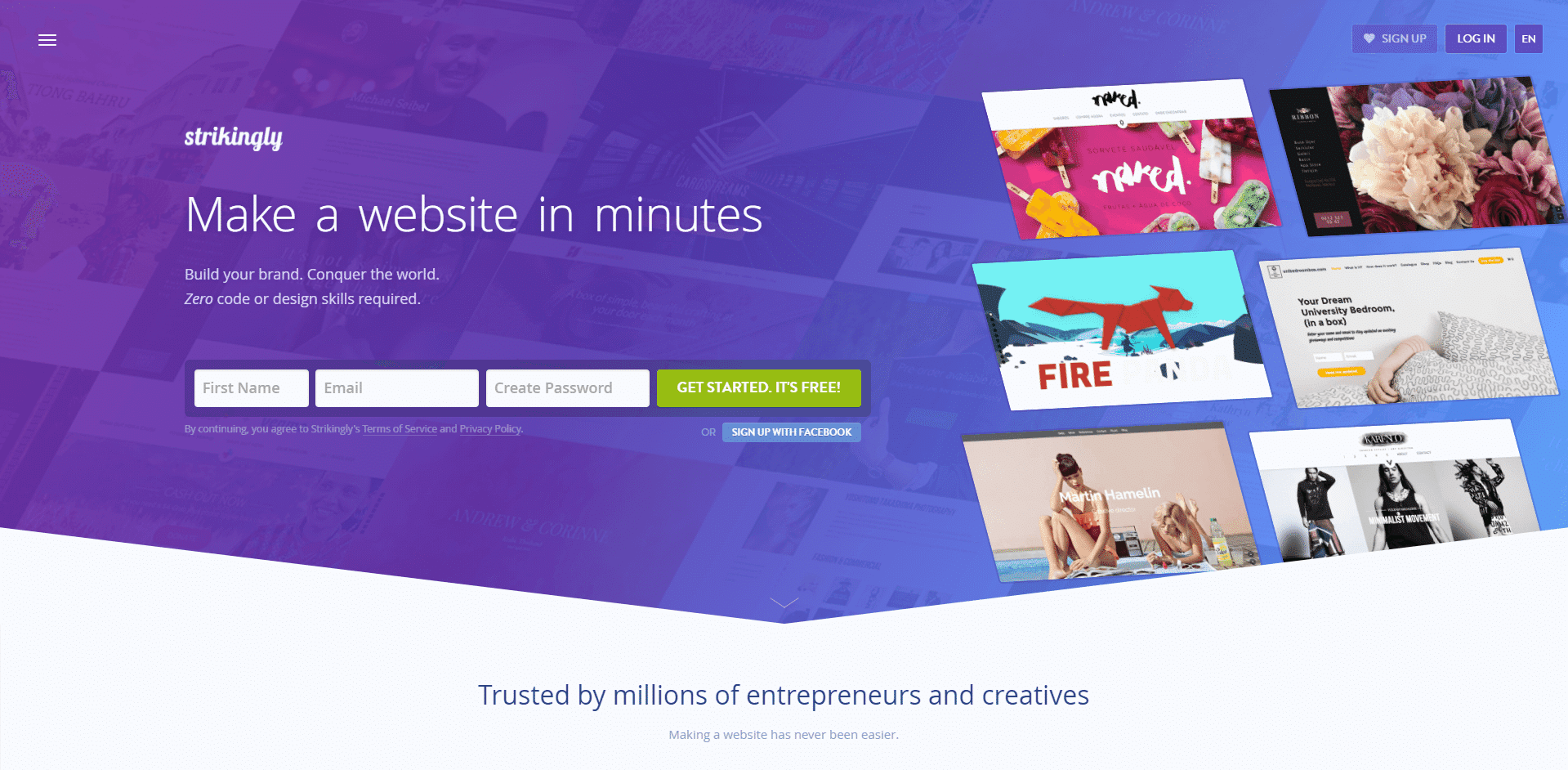 Strikingly offers a range of stunning templates for various industries and purposes. You can create a business website as well as a one page profile website or a landing page that grows your email list. All of the templates are also mobile responsive and easy to edit with the intuitive drag and drop builder. In fact, Strikingly makes a bold claim you'll be able to create a website in 30 minutes or less. In addition to that, you can also create an online store and collect payments. 
Where Strikingly resembles Carrd is the sleek and minimal template design as well as intuitive interface and ease of use. In addition to that, you can add email sign up forms and link your social media profiles as well as add a live chat and forms to make it easy for people to get in touch with you. Strikingly offers a risk-free, 14-day trial and paid plans start at $12/mo.
Lander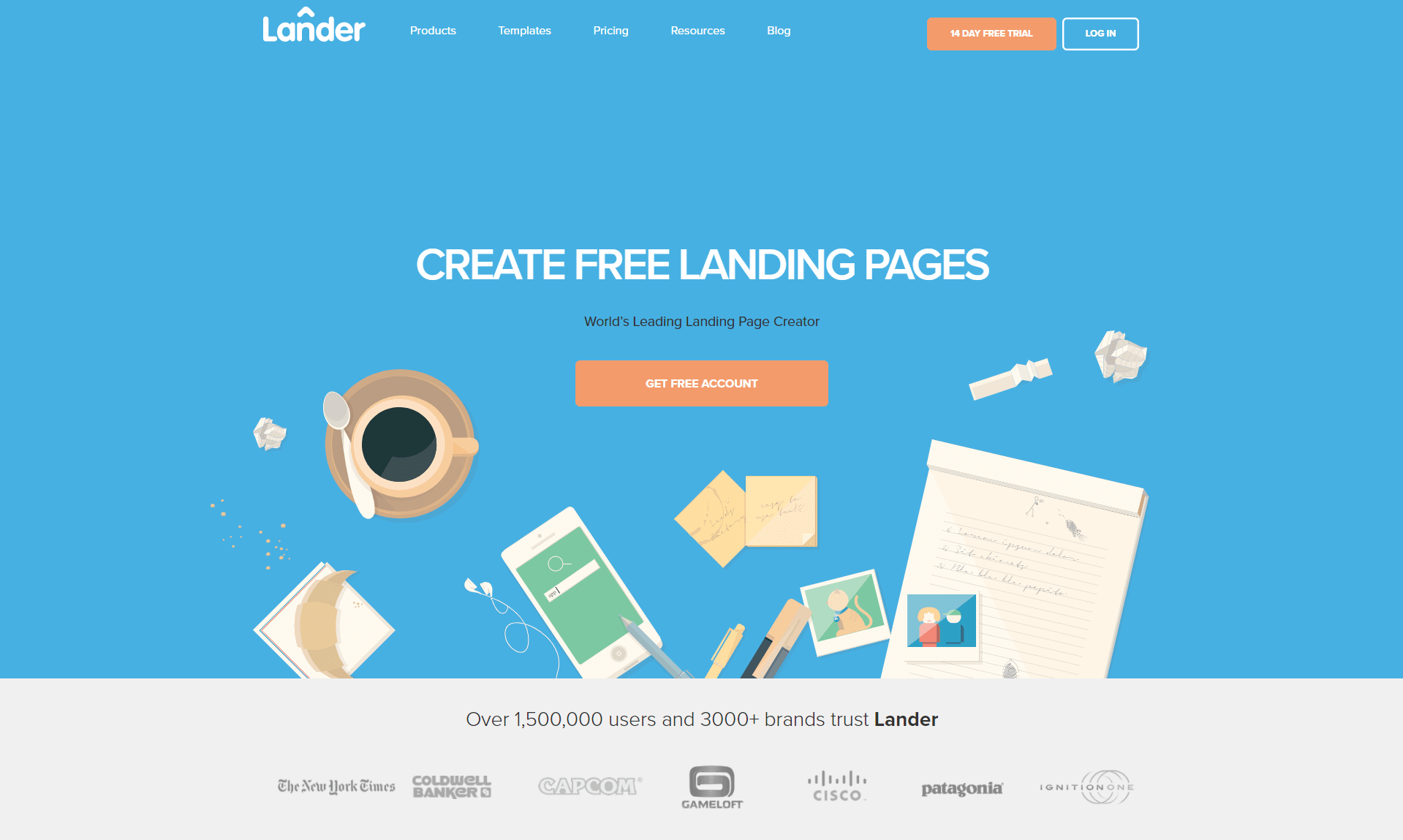 Lander app is a landing page software but you can easily adapt it to create a simple profile page. It offers more than 100 templates with modern designs for all kinds of landing pages: eBook, app, lead capture, and more. Lander offers a visual drag and drop builder and it also allows you to A/B test your landing pages to see which version gets you more conversions. 
Lander allows you to create an unlimited number of pages and they're all mobile responsive. You can also integrate other platforms and tools with your landing pages, track your conversions over time, and set up confirmation and thank you pages where visitors will get redirected upon sign up. Lander doesn't have a free plan but they do offer a 14-day free trial. Paid plans start at $49/mo.
Zyro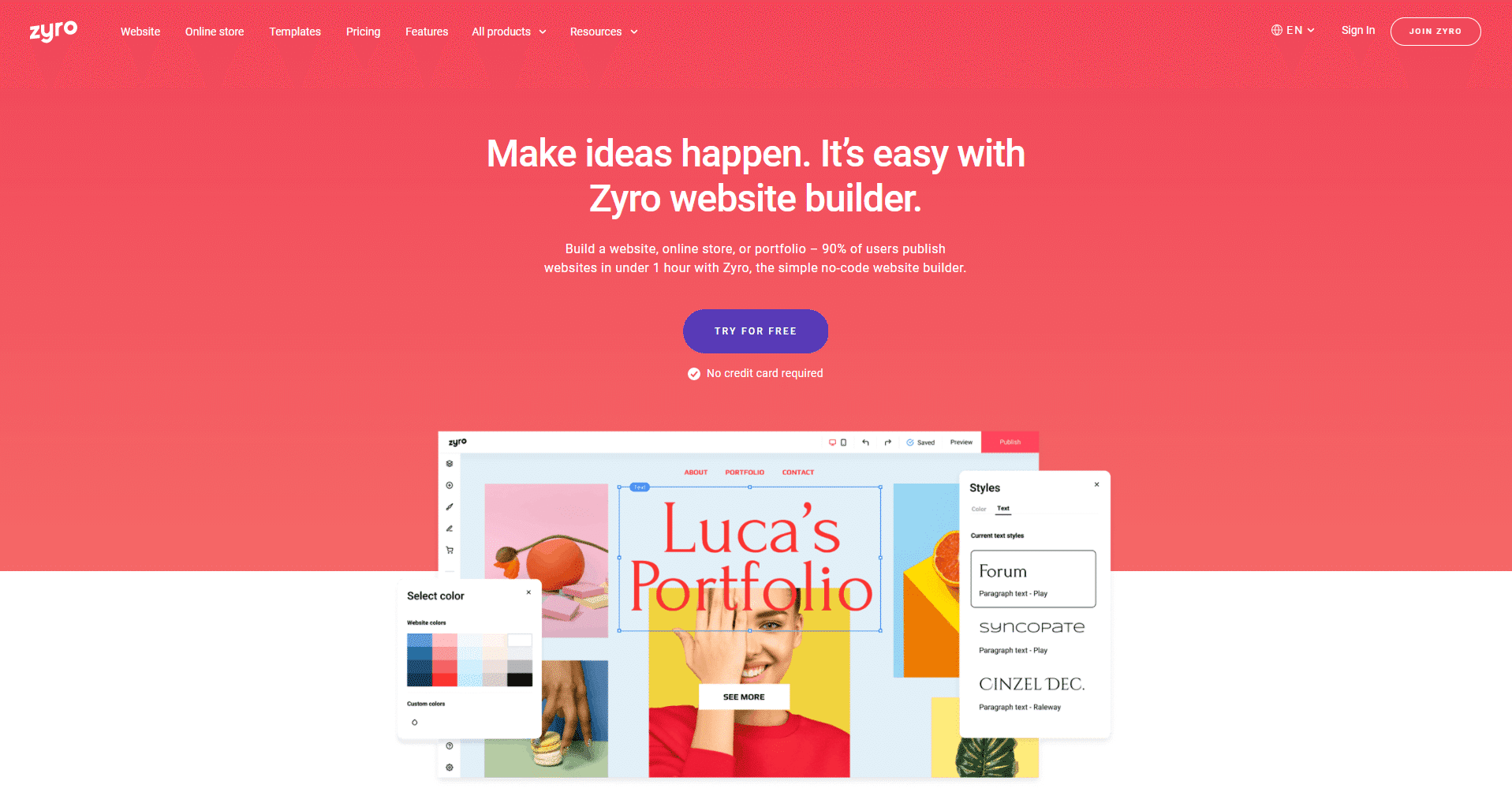 Zyro is a website builder that offers a plethora of features you can use to create a simple or a more feature-rich website. You can easily use the drag and drop builder to add elements to your website and then customize them to your liking. There are plenty of pre-built templates to choose from as a starting point, with trendy and professional designs. What sets Zyro apart is the AI technology that can not only generate blog titles for you but also help you decide where to place certain elements on your page. 
Zyro is easy to use and it allows you to add forms, email sign up forms, and payment buttons to your websites. Templates are mobile responsive. You can connect your domain to it and optimize your site for the search engines. Zyro offers a 30-day money back guarantee on any plan. Paid plans start at $8.90/mo. 
Weblium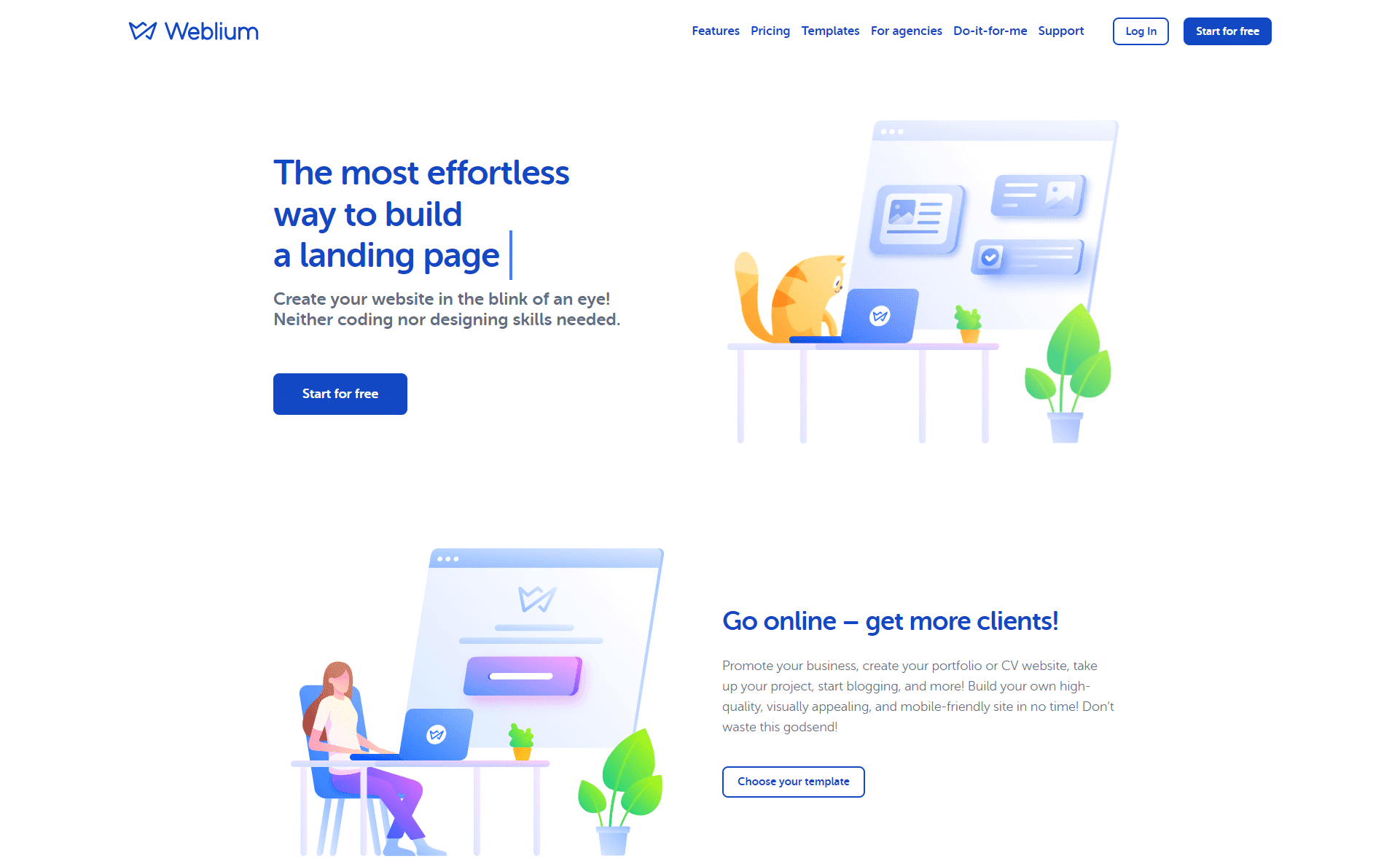 Weblium allows you to create a website for free without any coding or design knowledge. It comes with a unique smart design assistant that automatically adjusts elements you add to the page to achieve pixel-perfect designs. It offers more than 300 templates for a variety of industries and website types. The designs have a modern design. On top of that, you can make use of built-in stock image library to find the perfect image for your website. Another cool feature that Weblium offers is the ability to invite collaborators so you can easily work on your website with others on your team.
Weblium, like Carrd, offers mobile responsiveness out of the box. Plus, you can also integrate third-party platforms and accept payments on your website. You can connect Google Analytics with your Weblium website and connect your domain with ease. Weblium offers a free plan as well as paid plans that start at $15/mo. 
Bookmark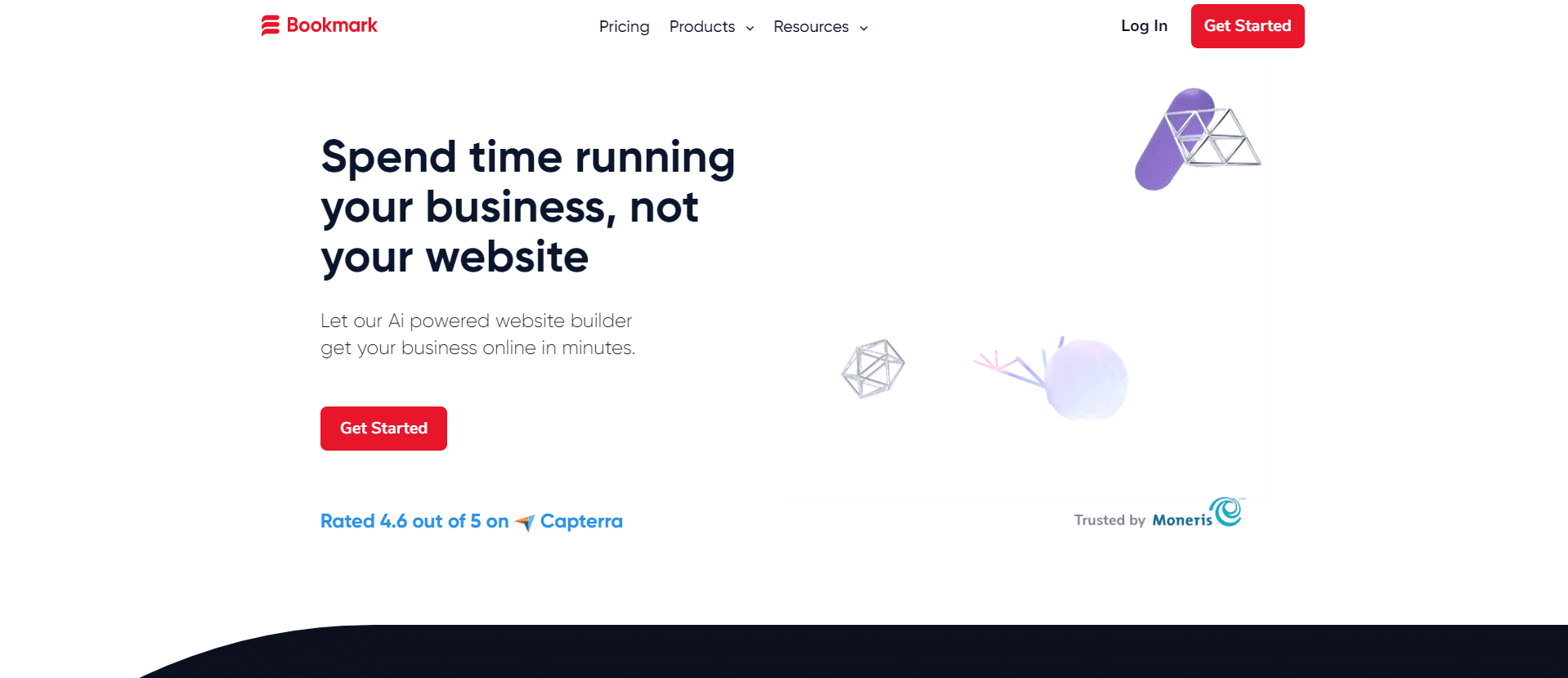 Bookmark is an AI-powered website builder that lets you create a website for free. All you have to do is answer a few questions about you, your business or purpose of your website and the AI-powered design assistant will take care of the rest. This significantly cuts down on design time. In fact, Bookmark claims you can have a website up and running in 2 minutes. Once the website is done, you can use the drag and drop editor to customize the layout and the visual styles such as colors, fonts, and more. In addition to that, the design assistant continually evolves and creates suggestions to improve your website based on your specific goals. 
Bookmark doesn't come with a set of templates but the websites in the showcase do look modern and attractive. You can connect your domain and integrate your site with third-party tools. You'll also get a built-in library of images and video backgrounds, social media buttons, and a full-fledged booking app. Bookmark offers a free plan. Paid plans start at $14.99/mo. 
Bio.fm

Bio.fm is the simplest tool on this list. It allows you to build a micro website for free — a simple, one page website or profile page that links to your other profiles on the Internet. You can add multiple links, email collection forms, GIFs, and much more. Once you create your site, you'll get a unique link that you can share anywhere online. 
Bio.fm offers a variety of blocks that you can drag, drop, and rearrange to create the perfect profile page. In addition to that, you can change themes, backgrounds, fonts and colors with a simple click of a button. However, since it strips down a lot of complex features, Bio.fm is even simpler to use than Carrd so it's perfect for anyone wanting to set up a page quickly and with minimal fuss.
Google Sites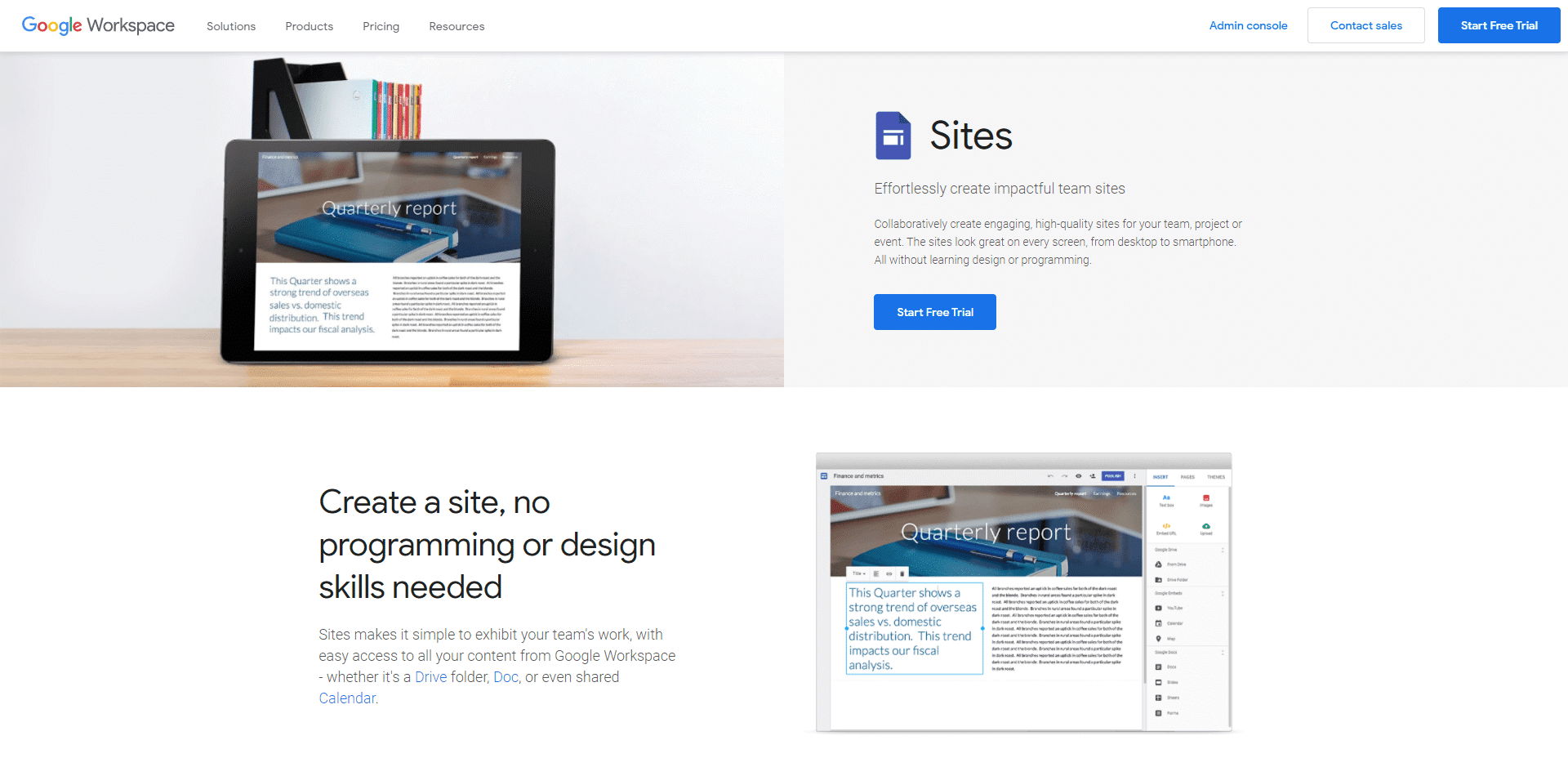 Like many other Google's tools, Google Sites makes it easy to create a website for free. You can use the drag and drop editor to create personal profile or portfolio sites, business sites, intranet, and more. There are several templates to choose from and they have a simple, clean, and minimal design. You can add text, images, buttons, dividers, and documents from your Google Drive. 
There are some customization options but they are rather limited. However, if you're looking for a simple solution, Google Sites could be a perfect fit. The site you create with Google Sites will be mobile responsive. You can connect a custom domain to it and embed code so you can add email forms, lead capture forms, and other elements that use code to it. 
Conclusion
As you can see, there is no shortage of Carrd alternatives that you can use to build a beautiful one-page website or a landing page.
The only thing left to do now is to make use of their free plan or free trial, test the features to see if they meet your needs, and build your one page website. For a bit of inspiration, check out these amazing Carrd examples for inspiration. Good luck!