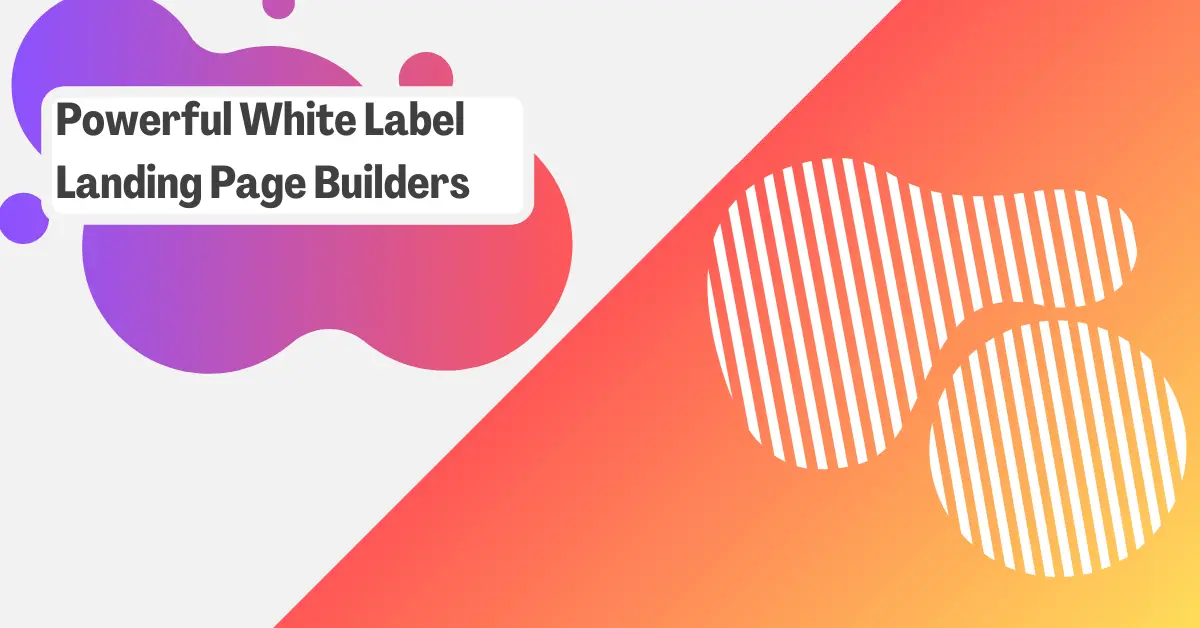 White label landing page builders are powerful tools, particularly for marketing agencies.
With these platforms, you can create stunning landing pages exclusively with either your agency or your clients' branding. Not only that, but these platforms often have unbranded user interfaces that your clients can use to build out landing pages themselves. Some of these platforms even allow you to resell their landing page builder services.
However, not all landing page builders offer white label services. In fact, only a handful of select providers have this feature.
Here you can discover 7 white label landing page builders for agencies you can get started with today.
Simvoly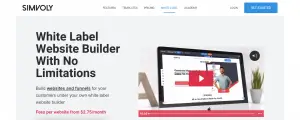 The Simvoly website builder combines a beautiful drag-and-drop editor with a landing page creator, allowing you to generate sleek web pages with over 30 widgets and 200 block templates. Simvoly also provides a solid collection of page templates to instantly create a lead generation landing page, homepage, About Us page, or any section on your website using industry-specific themes.
Simvoly also offers unique builders for expediting the design process. You get a popup builder, a header builder, and an area to customize fonts and shapes. 
As for the white-labeling features, Simvoly stands out with its unique tools for designers to make anything from online stores to landing pages for clients. The page builder is fully customizable, so you can add your own logo, change fonts, and rearrange the menu bar to only include content items you choose. In addition, Simvoly allows for a Help Guide button without any Simvoly branding.
The white label landing pages come in handy for both the developer and client, seeing as how Simvoly has A/B testing and other optimization tools for your clients to boost their conversions. They also have a program called the White Label Academy that gives you access to over 60 videos to launch your web design platform and obtain clients. Combine that with your own pricing plans, and a fluid client transfer process, and Simvoly makes for the ultimate white label landing page builder.
Better yet, given that you can use Simvoly to build landing pages with payment gateways, Simvoly is an excellent white-label sales funnel builder as well. 
Landingi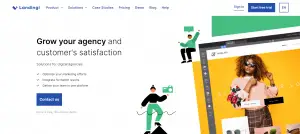 Landingi sells a complete suite of tools for landing pages, forms, pop-ups, and much more. The white label landing page builder is part of the Agency plan, combined with essential items like an autoresponder feature and a lead inbox.
The page builder offers hundreds of templates, forms, and powerful drag-and-drop content modules to construct your product pages and much more. They even offer unique publishing tools for connecting your own domain, adding the page builder to WordPress, and scheduling posts into the future. It's also worth mentioning that Landingi provides several personalization options where different versions of your sales and landing pages show up depending on who accesses them. That makes for a rather powerful experience, especially when combined with the A/B testing. 
Essentially, Landingi's Agency plan gives marketers features for integrating with current systems, designing sites to pass to clients, and collaborating with team members in one place. For instance, Landingi has one-step duplication to rapidly design landing pages and funnels for clients.
You can also allow A/B testing within your landing page system, allowing clients to optimize their sales efforts. Finally, it's easy to scale your business with Landingi, as it provides options for sub-accounts, team roles, and custom coding, all of which come together to make unique designs and a solid client experience. 
Ucraft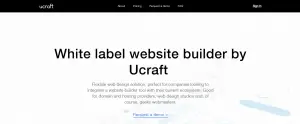 The Ucraft white label landing page and website builder starts you off with an intuitive designer for making everything from online stores to portfolios. The platform offers numerous predesigned templates and free hosting through the Google Cloud platform.
Ucraft caters to online store clients quite a bit considering its options for accepting payments and various shipping solutions. Outside of that, Ucraft features a landing page creator for instant designs catered to industries like fashion, sports, events, and more. Additionally, the unique blogging platform offers all the must-have features for instantly launching a blog with optimization, categories, and a full commenting system. 
As far as white label features go, Ucraft has a complete white label client portal that you can completely customize. This portal can be designed completely with your branding and it includes a website builder, landing page templates, and an ordering system that clients can use to submit requests for your design work. 
Additionally, Ucraft includes customizable templates that you can edit and save for selling to clients. Some other features to look forward to include the monthly or annual payment system for clients, and a built-in referral program for bringing in more clients. 
Weblium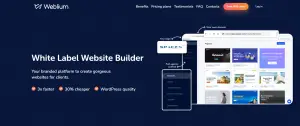 Weblium offers custom templates and white labeling design tools for freelancers, web studios, and agencies. You can add your logo to every part of the drag-and-drop page builder, invite teammates to collaborate on your projects, and set custom prices to send out to clients prior to transferring over ownership of the platform.
The Weblium interface is modeled off WordPress, giving you and your clients a familiar, intuitive feel, along with security and theme update measures. In addition, several SEO tools allow you to add alt text and metadata prior to sending designs to your client. You can also switch between the code editor and the visual editor with the click of a button. 
Weblium doesn't have as powerful a white label landing page builder as some of the competition, but it's still worthwhile for setting up quick landing pages with the page templates and optimizing each step as the users move through areas like the product/lead pages, and the checkout or contact forms. Not to mention, you can incorporate several third-party apps and software elements into your landing pages, with help from integrations like MailChimp and Google Analytics.
Overall, the true benefit to Weblium is its speed when making landing pages. With this solution, you and your clients can create numerous landing pages quickly and efficiently. 
Convrrt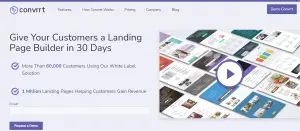 Convrrt offers an enterprise-grade page builder primarily used for building landing pages.
With Convrrt, your business's clients can design stunning pages all from Converrt's white label editor. Clients can choose from hundreds of landing page templates, and configure them to their liking with an intuitive drag-and-drop builder. No coding or developer skills are required. Each landing page template includes email capture forms, and the page builder is simple and efficient for generating a significant number of landing pages that meet professional standards. Additionally, Convrrt creates custom API integrations for CRM systems. 
Convrrt has thousands of resellers that allow their clients to use this enterprise landing page builder. Most of these clients are software companies such as SharpSpring, SendInBlue, and Keap to name just a few. However, this platform could be a suitable solution for large marketing agencies as well. That being said, if you work with hundreds of clients a month, this could be an excellent solutions. However, considering this is an enterprise solution, it is certainly a more expensive solution compared to other white label solutions if you only work with a handful of clients. 
Duda

Duda combines an impressive set of tools together for the ultimate landing page builder experience. It offers a white labeling editor for passing off projects to clients under a sleek and easy-to-use dashboard.
Each client receives their own client dashboard for accessing their accounts and managing content. Clients have several features at their disposal, including a drag-and-drop page builder, a mobile design interface, and a large collection of templates for kickstarting the landing page design process. 
The white label landing pages builder can be designed with your own logos and colors, while also setting roles and permissions. These roles ensure your client can only access the features and settings of the platforms that you want them to have control over. 
The Duda University is a must-see area with helpful educational content on how to make effective landing pages for clients. This learning hub is an excellent way to learn more about Duda's numerous features. An example of one of Duda's most powerful landing page builder features is its call-to-action buttons that cater to specific industries. For instance, Duda provides buttons for online scheduling, restaurant reservations, and click-to-call options.
You can also take advantage of powerful analytics, stats, and email summaries to understand how people move through your landing pages. 
Devhub

Devhub sells an excellent suite for making white-label landing pages and even full-blown websites quickly and efficiently. With Devhub you can design landing pages for clients without any trace of Devhub branding, or you can allow clients to take charge and build their webpages themselves. 
Unlike other solutions, Devhub offers powerful tools for migrating websites to and from the platform. That being said, the flexibility of the solution makes it easy to transfer existing landing page designs to the platform. Additionally, Devhub has integrations for analytics and online stores, making the solution a compatible addition to your current tech stack. 
This white label website builder includes plenty of tools for designing beautiful landing pages. Considering the page builder is stripped of all branding (except your own), clients can design webpages without a trace of Devhub branding. Additionally, clients can conveniently use a single sign-on section to access all the websites they are working on. 
Additionally, Devhub has a form builder and lead flow management section to monitor and analyze how clients are moving through your clients' pipeline. With Devhub's impressive campaign tracking and numerous integration options, this platform is an incredibly versatile tool to help your clients boost their sales. 
Final words
While these solutions are excellent for building landing pages, keep in mind that many are great for building full-blown websites as well. Equipped with CMS for managing many pieces of content, many of these solutions can do more than just create single pages.
Depending on your goals (and your clients' goals) these solutions might be your best bet.