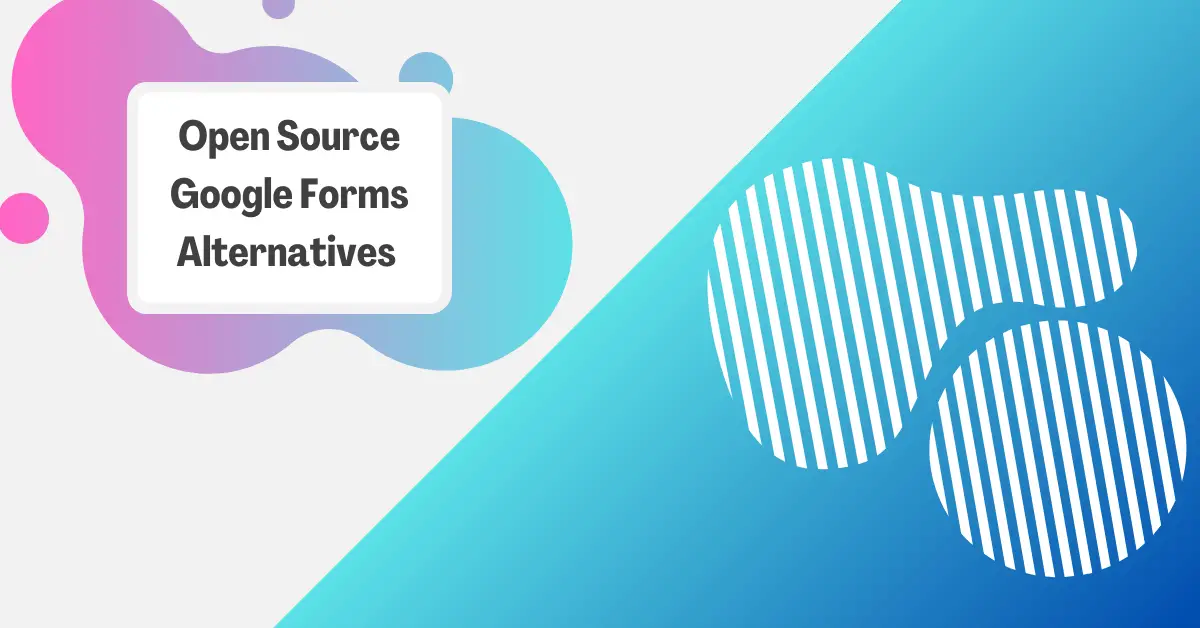 Google Forms is one of the most popular form builder solutions available. And for good reason too. After all, it's free, versatile, incredibly easy to use, and it can be easily used in conjunction with the other applications that are part of Google Workspace. 
However, Google Forms isn't the best solution for everyone. For some businesses, proprietary software just doesn't have the flexibility that is needed. 
Fortunately, there are various open-source form builders that are similar to Google Forms that you can take advantage of. 
In this post, we will discuss 9 of the best open source google forms alternatives available today. 
LimeSurvey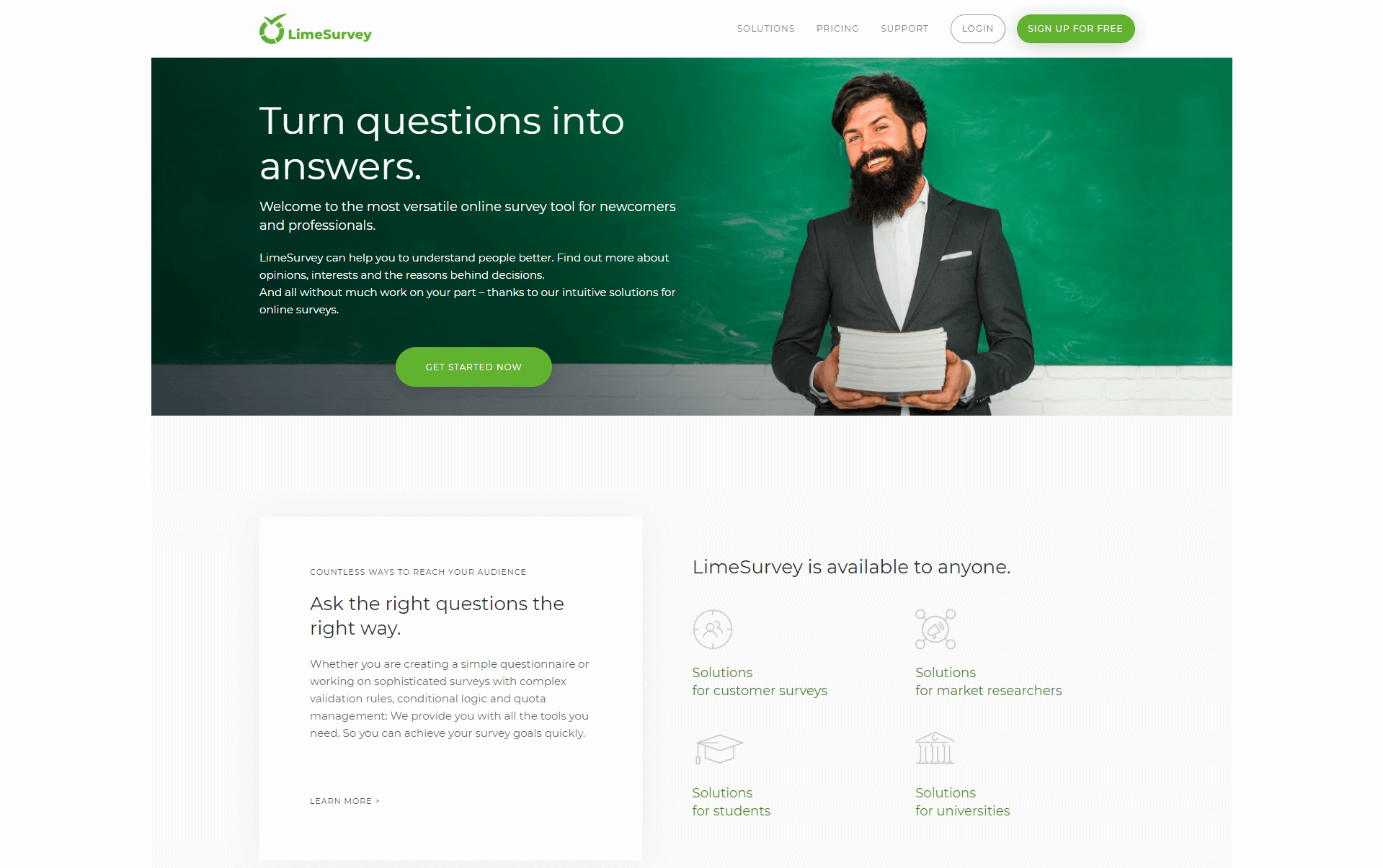 LimeSurvey was created in 2006, and since then, a large community has grown up around it. It has a number of use cases (customer surveys, market research, questionnaires), but because it's so powerful, it can be used for just about anything you can think of.
LimeSurvey has two options for downloading the latest version — you can download it yourself, or you can sign up for the Cloud Edition and get your downloads that way.
Unfortunately, like most form builders, the free version is essentially useless as it only allows for 25 responses a month, and the basic plan is bizarrely more expensive than the expert plan, so you have to start there at $29/month billed annually. However, you get a ton of storage and 10k responses a month, so it's not a bad deal compared to other form builders.
LimeSurvey also has a great online community that supports it, and because it's open-source, you'll see all kinds of tweaks and use cases that someone has already built out — they have a couple hundred contributors working on the software regularly.
OhMyForm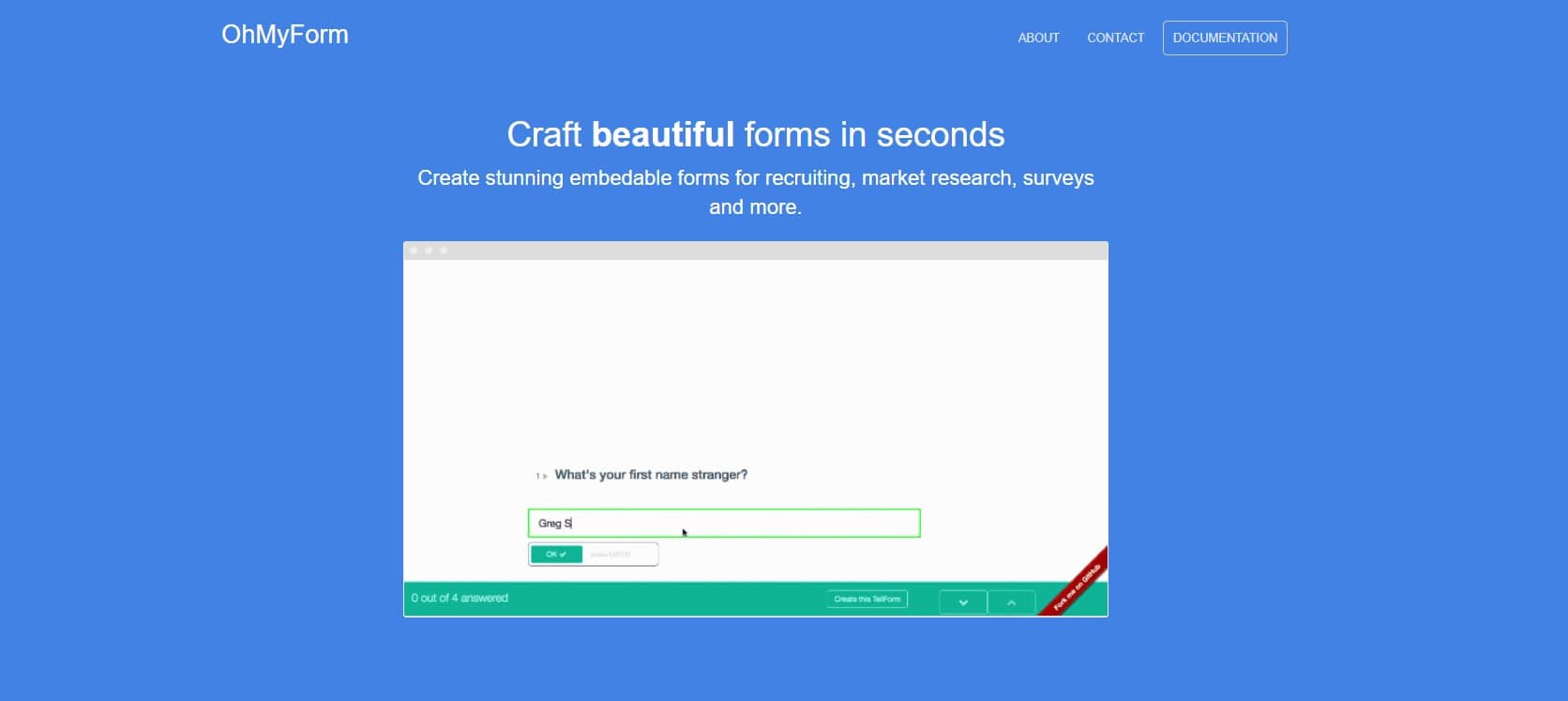 OhMyForm is a free form builder that nevertheless is powerful. As with most open-source software, there's a community that has grown up around the software to keep it in great shape. This also means there are essentially a ton of templates available that you can use.
OhMyForm is comparable to many other form builders in terms of features. You get conditional logic, embeddable forms, and single-page questions, to name a few.
It's also great for small and large businesses and includes several different methods to deploy. With built-in analytics and no monthly charges, Oh My Form stands out as a great option.
Formeo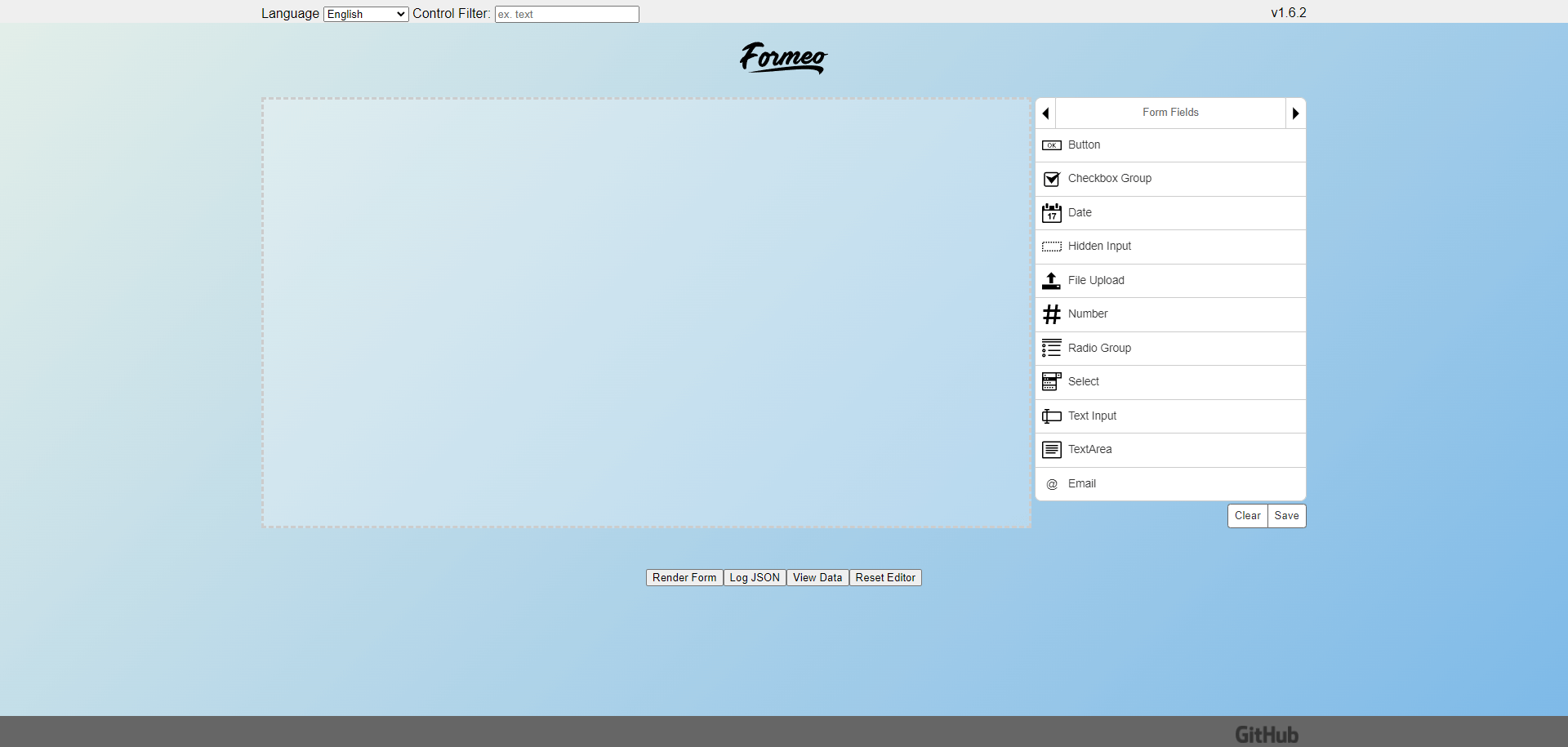 Formeo isn't totally terrible, but it's certainly not great. You better have a good understanding of JavaScript if you want to do anything with it beyond creating a very simple form.
For example, if you want to change the colors, you need to know how to do that in CSS — you can't just select new colors. There's no conditional logic, which means the forms are just super simple. You also can't make single-page questions without a significant understanding of the code.
The form options are also extremely simple, and there is no analytics. It's really something that only a professional would be able to use. For most people, this isn't going to be worth the time trying to figure out. You need to have a really good reason to use this.
Tripetto
If you've got a WordPress site, Tripetto is definitely worth looking into.
Tripetto is powerful. It's easily installed on any WordPress site, and it can be embedded into a page or shared as a link. It's highly customizable and allows you to basically store as many responses as you have room for.
The 100% money-back guarantee is nice (you get 14 days), and the price is good too (only $99 for a single site per year). Compared to a lot of other form builders, this is a pretty great price.
The forms look gorgeous, and they come in several formats, including single-page-question forms and the very interesting chat form (the form looks like you're chatting with someone).
Because it's a paid solution, you get support, and there's no difference in features between plans (just how many sites you can put it on).
And if you don't have a WordPress site, there are options for other types of content management systems.
Form.io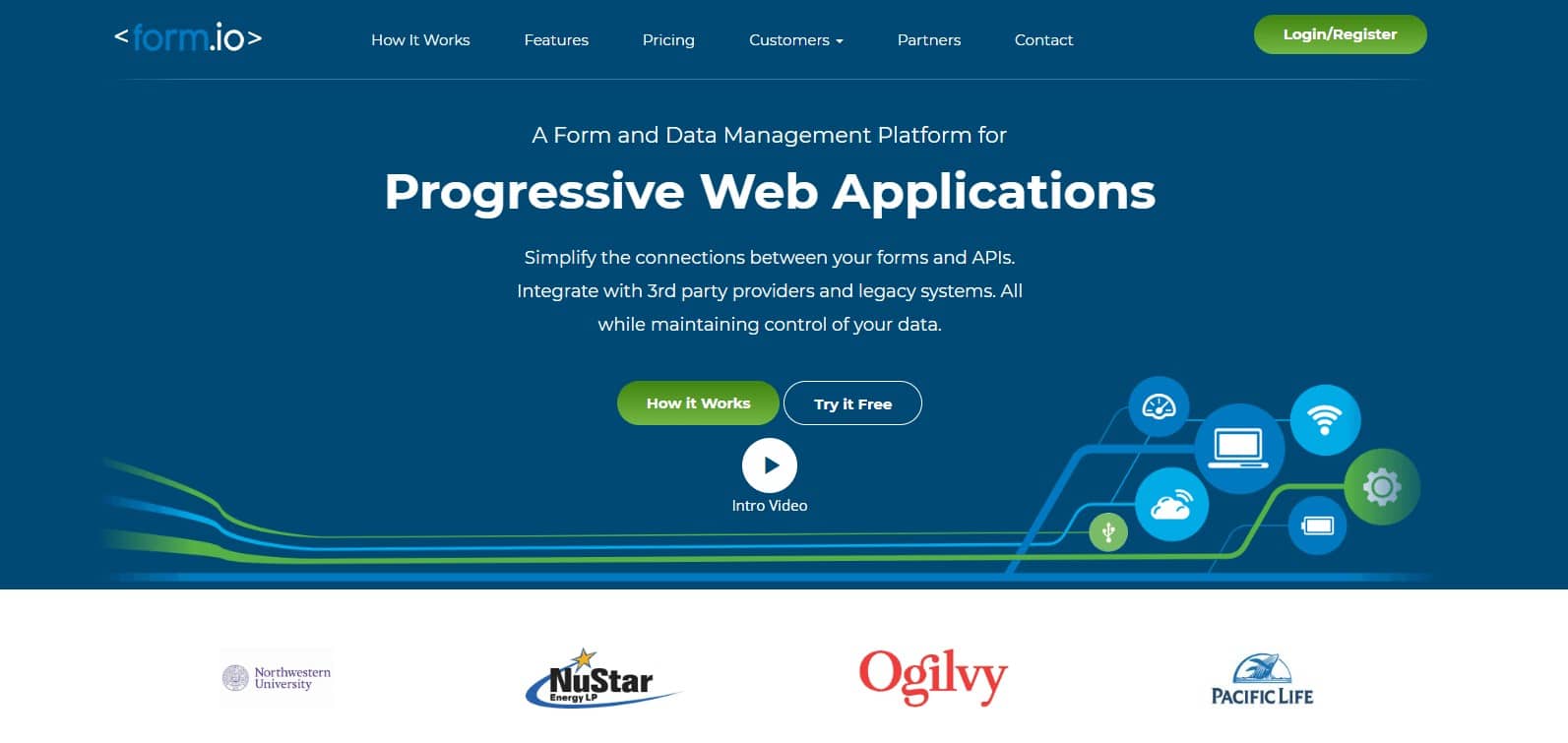 Form.io is one of the best open source form builders for developers of all skill levels. You can utilize the easy-to-use drag-and-drop interface to put together forms, or you can build out your forms by adding your own custom HTML. 
Not only does Form.io have a powerful form builder, but it also has very sophisticated data management features as well. With Form.io, you can easily integrate the form builder with third-party systems so that form submission can flow directly into your CRM or other data management tools. 
Although Form.io has a free version, there are API limitations and limits on the number of submissions you can collect. Paid features start at $100/month, and for enterprise businesses that need a robust solution, a form builder at this price is a steal. 
Kinto Form Builder
Kinto is only really useful for a very limited user base — you have to know how to code, and you have to use React (and know what that is).
If that made your head hurt, move on to the next option.
However, if you're up for the challenge, Kinto has a lot of functionality once it's up and running, but unfortunately, the forms don't look very good, and you don't have a database out of the box.
Essentially, Kinto is more trouble than it's worth.
Eureka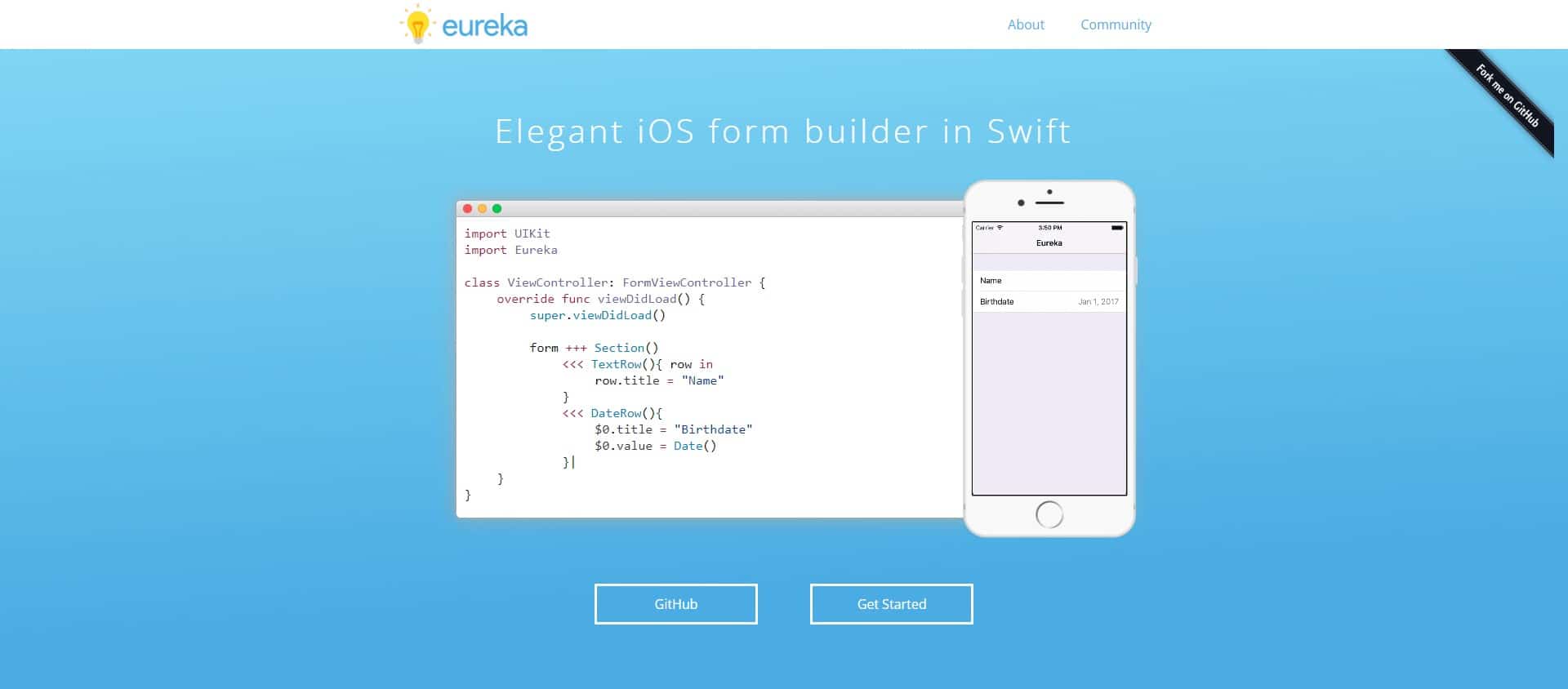 Eureka is nothing to sniff at — it's used by dozens of big-name brands like Chase Bank, Dropbox, and eBay — but it's only made for iOS, and if you don't have an understanding of coding, it's not going to do you any good.
Eureka is made with Swift, which is the native iOS coding language, so if you need a form built exclusively for iOS, then it might be the right fit. Its claim to fame is that you can create forms with less coding. It's just a framework that will save you time.
It's used in tons of apps on the App Store (15k+), including 10 of the top 200 apps. It allows you to essentially, "write your code once and use it everywhere."
If you're developing in iOS, take a look at it — it has a huge community working on it and is maintained by Xmartlabs engineering team, so it's not going anywhere, and any bugs are going to be quickly dealt with.
If you're not familiar with coding, move on.
Survey Project
A little bit more complex than Formeo, a little bit uglier than most of the options on here, and with a UI that makes you feel like you're in the 90s, Survey Project doesn't bring much to the table.
Other options look better and have more question options. However, there are a lot of the basics that you'd expect from a form builder — conditional logic/branching, answer piping, resume progress — and it comes in a variety of languages.
The surveys can be embedded in a web page or can be in a stand-alone browser window. There are a ton of examples on their website if you want to get an idea of what the forms look like, but spoiler alert — they're ugly.
There are simply a lot of better options out there.
Maian Survey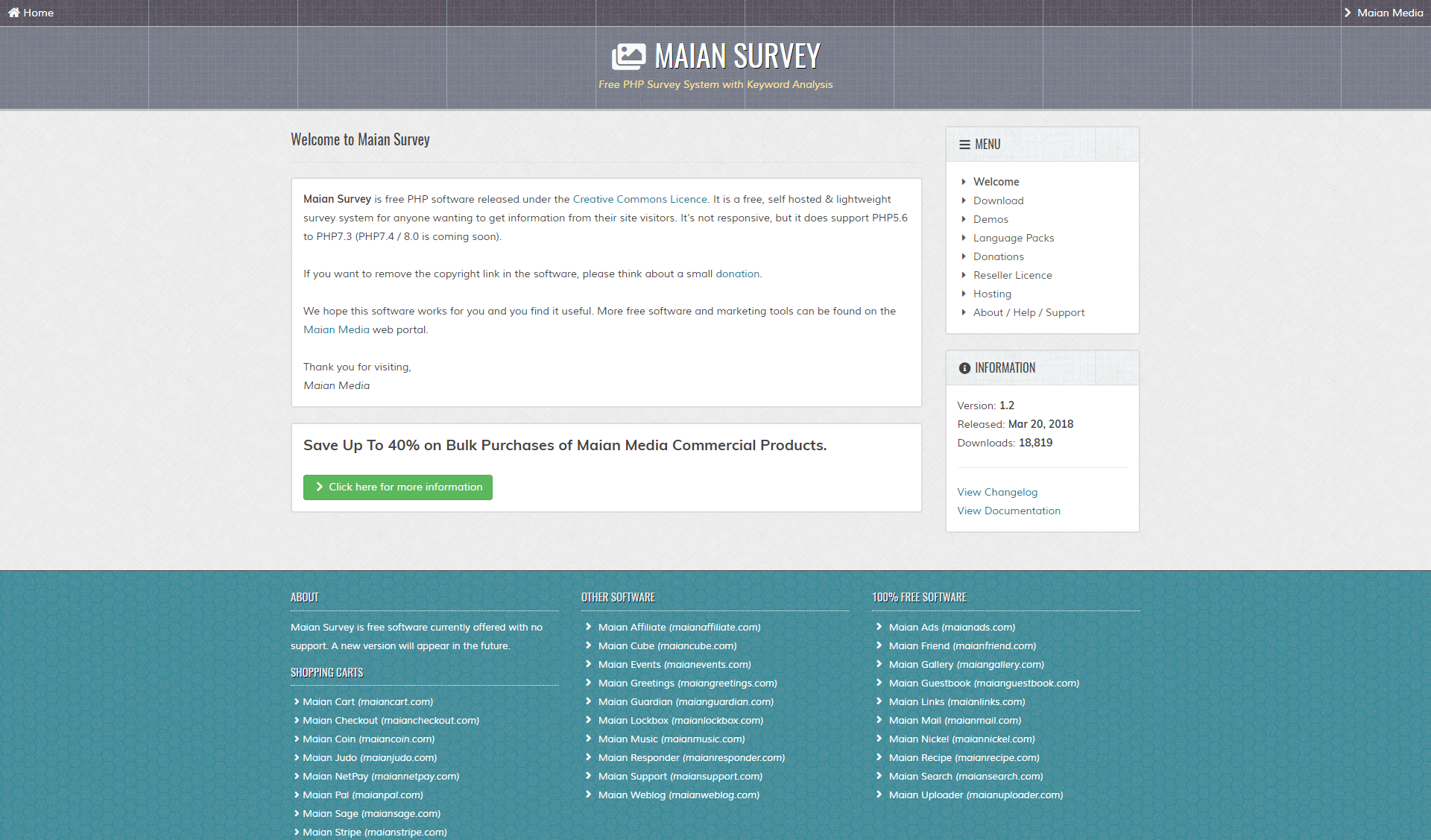 Unfortunately, like many options on this list, Maian Survey is about as basic as it gets. The UI is ugly and clunky, the surveys look awful, and bizarrely in the age of mobile, the forms aren't responsive.
It's hard to imagine a use case where Maian Survey would make sense. There are just so many better options out there. It's built in PHP, so if you have a good reason to build a form in PHP, then this is a baseline you could use.
It comes in a number of languages, including Turkish, which you don't see very often, so that's one of the few pluses here.
Mostly, Maian Survey is useless for most users — look elsewhere.
Open Source Google Forms Alternatives Are All Over the Place
The idea of open-source software is a great one, but the reality is that, for most people, it's just not something that's going to make sense.
If you're familiar with the different types of code for some of these forms and have a good reason for wanting to build in them, then it's good that there are form builders available to you, but you'll often have to do a lot of customizing to get them to look anywhere close to good.
In most cases and for most of the non-coders out there, there are thankfully some good open-source options too. Open-source form builders do tend to be a lot more affordable, so you'll want to take a look at them before moving on to some of the other paid form builders out there.