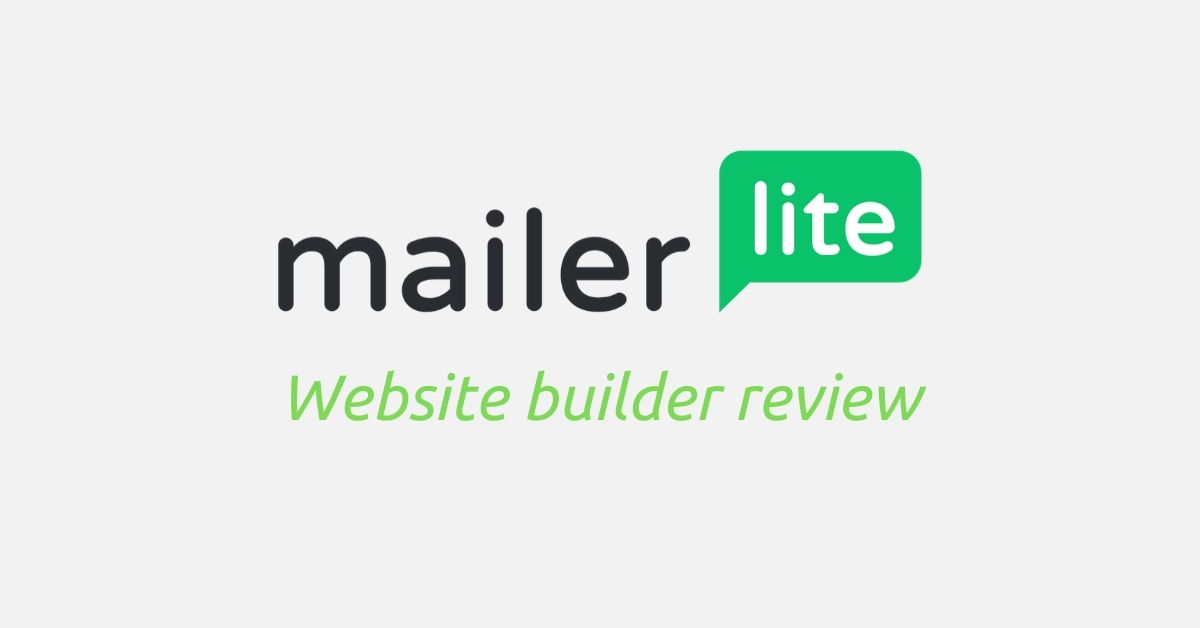 MailerLite is a somewhat unique email marketing tool in that it provides many useful features in addition to its core email marketing feature. Unbeknownst to many, MailerLite has a website builder that you can take advantage of.
If you are a small business owner that is just getting into internet marketing and you don't happen to have a website, MailerLite's website builder might be of interest to you.
However, if you have never used MailerLite before you may want to know if the website builder is worth using in the first place.
This post aims to discuss MailerLite's website builder and who it is best suited for.
This MailerLite website builder review is broken down into two general parts:
An overview of the tool and how to use it

My opinion of what the tool is worth
Overview of MailerLite's website builder
MailerLite's website builder is very similar to its landing page builder, and newsletter builder in that you use a drag and drop editor to create your website. There are a few general components of the website builder that are important to know about:
Templates

Website builder editor

Pages, settings, website settings

Dashboard
Templates
When you first get started with the website builder, you have the option of selecting 8 templates to build your website from.
Author book template for writers and publishers

Photography template to showcase pictures

Product template to showcase your companies product

Event template for promoting a conference or convention

Gym template for personal trainers or fitness bloggers

Watches template for promoting watches

Food template for companies in the restaurant industry
Although these templates might seem to be specific for certain types of businesses, you can certainly tweak them in the editor so that they represent your business.
Website builder editor
After you select a template, you can then customize it in the editor. MailerLite gives you the flexibility to modify your website in a few different ways. First, you can choose to click on any of the blocks on the website such as text and image and make changes to them as you wish.
For instance, you can select text blocks and change them to say something else. You can select images and swap them out with your own images. You can move blocks to other spots on your website or delete them entirely.
In addition to editing the preexisting blocks on the website, you can choose to insert various blocks provided in the right sidebar of the editor. These blocks include
Content (headings, text, images, videos, testimonials, and more)

Buttons (buttons, and social icons)

Forms (sign up and contact forms)

Gallery (images)

Special (tables, surveys, quizzes, countdown timer, map, and more)

Extra (HTML code and anchor)
You may insert all the content blocks you need simply by dragging and dropping them into place on your website.
Page, settings, and website settings
Under the pages tab, you can either select a different page of your website to work on, or you can create a new page to edit entirely. The templates often come with a few different pages in addition to the home page such as a contact page.
Under the settings tab, you can make various changes to the page layout, fonts, headings and other edits in the website editor specifically.
After you click "save draft" or "save and publish", you then get taken to the website settings page. Here you can find higher-level settings as opposed to the nitty-gritty settings like fonts and headings in the website editor. Here you can create a URL with the .mailerpage.com extension or connect your own personal domain to avoid having the .mailerpage.com extension.
You can also edit the SEO settings by including a page title, page keyword, and page description. Additionally, you make similar edits under for social sharing and you can also connect your Google Analytics account under "analytics and custom code"
Dashboard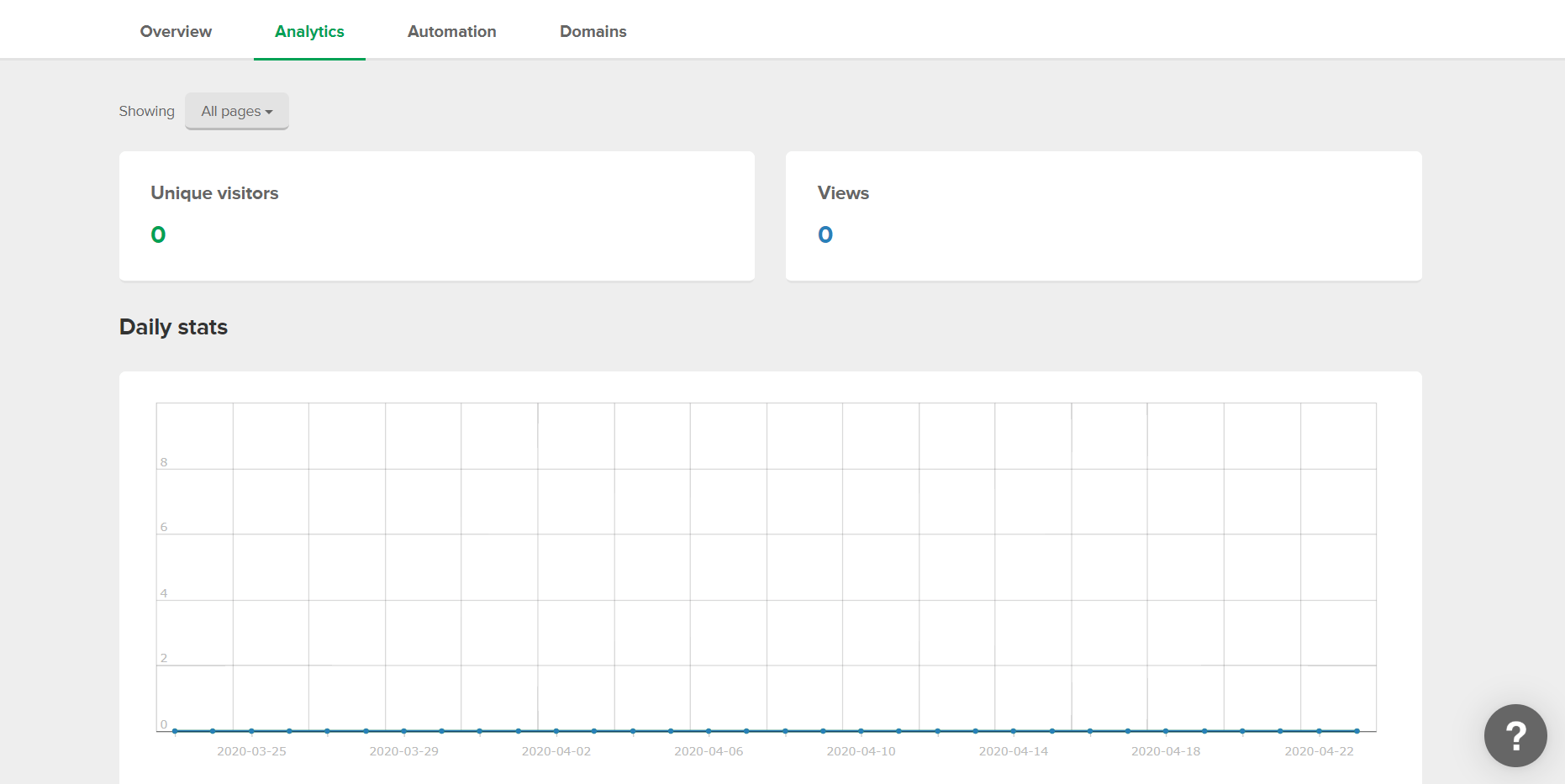 Once you have published your website, you can then view it in the dashboard area.
In this area, you can view MailerLite's analytics for your website which shows basic stats such as unique visitors and views for each page of your site. For more comprehensive reporting, you would be better off connecting your site to Google Analytics.
Under automation, you can connect previously created workflows to your website.
Under domains, you can view various settings and see the domains you have authenticated.
How to build a website with MailerLite step by step
Opinion: Advantages, disadvantages and who can benefit from the website builder
MailerLite's website builder is a nice tool to have in addition to MailerLite's email marketing platform. There are many benefits to it… but there are many limitations to it as well.
Advantages of MailerLite's website builder
Convenience: It's quite convenient to have a website and email marketing tool under the same platform. With MailerLite you can easily connect your email marketing campaigns and workflows to your website instead of integrating two separate platforms for the same effect. This can simplify your marketing approach.
Ease of use: MailerLite's website builder is quite easy to use just like the rest of the MailerLite platform. Building a website doesn't get more simple than dragging text and images into place. Furthermore, MailerLite walks you through a logical sequence of steps for making your website by first allowing you to select a template, then edit that template, then change website settings, etc. It makes the whole process of getting a website up and running simple and straightforward. 
Disadvantages of MailerLite's website builder
Not many templates: MailerLite allows you to pick from 8 templates. These templates are certainly well made but the selection is a bit limited. It would be nice is there was a broader selection of templates that catered to dozens of industries. Fortunately, you can completely modify the templates to meet your marketing needs.
Not flexible like WordPress is: More popular content management systems (CMS) such as WordPress give you much more freedom to customize and edit your websites as you wish. 

For instance one of the greatest benefits of WordPress is that you have access to thousands of plugins for numerous purposes while MailerLite isn't capable of downloading plugins. 
Related: MailerLite's WordPress Plugin Explained
Who can benefit from the website builder? Is it worth using?
Ultimately, if you don't have a website yet, and are interested in building one while using MailerLite for email marketing, MailerLite's website builder might be perfect for your situation. For anyone just getting started with internet marketing, being able to build out a great looking website quickly and easily is extremely advantageous. Better yet, being able to gain email subscribers through your website and market to them all under the same platform is quite convenient.
On the other hand, if you are interested in spending a good amount of time perfecting your website and you want a CMS with more functionality, you would be better off using WordPress or another advanced platform. Yes, platforms like these might take longer to learn how to use, but for more customizability, they are worth getting acclimated to.