Few real estate agents know how to really do email marketing effectively. Many don't even do email marketing at all.
However, email marketing is a powerful way for real estate agents to nurture and grow their client base. Through email marketing, you can connect with hundreds of clients, investors, buyers, and sellers with just a few clicks.
MailerLite happens to be an excellent email marketing tool for agents and anyone involved in the real estate industry. Known for its ease of use, you can learn how to work with MailerLite extremely quickly.
Here, I discuss MailerLite's features and how you can take advantage of them as a real estate agent.
Newsletter template editor
Creating a newsletter templates is one of the first things you should do once you get started with MailerLite. MailerLite's drag-and-drop editor makes it easy to customize your templates however you wish.
You can create newsletters for numerous purposes. For instance, you can send educational content, business updates, and home value reports. However, no matter what the purpose of your email newsletters will be, there are certain components you should include in your template if you are a real estate agent.
Company logo and colors: Place your company's logo at the top of your template. This will be the first thing that every subscriber will see when they open your email. Additionally, if your template has a color scheme, make sure those colors match those of your company.
Opportunities to share: If you are active on social media, definitely make sure that you incorporate social media share buttons.
Catchy header: No matter what, your header should always entice the reader to continue to read your newsletter.
Skimmable conversational copy: Your content should be easy to read but not super formal. Keep in mind that people don't want to spend all day reading your newsletters. They want to extract the key points and move on. If your newsletter is difficult to read given the writing style, readers won't spend much time reading it.
The image below is a snapshot of a real estate oriented newsletter available in MailerLite.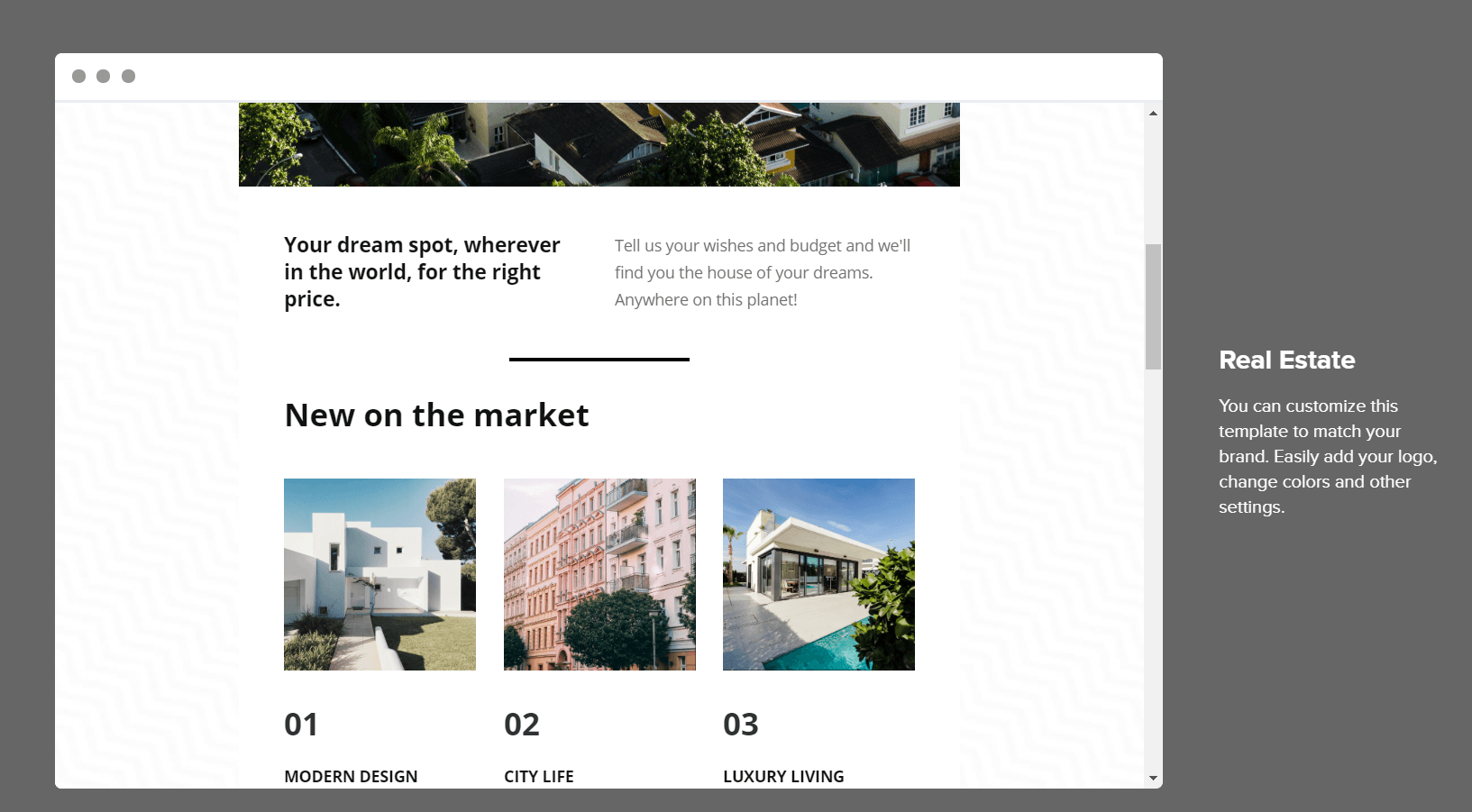 Create lists
In addition to creating newsletters, once you get your MailerLite account approved, you should import your email subscribers if you already have them.
It is important to segment your entire subscriber base. With MailerLite, you can easily segment and group your subscribers based on shared characteristics.
Segmentation is important for sending certain messages specifically tailored to segments of your subscriber base. For instance, emails to investors likely will generally be different from emails to renters.  Emails to local media will be different from emails to other realtors.
A few examples of segments or groups you might want to create with MailerLite include:
Buyers

Sellers

Other realtors

Local media

Investors

Renters
Create forms
Whether you already have a considerable number of email subscribers, or none at all, to grow your business you should always be collecting more.
One of the best ways to do so is by putting forms on your website to collect emails. Fortunately, MailerLite has a form builder. Just like the newsletter editor, you can drag-and-drop blocks into place to build out embedded forms and pop ups for your website.
Embedded forms: You can place embedded forms practically anywhere you want on your website from the sidebar to within your content.
Pop ups: These forms "pop up" on your computer screen as you are scrolling through a website. With pop ups you must either enter your email or close out of the pop up to continue using the website.
There are numerous ways you can persuade subscribers to opt-in to your email list. You can simply say "enter your email to receive our weekly newsletter". On the other hand, you can get more creative by offering a freebie of some sort. For instance, to entice subscribers to opt-in to your email list, you may offer a free ebook on "7 tips to increase the value of your home" in return. Typically, offers like these result in higher conversions.
Create landing pages
In addition to putting embedded forms and pop ups on your website, you can use MailerLite to create landing pages.
Landing pages are most often promoted through paid advertising. For instance, through Facebook advertising you can get your landing pages in front of very specific audiences in your local area. Similarly, with Google Ads, you can promote your landing pages to those who search specific phrases in Google such as "Real estate agents in Providence, RI".
Similar to embedded forms and pop ups, you can really help your landing pages conversions by offering something of value to your visitors such as a free market report or free guide of some sort.
The image below is a snapshot of a real estate oriented landing page available in MailerLite.
Automation
Another excellent MailerLite feature you can take advantage of is automation. With MailerLite you can build out automation workflows triggered by various actions of subscribers, such as when they complete a form on your website. Add multiple emails to your automation sequence and add delays and conditions between each.
There are many ways in which you can use automation for real estate. For instance, one of the most common email marketing sequences is a welcome series. This is a sequence of emails that you would send to your subscribers after they opt-in to your newsletter through a form on your website. A welcome series could go as follows:
Email 1: Welcome email where you thank your subscriber for their interest in your company
Email 2: "What can our company do for you". Give the subscriber the opportunity to reach out to you if they are interested in working with you.
Email 3: Freebie mini guide where you discuss "5 steps homebuyers should take when purchasing property"
Email 4: A list of local real estate resources
Keep in mind that this is just a generic welcome series example. If you were to take your email marketing seriously, you would want to structure your emails in a way that makes sense given your marketing objectives.