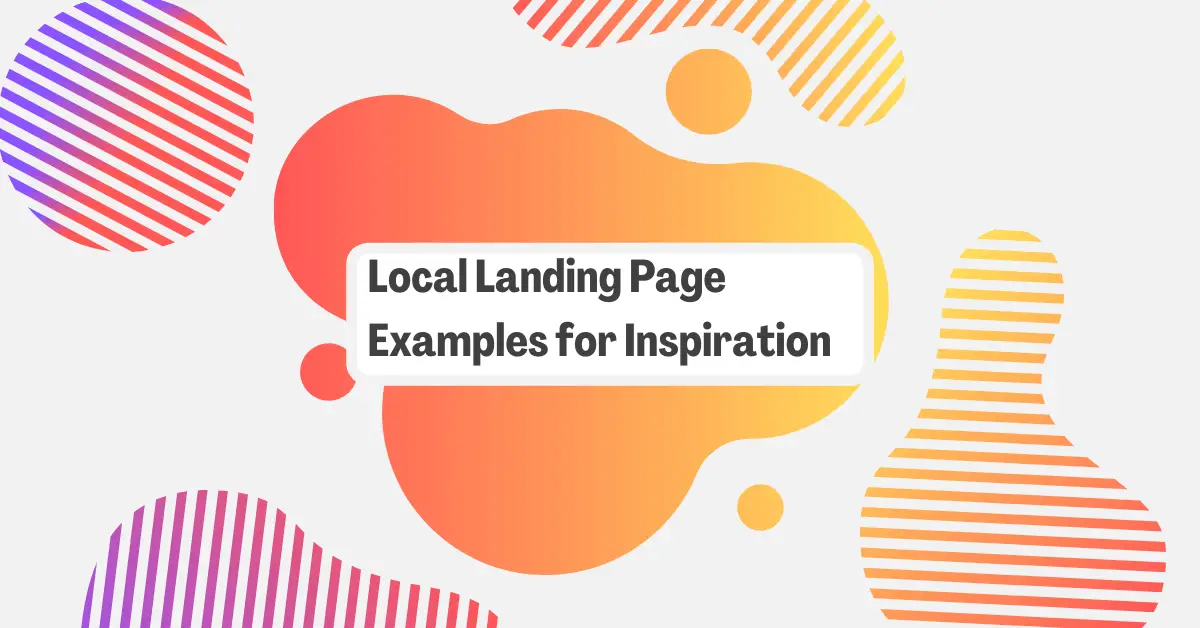 Local landing pages are a critical component of a comprehensive digital marketing strategy for brick and mortar and service-based businesses. 
Local pages are a highly effective way for you to attract prospective customers in your local area through SEO or through paid ads. A well-optimized landing page for each of your company's locations can help your customers find your business, help you get more calls, and most importantly, generate more business. 
But what does a well-optimized local landing page look like in the first place? 
If you are in the process of building one, it can be helpful to see a few examples of highly effective local landing pages from a variety of different businesses. 
In this post, you can discover 15 local landing page examples for inspiration. 
Packed with in-action pictures of the team working hard, this local landing page gives you an insight into what you can expect when you choose Haller Enterprises to help with your project. As soon as you visit the page, a chat box opens to ask if you have any questions. You can also click on a floating CTA to chat with an agent and schedule a visit to your home. 
As you scroll down the page, you can get a complete overview of everything the team does, from heating and cooling maintenance, to repairs. Cleverly, the company also highlights its special deals and discounts on the same page, so you're more tempted to "call to redeem" things like $100 off your air scrubber installation. 
Featuring an attractive background image to capture the visitor's attention, Law PA gives you a professional experience as soon as you visit the page. There's an eye-catching header at the top of the page, as well as two separate options for contacting the team, either via phone, or through live chat. 
The automatic live chat box that appears at the bottom of the page even lets you know when people are online and reminds you there's no obligation with a conversation. Animated transitions as you scroll through the page help to make this website a lot more exciting, while "View More" buttons allow you to decide how much information you need. 
We love the eye-catching animations on this website. Bubbles floating around the page really adds to the appeal of the overall design, while the contrasting colors draw your eye to important places on the page. There's plenty of useful information as you scroll through the page, and you can even choose if you want to learn about self-serve laundry, commercial services and more.
The way the information is organized on this page is very professional, so nothing feels cluttered and overwhelming. You'll also find a selection offers on the landing page to capture your attention and improve the chance of conversions. 
Related: 21 Newsletter Landing Page Examples for Inspiration
The Urban Simple landing page ensures you can see the value of their service from the moment you visit the page. You're instantly provided with the option to fill out a form and get a "free" quote. The full page is well-optimized for collecting leads, with lots of social proof in the form of membership and accolade buttons.
The animations throughout the page helps to draw the attention of the visitor as they interact with the page. Information is organized well throughout the page so it's not too overwhelming. Though it's a good practice to have a map on a local landing page, it's not totally necessary here, as the business visits other companies. 
Eye-catching photography and clever copy really help this landing page to stand out. As soon as you visit the page, you get multiple options to schedule an appointment. You can click a button to get directions straight to the company, and the business hours are displayed at the top of the page too, along with a phone number and address.
The CBA website is packed with just enough information to help you make an informed decision about whether you can really trust the brand. There's also a series of trust certificates and badges, showing the company has a BBB rating of A+. 
Clean and minimalist, this attractive landing page looks wonderfully professional. You'll get an immediate introduction to the company when you land on the page, and there's a handy contact form so you can get a quote as quickly as possible. The company also reminds you installation, estimates, and design consultations are all free.
For peace of mind, the Classic Blinds and Closets company also demonstrates its status among customers, showing reviews from Google and Houzz. There's also a beautiful set of photos to show you what kind of products you can get. 
This local landing page example benefits from being crisp, clean, and professional. Multiple trust badges from companies like NBC and Forbes welcome you to the page, and you get the extra transparency of exactly how much you need to pay to get started.
Both attractive and informative, the Nest Egg landing page tells you everything you need to know about the features you can get when you start up. You can even see how Nest Egg compares to other similar solutions. A CTA invites you to "get started for free", and there's a live chat box for help.
The carousel of images at the very top of this landing page is a wonderful touch to get your mouth watering and the available food. You'll have three options when you arrive on this website. You can view the menu, make an order, or scroll down the page to learn more about how the service works. 
A set of "Order Now" and "View Menu" buttons follow you down the page where you can check out how the business began, what they've accomplished, and how they even make the world a better place. There's even a list of clients previously served to help deliver peace of mind. 
An immersive background video is the first thing you notice when you visit this landing page. Everything on the website is designed to grab and maintain your attention, from the attractive headers to the option to ask for an "instant quote". 
TRT proves its standing by classifying itself as the number 1 rated window cleaning and pressure rating company in Orlando. As you scroll down the page, you'll find tons of visually appealing information to help you make your decision. There are also real-time notifications on the page when other people make a booking.
Window Ninjas offers a simple but effective local landing page. You immediately get all the information you need to contact the team, including an email address, phone number, contact form, and even the option to schedule a service with a built-in calendar. 
When you're signing up to learn more about your service options, you can select from a list of options, like window cleaning and gutter cleaning easily. We love the included map on the page where you can see exactly which areas the Window Ninjas support. Access to information about their methods offers peace of mind too. 
Professional and eye-catching, the IPC Springs local landing page immediately grabs your attention with a header defining the company as the best in Colorado Springs. There's a set of bullet points to share useful information, like the fact the team is fully licensed. You can access a quote in one click or tap to call the company from your smartphone.
The eye-catching red banner at the top of the page reminds customers that pest control is an essential service, while offering them a 10% discount on their first order. There's also a handy guide to the business hours, address, and contact number of the company too. 
With fresh, eye-catching colors and beautiful pictures, the Grounds Guys immediately appeal to their target audience. You can request a job estimate by clicking a button at the top of a page, and the phone number of the business is displayed clearly too. A guide to the company's health and safety measures is also great for peace of mind. 
We love the slideshow of testimonials, highlighting how many happy customers this company already has. The fact that the website also includes a map of the area they serve, and a weather reading for that space is great too. 
Visually breath-taking, this attractive local landing page example immediately highlights the professionalism of the company. You'll see a host of contact details as soon as you click into the page, along with an eye-catching CTA so you can request an appointment. There's a series of social media buttons for more insights into the company and the option to read their reviews too. 
A combination of a background video and multiple authentic photos throughout the page helps to keep your attention focused as you scroll. We also love the lists the services the company can offer. 
CertaPro Painters offers an attractive local landing page, with a floating header that follows you down the page with the company's logo, phone number, and CTA button. As you scroll, you'll see well-organized information highlighting what the business can do, and what you can expect from the service. There are even insights into the licensing and insurance of the brand.
We're particularly impressed by the introduction section of the website, which highlights the members of the team with authentic photographs, to help generate trust. You can also learn more about each of the areas the company serves. 
Beautifully designed to capture audience's attention with a professional appearance, the Roto Rooter landing page is very well done. There are plenty of visuals to bring context to the page, as well as access to lots of information on how to get in touch and book your appointment. The Roto Rooter team even includes a safety and zero contact video for peace of mind.
For customer convenience, there's a calendar where you can schedule an appointment online. Roto Rooter also lists a range of reasons you might want to choose their service, like 24/7 services and emergency support. 
Mastering Local Landing Pages
A stunning local landing page can instantly improve your chances of reaching an engaged audience full of customers ready to convert. With the local landing page and location landing page examples above, you should have plenty of inspiration to help you make your own high-performance landing page.