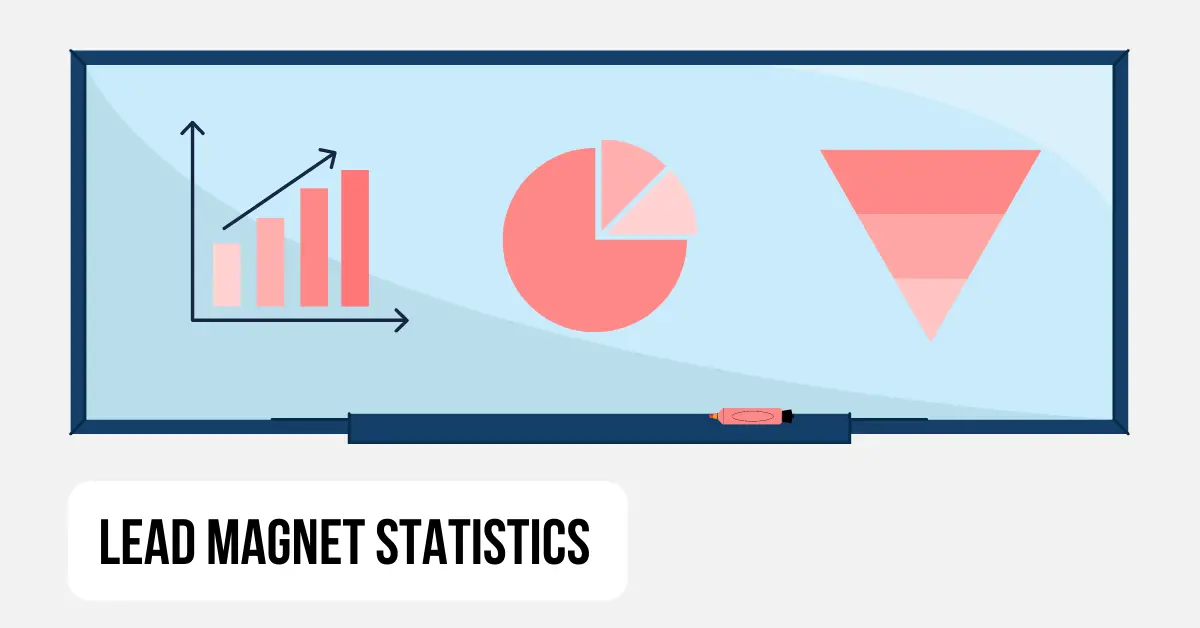 Most marketers will agree that lead magnets are a powerful way to capture leads.
However, when many marketers put together their marketing campaigns, they often rely on their own intuition to determine what, where, and how they use lead magnets. Unfortunately, making decisions based on instinct doesn't always make for the most effective marketing strategy.
With limited resources, it's important to be strategic about how you use lead magnets, and there is no better way than by using hard data to back your decisions.
Here you can find 12 lead magnet stats that can help you effectively grow your email list.
1. 50% of marketers who start using lead magnets report higher conversion rates. (wpforms)
Commentary: Its clear that lead magnets can make a big difference. Many websites have simple forms on their sites to give prospects the opportunity to opt-in to be on their email list. You can achieve results this way, but by offering prospects some incentive to opt-in, you can skyrocket conversions. Perhaps the other 50% of marketers that don't see a difference in conversions after using lead magnets aren't using lead magnets very strategically. They simply may not be offering content that resonates with their audience.
2. The 3 top-cited highest performing means of securing leads for B2B marketers include in-person events, followed by webinar lead magnets and ebook lead magnets. (Content Marketing Institute) 
Commentary: This stat was gleaned from a survey of 679 respondents. 19% of respondents claimed that in-person events were the highest performing, 16% stated webinars, and 13% stated ebooks.  
While disproportionately more respondents indicated that in-person events such as trade shows are most effective for collecting leads, digital lead magnets have their own unique benefits. For instance, while in-person events often require travel, webinars don't which can save a ton of time and money.
Additionally, while in-person events can only happen once, ebooks and guides can be offered multiple times for months on end to continuously collect leads.
3. 51% of B2B buyers are willing to share information about themselves or their company to register for webinars, making webinars more attractive to B2B buyers than any other lead magnet. (Demand Gen Report)
Commentary: Given that webinars are interactive opportunities for B2B buyers to learn from experts, it makes sense that they are so well received.
This stat was drawn from a survey of 214 B2B executives. The executives in the study were asked which types of content assets (from a list of 10 content assets) they would share information for. While webinars proved to be most popular, research/survey reports were a close second (50%), white papers came in third (48%) and ebooks came in 4rth (44%).
4. 46% of B2B marketers used banner ads to promote content such as ebooks and webinars. (Content Marketing Institute)
 Commentary: While most B2B marketers display their lead magnets on their company's website by using pop-ups and embedded forms, nearly half pay for banner ads on other websites to promote their lead magnets. Paid social media advertising and paid search engine marketing are also common.
5. 12.3% of B2C marketers claim that monetary value lead magnets (deals, coupons, discounts, free shipping, product samples) make for the highest conversion rates while only 8.4% of B2B marketers say the same. (GetResponse)
Commentary: These stats came from a case study by GetResonse where 278 total marketers were asked which lead magnets (video, written, tools, monetary value, visual, interactive, audio, or other) had the highest conversion rates for them. The results indicate that monetary value lead magnets may be comparatively more effective for B2C businesses than B2B. Perhaps, ecommerce businesses (which are typically B2C) that offer low priced items can more easily sway their target audiences with small incentives such as free shipping or 5% off coupons.
6. The average quiz has a 31.6% lead capture rate (LeadQuizzes)
Commentary: Leadquizzes, a quiz funnel builder, captures tons of data from all of its users and their lead generating quiz funnels. Based on the data collected, it seems as though quiz funnels achieve phenomenal conversion rates. However, while quiz funnels can be extremely powerful for building email lists, they tend to be only effective for certain types of businesses. 
There are many other quiz funnel builders that are similar to LeadQuizzes. On a more general level, there are numerous other software for building lead magnets of different varieties as well.
7. 58.6% of marketers claim that short-form written lead magnets (newsletters, checklists, copy examples, smaller files, ebook samples) make for the highest conversion rates while only 41.4% claim that long-form written content (guides, whitepapers, reports, email courses, spreadsheets, curated or personalized reports) makes for the highest conversion rates. (GetResponse)
Commentary: This stat came from GetResponse's survey of both B2B and B2C marketers. It may seem counterintuitive since many marketers feel as though the longer the content, the more appealing it must be to prospects, and thus the better it will convert. However, short-form written content may (generally) perform better for a few reasons:
1. Short-form content is often gated by fewer fields (e.g. name and email address fields in return for an email template), than long-form content (e.g. name, email address, phone number, job title, number of employees at the company, etc. in return for a comprehensive industry report). Generally, the fewer forms on a field, the higher the conversion rate.1
2. Perhaps prospects generally prefer concise info that can be quickly consumed. After all, time is money, and perhaps some prospects would rather opt-in for a quick checklist than spend the time trying to glean valuable insights from a 12,000-word industry report.
8. Roughly 50% of marketers use lead magnets to capture emails, 40% don't use them, and about 10% don't know if they are or aren't (HubSpot) 
Commentary: This stat comes from a survey conducted by HubSpot where 173 marketers that work full time on lead generation participated. To many, it might seem shocking that only about half of marketers use lead magnets. Given that lead magnets are well known to be extremely effective, you would think more marketers would use lead magnets in their marketing strategy. Regardless, HubSpot reports that those who do use lead magnets report higher conversion rates and satisfaction rates as well.
9. Forms promoting contests as lead magnets received a 35% form conversion rate compared to 11% for general lead generation forms (typically used for gated content downloads or webinar registrations)(Formstack)
Commentary: This stat came from Formstack's analysis of 650,000 forms of Formstack customers. Of all the forms analyzed, contest lead generation forms were reported to achieve a significantly higher conversion rate than any other form types. However, the caveat is that like quiz funnels, contest forms tend to only be effective for certain use cases. For instance, Instagram giveaway marketing campaigns may be extremely effective for B2C ecommerce companies. However, this approach likely wouldn't make much sense for B2B manufacturing companies.
10. The average ebook lead magnet is between 5,000 and 10,000 words long (HubSpot)
Commentary: Generally, the longer and more informative an ebook is, the more value it will provide for your audience. However, finding the right ebook length can be a bit of a balancing act.
The extra time and energy needed to make an ebook 5,000 words longer might not make too much of a difference to your audience: especially if the content is thin. On the other hand, if your ebook is too short, your audience might feel cheated and might regret opting into your email list in the first place.
To see examples of ebook lead magnets (with word count included) see this post here.
11. Ebooks are the most popular lead magnet, with 27.7% of marketers using them, 24.9% using webinars, and 21.3% using free tools (HubSpot)
Commentary: According to Content Marketing Institute2
and GetResponse
3
video lead magnets typically make for the best conversion rates. That being said, it might come as a surprise that ebooks are the most popular lead magnets. However, there are a few unique advantages of ebooks that might explain why this might be the case. First, ebooks can be used time and time again to generate leads as opposed to webinars that are one-time events. Secondly, it may be easier to have writers produce ebooks than to carry out webinars, which can take a lot of preparation.
Moving forward…
By using lead magnet statistics such as these, hopefully, you can devise your lead generation game plan more strategically. Data-backed decisions make for better marketing efforts.
However, keep in mind that all statistics should be taken with a grain of salt. After all, data can sometimes be misleading depending on the sampling method used to gather that data. For instance, a claim that X offer performs better than Y offer based on the respondents in a dozen different industries, might not necessarily mean that X offer performs better than Y offer in your specific industry.
That being said, it likely would be unwise to base your strategy on one piece of information alone. Learning from multiple reputable sources may be the best way to set yourself up for success.