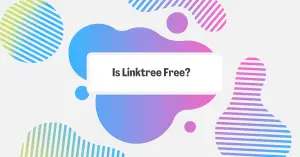 There are dozens of bio link tools out there. And while many are completely free, others charge a paid monthly subscription.
But what about Linktree? Is Linktree free? 
Linktree is completely free to use with the free plan. However, Linktree also has three paid plans that give you additional features that aren't included in the free plan.  
In this post, we will discuss the features and capabilities of Linktree's free plan, its three paid plans, as well as other bio link tools with free plans. 
What is included in Linktree's free plan? 
Linktree is a bio link tool. It's essentially a one-page website builder where you can store your links to your social media profiles, apps, blogs, e-commerce stores, and more. 
However, while the platform is relatively simple there is lots you can do to customize your Linktree. There are many features that allow you to create certain types of links, and change design elements like fonts and themes.
Linktree's free plan includes the basic Linktree features that are sufficient for most casual users. A few of the key features that you get with the free plan include: 
Unlimited links: You can place as many links on your Linktree as you want
Social icons: Display links to all your social media accounts so that people can discover you on all social media platforms
Embed links: Embed links for Soundcloud, Spotify, Audiomack, Twitch, YouTube, Clubhouse, and more. 
Form links: Set up a contact form and allow visitors to reach out to you directly from your Linktree.
Monetization: Collect payments via PayPal, and Square, and power Shopify and Spring ecommerce stores. 
Customization: Customize your bio, profile picture, headers, and theme.
Lifetime analytics: Track the number of views your Linktree receives over time. 
Support: Access email support 24/7 or refer to Linktree's comprehensive help center
What is included in Linktree's paid plans
In addition to Linktree's free plan, Linktree has three paid plans:
Starter ($5/month)

Pro ($9/month)

Premium ($24/month)
Each of these plans include all the features you get with the free plan and then some. Some of the key additional features that you get with each plan go as follows: 
Starter ($5/month)
In addition to all of the features you get with the free plan, the Starter plan gives you the following key features:
Schedule: Schedule links to go live and then vanish at certain times in the future
Spotlight: This basically allows you to make one link more prominent compared to others for if you really want to make a particular link more noticeable
Redirect: Send traffic directly to your website instead of your Linktree page while still tracking visitor behavior. 
Animation: Allows you to use animated styling to draw attention to certain links
Additional customization: With the start plan you can customize the design of your Linktree in multiple ways. You can further customize your design with stock background images or video, NFT background, extended themes (additional themes that you don't get with the free versions), and button and font styles. 
Social icon analytics: Get data on how many times your social icons have been clicked.
Commerce revenue: Get data on how much revenue you have generated through your commerce links. 
Individual link analytics: Track clicks on each and every one of your links on your Linktree.
Device, location, and referrer analytics: Track the number of people who have clicked your links by device (desktop, mobile, tablet), by location (city), and by referrer source (whether it be Twitter, Instagram, or another platform where you promote your Linktree). 
Pro ($9/month)
With the Pro plan, you get all the features in the free plan and the starter plan in addition to the following features: 
Email and phone number collection: Collect email addresses and phone numbers directly from your Linktree to build a visitor list. 
RSS feed link: Showcase blog posts or your news feed with the RSS feed link. 
Embed latest Youtube video: Keep your visitors up to date with your latest youtube content. 
Hide Linktree logo: Make your Linktree look more professional by paying to remove the Linktree logo. 
Commerce link analytics: Tracking and analytics for commerce links specifically. Although you get analytics for links when you have the free or starter plan, you only get analytics for commerce links when you have the Pro plan. 
Integrations: With the Pro plan, you can integrate your Linktree account with other platforms such as Mailchimp, and you can use Zapier to integrate Linktree with practically any other marketing technology.  
SEO settings: With SEO settings you can create a meta title and meta description for your Linktree that can be picked up by search engines like Google. 
Google analytics: By connecting your Linktree to Google Analytics you can take a more in-depth look at your traffic to your Linktree. 
Facebook Conversion API: With the Facebook conversion API integration, you can retarget visitors of your Linktree on Facebook and Instagram 
Premium ($24)
With the Premium plan, you get ust a few additional features that aren't available on the other plans. 
For one, you can export your data in a CSV file. This one feature alone can make the Premium plan worth the money for those that want to take their marketing seriously. 
Additionally, you get additional support. For instance, with the Premium plan, you get your very own Customer Success Manager that you can reach out to directly for help. Additionally, the customer support response time is 4 hours for Premium users as opposed to the 24 hours or more with the less expensive plans. 
Final words
Although Linktree has paid options, its free version makes the tool an excellent choice for casual users. 
However, before moving forward with Linktree, keep in mind there are many other free bio link tools out there that you can choose from. There are many options similar to Linktree, and while Linktree is certainly a leader in the industry, other platforms rival Linktree in some respects.