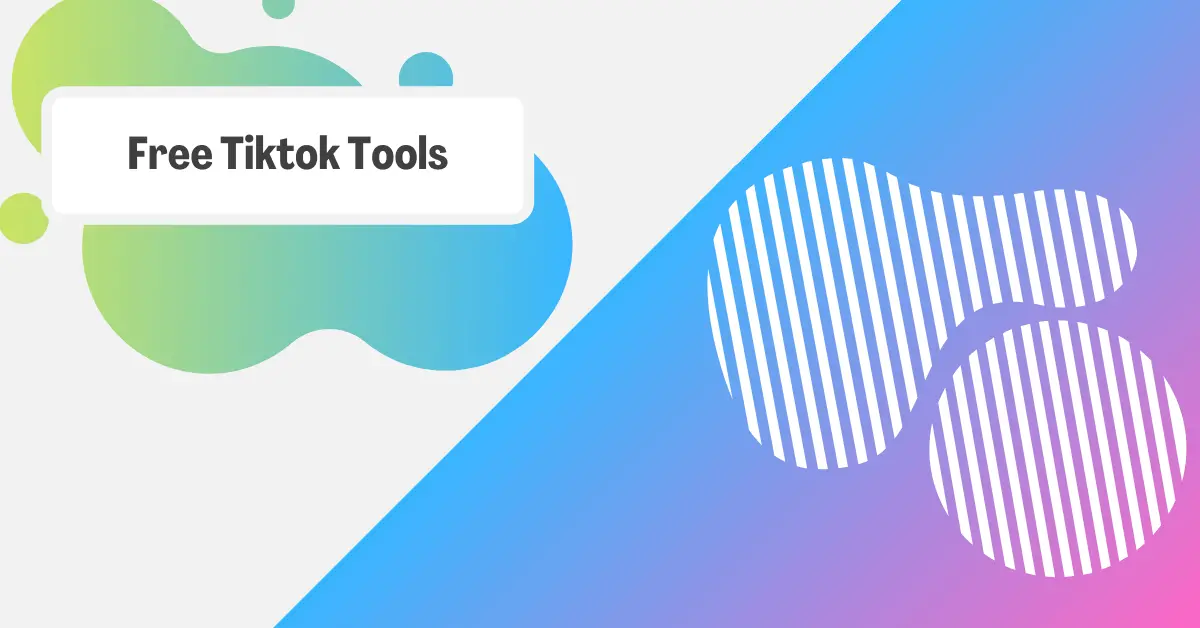 What began as an app solely used by Generation Z has become a widely popular social media platform. Given TikTok's widespread use, it has become an excellent platform for influencers, businesses and markers to reach customers worldwide. 
With more than one billion active users currently on TikTok, the app's power as a marketing channel is undeniable. Fortunately, there are a handful of tools that you can use in conjunction with TikTok in order to improve your performance on the app. Many of these tools happen to be 100% free. 
In this post, we will discuss 11 free TikTok tools that you can use to take your TikTok game to the next level. Whether you are just starting out using TikTok or are an experienced TikTok user that wants some extra edge, this post is for you. 
Exolyt

Exolyt is an analytics and monitoring tool built for TikTok. It works on any TikTok profile or video and helps content creators, influencers, and marketers improve their TikTok performance. The software offers insightful reports that allow users to dive into the latest trends and monitor their TikTok marketing campaigns and the campaigns of their competitors. 
Users can track and measure profiles for follower counts, daily progress, engagement rates, comments, video views, and so much more. However, its real value lies in its ability to track this same information from your competitors, particularly with its "compare accounts" feature, which gives you an analysis of your campaign's progress in a simple side-by-side comparison with your competitor.  
Exoloyt is perfect for influencers looking to stay on top of competitors' strategies and marketers who can use these reports to present to clients or build better campaigns.
The app's free basic version provides valuable data on follower growth and engagement statistics on your TikTok videos. However, if you are interested in more comprehensive analytics and reporting, you can upgrade to a paid plan. The paid plans include insights on new follower estimations based on posts, marketing campaign tracking, competitor comparison, data exporting, API integrations, audience demographics, and more. 
TikRank

TikRank is an influencer analysis tool for TikTok. The web-based tool is free, basic, and straightforward, with a mission to help users analyze some of the top influencers on TikTok. Its online database features approximately 1 million influencers. You can see user information like their number of fans, views, and videos.
With TikRank, you can view and analyze influencer videos and profiles anywhere, including from a PC. You can search by username, by country, or use one of TikRank's "Top Chart" links which include lists like "Top Most Videos," "Top Most Viewed," "Top Most Followed," and more.
TikRank says that it aims to create a platform that allows its users to watch TikToks on a PC and help people analyze the characteristics of some of the biggest TikTok influencers. The company says that it aims to be the largest TikTok influencer analysis platform. 
Urlebird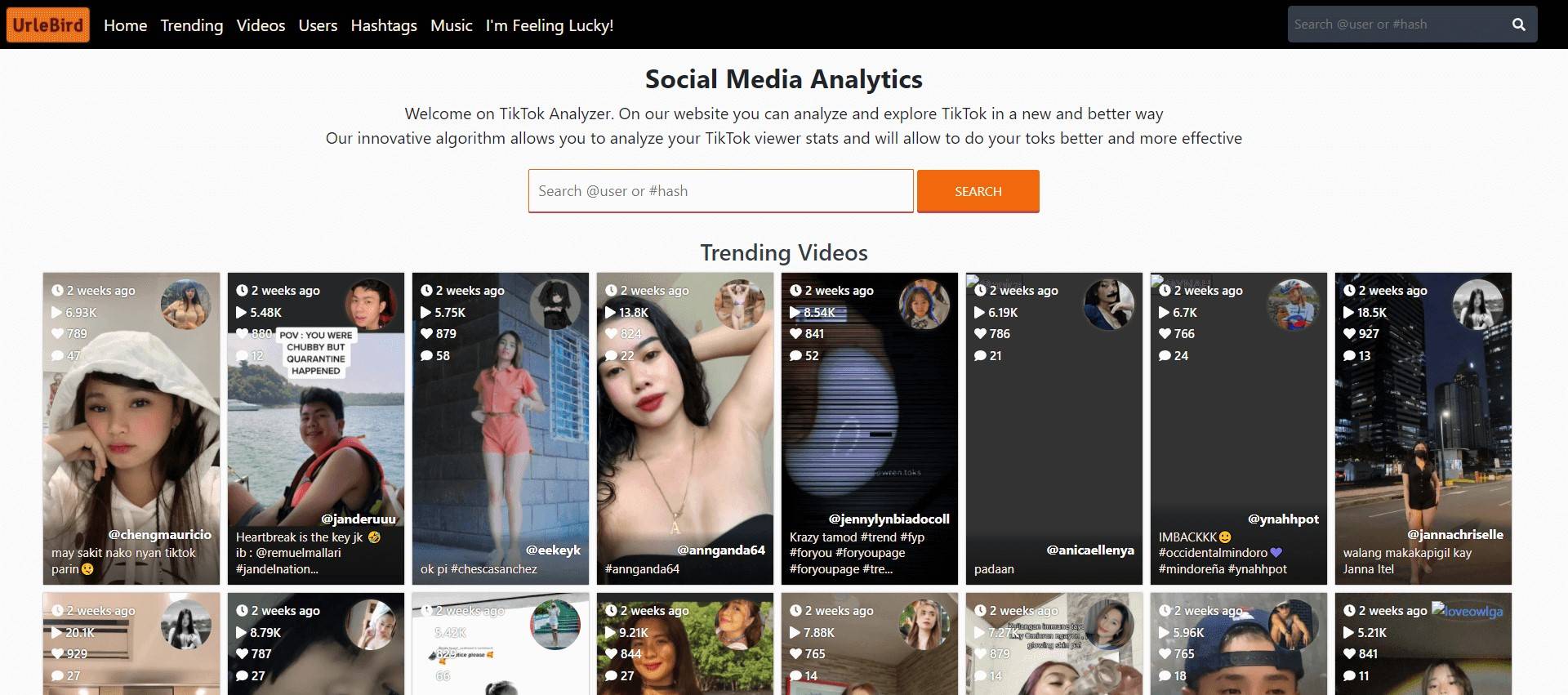 Urlebird is a free TikTok viewer and analyzer that allows users to explore and analyze TikTok right from its website. The website aims to make TikTok user information, videos, and hashtags publically accessible and more discoverable. Urlebird displays public TikTok accounts and analytics free of charge without registering. 
In addition to using its search feature for usernames and hashtags, you can use Urlebird to view trending videos, newest videos, latest and most popular users, latest and most popular hashtags, and latest and most popular music and sounds from TikTok. It even has an "I'm feeling lucky" button.
While many people seem to love using Urlebird to access public TikTok content via the web, many TikTok users, particularly influencers, are unhappy that the website is essentially monetizing their content without their permission. Urlebird's creators, on the other hand, say that they are only providing a service as a third party, sharing already public content. There is even a petition online to shut down the website.
For now, Urlebird remains one of the most popular free TikTok viewers and analyzers out there. 
TikBuddy

TikBuddy offers users online TikTok analytics, marketing, and management through a Chrome extension designed for creators, influencers, and brands. The software developers bill it as the premier TikTok stats toolkit. With the TikBuddy Chrome extension, users can view TikTok stats, real-time video, track and compare themselves with competitors, and perform objective analysis. Most importantly, the TikBuddy toolkit helps TikTok users grow.
The TikBuddy Chrome extension toolkit features:
A global creator score

Country and world rankings, as well as 30-day trends

Creator state (including fan, like, and video counts)

Video stats (including likes, views, and comments)

Video music stats (including use counts)

Hashtag analysis
Linktree

TikTok only allows you to add one link to the bio section of your account. That being said, if you have other social media profiles, a blog, or other websites that you want to promote on Linktree, then using Linktree or one of the many other free bio link tools is the way to go. 
Simply put, Linktree allows you to build simple landing pages that display links of your choice. A Linktree page serves as a launchpad where you can direct your TikTok followers from your TikTok account to your latest articles, e-commerce store, affiliated brands, an app, or any other website. 
Additionally with Linktree you can:
Customize your page with built-in themes 

View analytics to track views, link clicks, and much more

Capture email addresses with forms 
Fortunately, the free version has enough features for most casual users. 
Brainans

Brainans is another free TikTok viewer that allows users to search profiles, videos, music, and followers.
With Brainans, you can view videos, hashtags, and users anonymously without ever having to log in to TikTok. In addition to being a viewer, it is also an online TikTok downloader. Users can also download videos and music from TikTok for free. Using the Brainans browser, you can search by hashtag, username, or music/sound title. You can even analyze TikTok information such as statistics, followers, and comments.
Like its counterparts, Brainians is a free online TikTok viewer that offers third-party access to publicly accessible TikTok videos without ever logging into TikTok to view them. It is also popular because it allows users to download TikTok videos and music. 
VidNice

What started in early 2019 as a TikTok video collector has grown into a popular web application that allows users to view and download publically accessible TikTok content.  
From the VidNice dashboard, users can access a list of and view the most popular users, videos, and hashtags. VidNice also allows you to create in-dash lists of users so that you can easily browse their feeds anytime through the dashboard without following them on TikTok, and download TikTok vids without the TikTok watermark.
With VidNice, you can also view your own TikTok stats, including your followers, who you are following, your posts, and your likes. Access to its hashtag and user search feature requires a TikTok login and is made possible through TikBuddy. 
Viamaker

Is a popular VHS Video editor for TikTok. Many TikTok users utilize the platform to customize their videos with cool effects and edits. Some of the trendy video effects include:
Glitch

Retro

VHS

Christmas

Lo-fi

Aesthetic

Neon

Mirror

Split

Trippy

Sparkling

and more
With Viamaker, you can add effects in segments and enhance your TikTok videos using live filters. Live filter options include:
Film

Vintage

Sparkle

Polaroid

Rainbow

Lomo

Streamer

Starry

Retro

Rain

Snow

Bling

and others
Live filters are updated in real-time.
Users also have access to basic editing tools to adjust and enhance videos and photos for exposure, contrast, saturation, and more. You can even adjust ratios, which means it is the perfect video and photo editor for TikTok and Instagram, Facebook, Youtube, and many others.
The app even features a variety of popular music tracks for you to choose from.
Best of all, this is a free TikTok tool. You can get it on the Apple App Store.
Social Blade

Social Blade offers simplified analytics tools that can provide global analytics for any content creator, live streamer, or brand across multiple platforms, including TikTok, Twitter, Facebook, YouTube, and more. Users can access tops charts (limited to Top 50 and Top 100 lists), search for users, view live follower accounts, and more. To access certain features, users will have to register for a Social Blade account.
In addition to its array of free features, Social Blade lets users take their analytics tool to the next level with a host of paid packages.  
The Bronze plan is $3.99 per month or $39.99 per year and offers 15 "favorite" slots per platform (allowing you to track your favorite users easily), access to Top 250 lists, and one YouTube report card per month. YouTube report cards can be used in your pitch decks, for client performance reviews, or compared with your competition.

The Silver plan is $9.99 per month or $99.99 per year and offers 25 "favorite" slots per platform, access to Top 500 lists, up to 60 days of table data, premium data charts, and 10 YouTube report cards per month. Silver plan users save 5% on custom reports and receive five free business API credits per month.

The Gold plan is $39.99 per month or $399.99 per year and offers 100 "favorite" slots per platform, access to Top 1000 lists, up to 120 days of table data, access to premium data charts, and 50 YouTube report cards per month. Gold plan users save 10% on custom reports and receive 20 free business API credits per month.

The Platinum plan is $99.99 per month or $999.99 per year and offers 500 "favorite" slots per platform, access to Top 5000 lists, up to 365 days of table data, access to premium data charts, and 100 YouTube report cards per month. Gold plan users save 15% on custom reports and receive 50 free business API credits per month.
All Hashtag

All Hashtag was created in 2015 as a hashtag generator that helps users develop hashtags for popular social media platforms like TikTok. Since then, the online tool has grown to offer four different Hashtag services, as follows:
Hashtag Generator
The All Hashtag generator allows users to enter any word or term and generate suggested hashtags based on random results, live results, and top results related to the word or phrase. All results offer an array of hashtag suggestions, including top lists for similar hashtags and similar key search terms.
Hashtag Generator
Don't have time to type out hashtags? The All Hashtag Hashtag Generator allows users to type in a keyword that will automatically convert to a hashtag.
Hashtag Counter
The website's hashtag counter allows you to count the number of hashtags in a particular block of text. That is particularly useful if you want to limit or optimize the number of hashtags in your post or content.
Hashtag Analytics
The All Hashtag Hashtag Analytics tool allows users to analyze hashtags and determine their rank, the number of times the hashtag was used, and a list of similar hashtags. With this tool, users can better evaluate a hashtag's popularity to strategize social media content.
All Hashtag also offers an array of top hashtag charts. Best of all, all of the features on the All Hashtag site are free. 
Google Trends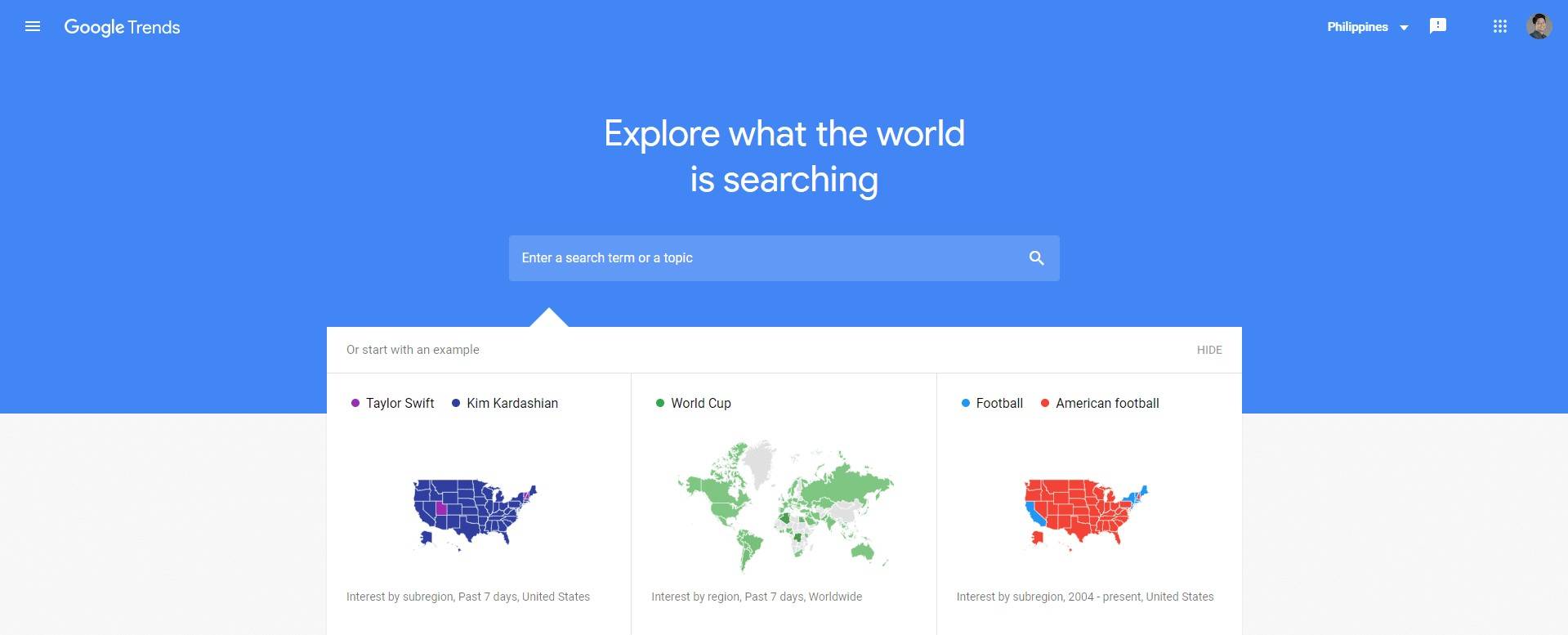 With Google Trends, users can find out what's hot in the world in real-time and build their TikTok campaigns using this valuable information. With Google Trends, you can identify topics that are becoming popular so that you can capitalize on these opportunities as early as possible. 
From the Google Trends homepage, users can do the following:
Discover what people around the world are searching for by entering a topic or keyword into the Explore bar

View Google News Lab curated stories providing additional insight into the data

View daily search trends

View year in search data

Explore guidance materials related to Google Trends and News Lab features
Google Trends is a free tool. It provides essential data and useful, easy-to-understand graphs and charts on the popularity of specific search terms on Google and YouTube. Using this information, TikTok users can ensure that they stay relevant to the latest global and regional trends. 
Rytr

Rytr is an online AI and writing assistant that helps users create high-quality TikTok video captions and content for other social media platforms in a matter of seconds. The company vision is to become the leading all-in-one writing assistant across a user's entire writing workflow.
Although the tool does not have any features specific to generating TikTok content, some of its many use cases can be applied to the creation of certain TikTok content.
Use cases include:
Blog writing

Email writing

Social media ad copywriting

Bio writing

Video script writing

Copywriting

Creative writing

SEO writing

Text editing

And more
Users can generate up to 5,000 characters per month with its free forever plan.
Paid plans include the following:
The Saver plan is $9 per month or $90 per year. It gives users the ability to generate 50,000 characters per month, access to more than 30 use cases, the ability to create a custom-use case, write in more than 30 languages, access more than 20 tones, and access to the Rytr premium community.

The Unlimited plan is $29 per month or $290 per year. It gives users the ability to generate unlimited characters per month, access to more than 30 use cases, the ability to create a custom-use case, the ability to write in more than 30 languages, access to more than 20 tones, and access to the Rytr premium community. Unlimited users receive a dedicated account manager and priority email/chat support.
Conclusion
Whether you are a TikTok user who dreams of becoming an influencer or a marketer who relies on TikTok to reach new followers, these 11 free TikTok tools will help you bring your TikTok game to the next level.
Whether you are looking for deep analytics tools to help your TikTok marketing efforts or want a free TikTok viewer and downloader to help you keep track of the competition or your favorite influencers, this list is the perfect place to start.