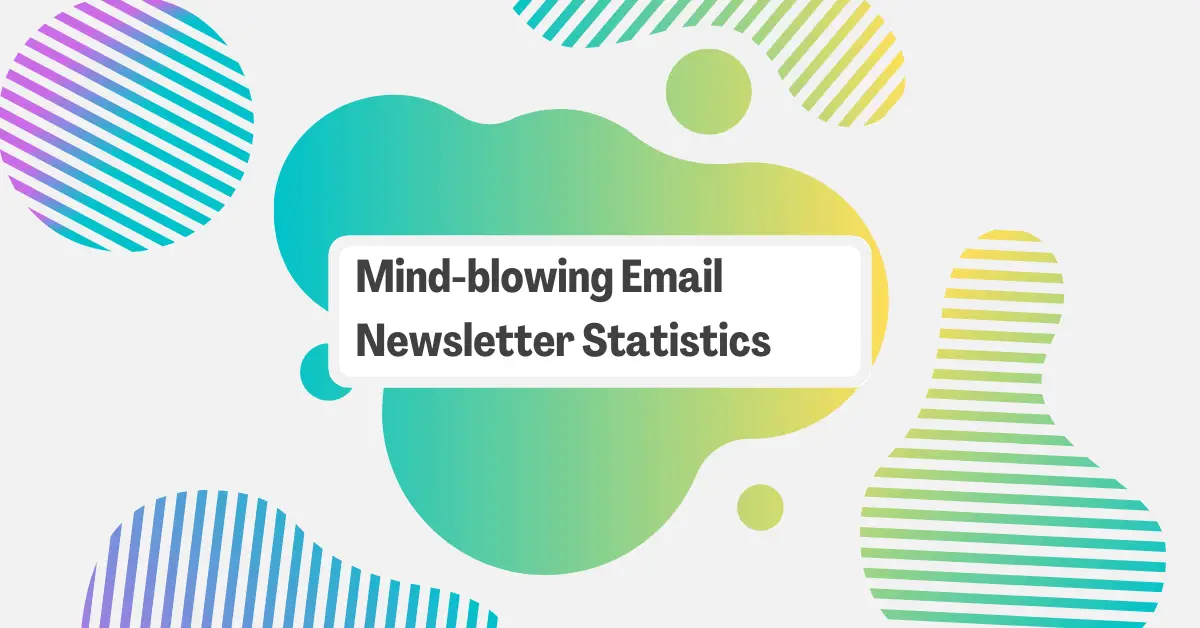 The digital marketing landscape is constantly changing. However, while the constant change makes the industry exciting, it also means you constantly need to be adapting your marketing strategy to keep up with the times as well. 
But what about newsletters? Are email newsletters an effective way for companies to reach their audiences or is this just an outdated method?
Since the inception of the internet, email newsletters have been one of the most dependable and effective ways to connect with a target audience. 
But don't take my word for it. The numbers speak for themselves. 
In this post, you can discover 24 email newsletter statistics that you should know before devising your newsletter marketing strategy. 
How marketers use newsletters 
Of all the many types of emails, newsletters are by far one of the most widely used types of emails among companies and institutions alike. 
In fact, according to clutch.co, at companies with 100+ employees, 83% send email newsletters, which is more than other reported types of emails such as stand-alone (79%), lead nurturing (71%), or transactional (62%) (Clutch, 2016)
In light of this, it's safe to say that newsletters aren't going out of style anytime soon. 
Content Marketing Institute also conducted research that shows the prevalence of newsletter marketing. Although the organization studied B2B organizations specifically, the statistics for b2b email marketing are very telling of the power of newsletters for companies in general. 
81% of B2B marketers say their most used form of content marketing is email newsletters. (Content Marketing Institute, 2020)
On top of that, an astounding 40% of B2B marketers said that email newsletters are the most critical source to the success of their content marketing plan. (Content Marketing Institute, 2017)
It's clear that newsletters are widely used and that they are important for comprehensive content marketing. However, it's important to understand why marketers use newsletters in the first place. 
31% of B2B marketers say email newsletters are the best way to nurture leads. (Content Marketing Institute, 2020)
Additionally, 79% of B2B marketers find email to be the most successful channel for content distribution. (OptinMonster, 2021). After all, companies commonly use newsletters to get blog content in front of their audience. 
While it's good to know how companies utilize newsletters, it's also important to understand why people sign up for newsletters in the first place. According to a study conducted by HubSpot, 38% of survey responders say they opt-in to newsletters to receive relevant emails that can improve their business and lives as well. (Hubspot, 2021)
Not only that, but newsletters are also a more well-liked form of communication among recipients compared to other channels. 
In one survey, when participants were asked how they would like to receive updates from a company, only 10% chose to receive updates through Facebook, while 90% chose to receive email newsletters. (NNGroup, 2010). Compared to social media, most individuals seem to prefer direct communication to their inboxes from companies. 
Related: Ecommerce Email Marketing Stats You Need to Know
The effectiveness of newsletters: how newsletters translate to dollars  
Although newsletters are an effective marketing method for practically all types of businesses in any industry, some of the most meaningful data on the impact of newsletters comes from publishers sites such as the New York Times or Time Magazine. Given that these are journalism-based businesses, using newsletters to disseminate recent news to their readers is a VERY important part of their business.
The Morning Brew is a publisher site for young business professionals. This publisher grew its online audience and profits from $3M in 2018 to $13M in 2019 with just a single email newsletter subscription service. In the same time period, the business increased its subscriber base by more than 1M. (What's New In Publishing, 2020)
It's clear that a newsletter can have a massive impact on the bottom line. But what leads a reader to become a paid subscriber in the first place?
The Lenfest institute (a journalism organization) analyzed the characteristics of paid subscribers across 500 publishers. The organization found the likelihood of a casual reader making the switch to being a paid subscriber when he or she either readers 5 articles per month or subscribes to the company's newsletter. (What's New In Publishing, 2018)
Other factors like whether the subscriber follows the publisher on social media are not nearly as indicative of whether they will become paid subscribers. 
The Seattle Times confirms this. 
The Seattle Times found visitors referred by newsletters are 25X more likely to convert into paid subscribers than visitors from Facebook. This isn't to say that social media or other marketing channels aren't worth pursuing. However, these findings show how effective capturing emails and nurturing them with content such as a well-written newsletter really is. (Editor and Publisher)
Moreover, numerous publisher sites have found that the most effective way to convert visitors into paid subscribers is through newsletters. 
According to newyorker.com, the #1 indicator of whether a newyorker.com visitor will convert to a paid subscriber is whether the visitor is a newsletter subscriber. (Nieman Lab, 2018) 
Similarly, the New York Times visitors are 2X more likely to become paid subscribers if they subscribe to a newsletter first. (The New York Times, 2017)
Open rates for newsletters 
It's clear that newsletters can make a huge difference for a business's bottom line. So how do you ensure your newsletter is as effective as it possibly can be? 
First, it's important to understand how to measure a successful newsletter strategy. One of the most important metrics to focus on is newsletter open rate. After all, the higher your open rate is, the more email subscribers will see your newsletter, and the better your results will be. 
So what's the typical open rate for a newsletter? 
The average open rate for email newsletters across all industries is 21.33% according to a massive study conducted by Mailchimp. (Backlinko, 2021)
However, it's important to take this stat with a grain of salt considering that every industry and country tends to have a different newsletter open rate. For instance, according to one study, Germany has the highest open rate of all other countries at 40.67% and Singapore has the lowest open rate at 11.86%. (Get a Newsletter, 2020) 
Although industry and location affect open rate, it's also important to consider newsletter open rate compared to other types of emails. According to a study Getresponse, newsletters get an open rate of 18.76%, while autoresponder emails get an open rate of 26.47%, and triggered emails get an open rate of 38.03%. Newsletters get a CTR of 2.14% while autoresponder emails get a CTR of 3.6% and triggered emails get an open rate of 6.76%. (GetResponse, 2020) 
While newsletters get a relatively lower open rate compared to other types of emails, this isn't to say that newsletters aren't necessarily as effective. After all, comparing newsletter emails to transactional emails (such as a delivery confirmation email) is like comparing apples to oranges- their purpose is completely different. Regardless, it's still good to know where newsletters may perform relative to other types of emails you send. 
So what can you do to improve your newsletter's open rate? As you can imagine, the open rate of your newsletter largely depends on the subject line of your emails. 
A case study that mockingbird marketing did proves that subject lines related to the contents of the newsletter outperform generic email subject lines that aren't very telling of what the newsletter is about. An A/B split test was done for 7 newsletters where the subject line "Mockingbird Marketing: From Around the Blog" was split tested with content-specific subject lines. The open rates for the content-specific newsletters were 16% higher on average than the generic newsletters and the CTRs were 21% higher on average than the generic newsletters. (Mockingbird, 2020) 
The takeaway here is that using the same generic subject line time and time again might make your newsletter lose its appeal over time. Spice things up and experiment with new subject lines but more importantly make sure that your subject lines are relevant to the content in the newsletter in the first place. 
To get more granular, certain words in email subject lines tend to either improve or harm email open rates. For instance, including the word "alert" in your newsletter's subject line increase open rates by 61.8% (Finances Online, 2021)
On the flip side, according to Backlinko, using words like "free", "help", "percent off", and "reminder" in your newsletter subject lines will decrease your open rate. Interestingly enough, statistics show that including the word "newsletter" in your newsletter subject line can result in a decrease in open rate by 19%. (Campaign Monitor, 2018) This might seem counterintuitive but according to Campaign Monitor, the reason might be that people think of traditional newsletters as boring rather than value-packed content.
Personalization and segmentation for newsletters
One of the most important aspects of your newsletter to focus on in order to improve its performance is the content's relevance to your target audience. A newsletter with quality information that your target audience is interested in will always perform well. 
How do you make sure your newsletter is relevant? Segment your email list and use personalized content. 
Take Eventful for instance: a website that allows people to find concert tickets and "favorite" artists (much like Facebook). By adding personalized event recommendations based on the favorite history of each user in their newsletter, the company saw a 400% re-engagement rate for inactive subscribers and improved CTR by 97%. (Marketing Sherpa, 2014) 
A company called Denamico did something similar. By updating its newsletter with CTAs and personalized content aligned with subscribers in four different lifecycle stages (leads, marketing qualified leads, sales qualified leads, and customers), and segmenting outreach based on each type of subscriber, Denamico saw a 43% increase in open rate and an 89% increase in CTR. (Denamico, 2016)
Mailigen was able to improve its open rate by 42% merely by using behavior segmentation and tweaking the subject line of the email. The company sent out a newsletter, then targeted those who didn't open the newsletter and sent the same exact email but with an improved subject line. The open rate jumped from 20.5% to 29.1%. (Neil Patel, 2021) 
Timing and frequency for newsletters
More newsletters doesn't necessarily equate to better results. Although sending newsletters more often will get your company in front of your company name out there more, it could hurt your emails' performance. 
According to a study done by GetResponse, sending out 1 newsletter per week resulted in a 30.9% open rate and a 3.63% click-through rate. With 3 newsletters per week, the open rate drops to 22.45% and the click-through rate drops to 2.24%. In this study, the higher the sending frequency, the worse the results got. (GetResponse, 2020)
Not only is the frequency of emails important, but the day and time you send out your newsletter matters as well. 
One study shows that the beginning and end of the business week – Monday and Friday – between 9 AM and 11 AM are the most popular days and times to send email newsletters. (Clutch, 2016)
Final words: What do these email newsletter statistics tell us? 
Perhaps the biggest takeaway from these email newsletter statistics is that newsletters are far from outdated. When used strategically, newsletters can be a powerful way to engage your emails subscribers. In order to get the best results, there are a few findings from these statistics that you should consider. 
Just like Mailgen and Mockingbird Marketing did, focus on email subject lines. Tweaking your email subject lines is the key to improving your open rate. 
Additionally, it's critical to provide relevant content for your audience. The best way to do so is by segmenting your email list based on shared characteristics among subscribers and then personalizing your messaging. 
Lastly, for the best results, it's important to constantly test out variables in your newsletter to improve performance. A/B split test your subject lines, test the newsletter copy, the CTAs, and any other variables that might lead to better results.