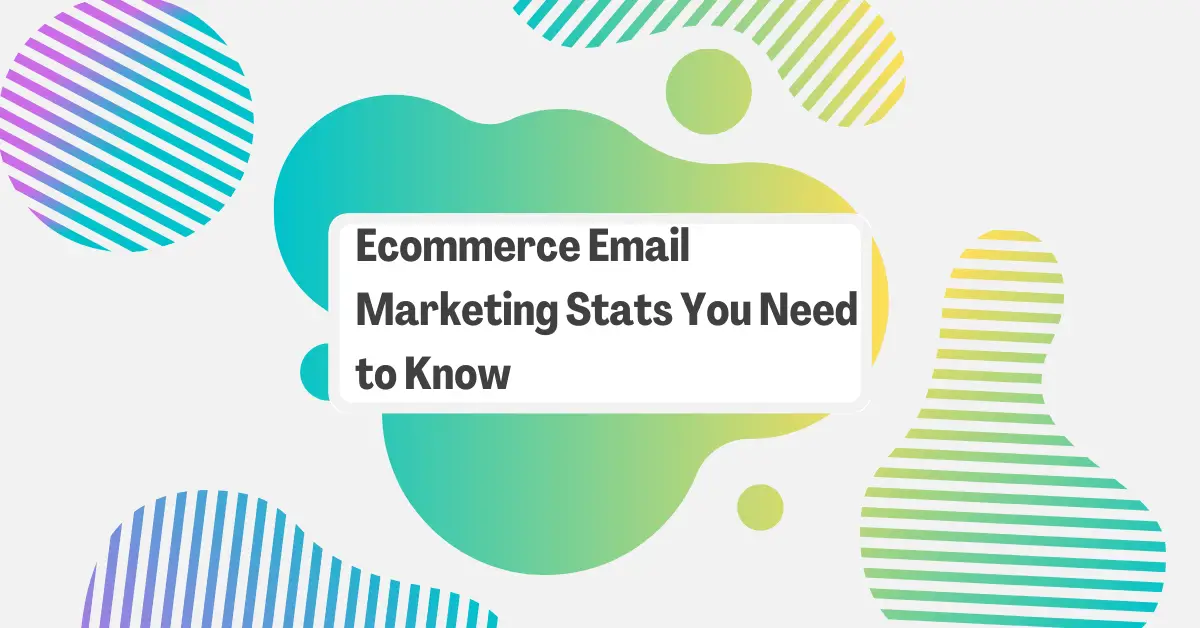 The eCommerce industry is a thriving one. According to Statista, eCommerce sales account for 14.1% of all retail sales worldwide. What's more, Statista predicts that the eCommerce industry will see continued growth, with eCommerce sales reaching 22% of all retail sales by 2023. 
And when it comes to driving sales, email marketing is one of the most effective approaches. 
That being said, if you want to make the most out of your eCommerce store and increase your revenue, email marketing should definitely be one of your top marketing strategies. 
In this post, we'll share some of the most interesting ecommerce email marketing statistics. Armed with these statistics, you'll know exactly where to focus your email marketing strategy and how to improve it to convert more subscribers into repeat customers. 
Effectiveness Of Email Marketing For eCommerce
To truly understand how effective email marketing is for eCommerce businesses, consider the following stat: The top 3 traffic sources driving sales for Ecommerce sites (last click) are Organic (22%), Email (20%) and CPC (19%). Display and social account for just 1% and 2%. Source: Custora.
According to the source, organic traffic (traffic from Google and other search engines) is most important for driving sales in your eCommerce store. However, email follows closely behind. Not only that but there are unique benefits to traffic from email marketing that you wouldn't get from organic search traffic. 
The key advantage of email marketing is that you can promote to the same loyal customer base time and time again while organic traffic might come to the site, buy or not buy, and then never visit the site again after the first time.
Furthermore, considering you make $42 for every dollar spent on email marketing (a 4200% ROI), you would be leaving money on the table not to invest in email marketing.
Related: 24+ Mind-Blowing Email Newsletter Statistics
Ecommerce email marketing benchmarks: open rate, click rate, unsubscribe rate, bounce rate 
To give you an idea of the average benchmarks for ecommerce email marketing consider a study done by Mailchimp. 
Mailchimp scanned billions of emails that were sent by Mailchimp users who activated campaign tracking for their email marketing campaigns and who had specified their industry (including ecommerce). The study was focused on finding the average unique open rates, click rates, soft bounces, and hard bounces. Mailchimp only tracked campaigns that were sent to at least 1000 subscribers. 
According to the study, the averages for the ecommerce industry specifically breakdown as follows: 
Open rate — 15.68%

Click rate — 2.01%

Unsubscribe rate — 0.27%

Bounce rate: hard bounce rate 0.19% and soft bounce rate 0.26%
Compared to most other industries such as business and finance and construction, ecommerce had a relatively lower open rate. As far as the click rate goes, eCommerce sits right around in the middle and is very close to the average open rate across all industries. 
Interestingly, eCommerce has a lower unsubscribe and bounce rate than the averages across all industries included in the study.
Another similar study was done by MailerLite. While there are no specific mentions of how many emails were included in the study, MailerLite examined the same data as Mailchimp: open, click, unsubscribe, and bounce rates across different industries. 
The following average metrics were recorded from the study for the ecommerce industry: 
Open rate — 21.77%

Click rate — 3.64%

Unsubscribe rate — 0.31%

Bounce rate: 0.42%
Interestingly enough, the numbers from the MailerLite study show higher numbers for open, click, unsubscribe, and bounce rate for the eCommerce industry compared to the Mailchimp study.
However, compared to other industries in the Mailerlite study, the open rate, click rate, unsubscribe rate, and bounce rate are all markedly lower.
Email marketing metrics for eCommerce industries
The studies done by Mailcimp and MailerLite provide interesting data if you want to see how the eCommerce industry metrics compares to other industries.
However, neither Mailchimp nor MailerLite are email marketing tools designed for specifically the ecommerce industry. As such, their studies only show data from a small segment of their users in the eCommerce niche. 
Klaviyo, on the other hand is an email marketing platform focused on serving the marketing needs of eCommerce stores exclusively. The company examined the four key metrics for more than 50,000 brands across several eCommerce industries. 
These key four metrics include open rate, click rate, conversion rate, and revenue per recipient. As you can see from the chart below, the average rates across all industries break down as follows: 
Open rate — 19.87%

Click rate — 1.97% 

Conversion rate — 0.18%

Revenue per recipient — $0.11
The same chart shows that the hardware and home improvement eCommerce stores have the highest open rate and third-highest click rate. However, their conversion rate is not as high as some of the other eCommerce industries. Interestingly enough, they have some of the highest RPR among eCommerce industries. 
However, the two largest e-retail sectors, Apparel and Accessories and Health and Beauty have some of the lowest open rates and low conversion rates when compared to the averages across all industries. 
The above metrics represent averages based on all email campaigns. However, Klaviyo study goes even more in-depth and examines these key metrics across various email flows. Let's take a closer look at how the average rates stack up in various flows. 
Welcome Email Flow
Welcome series are sent immediately after a visitor signs up for your email list. They typically see a high open rate since the user is very engaged with your brand. And the stats back it up too. 
According to the study, the average open rate is 43.61% across all industries, with the automotive industry having the highest open rate at 47.59%. Contrary to that, the mass merchant eCommerce niche (retailers that sell consumer products in bulk) has the lowest open rate at 35.04%.  
Similarly to that, the average click rate is 7.64%. Here, office supplies stores have the highest click rate at 9.12% and mass merchants have the lowest click rate at 4.82%. Interestingly enough, these two industries also have the highest and lowest conversion rate respectively. 
Browse Abandonment Flow
These types of emails are sent when a visitor browses your stores, views your products, and then leaves without adding items to their cart or making a purchase. 
The average open rate for browse abandonment emails is pretty high at 42.26% and here sporting goods and electronics stores reign supreme with the highest open rate out of all industries. Contrary to that, mass merchants, office supplies stores, and apparel and accessories stores have the lowest open rates. 
Click rates are the highest for sporting goods stores and automotive stores, while mass merchants have some of the lowest click and conversion rates. The highest conversion rate surprisingly goes to the office supplies stores and food and beverages stores which typically sit somewhere in the middle. 
Cart Abandonment Flow
This type of flow is sent when a visitor adds an item to their cart but doesn't go through with the purchase. The average open rate here is 39.31% and the sporting goods stores win again with the highest open rate out of the bunch. Unsurprisingly, mass merchants have the lowest open rate here. 
Sporting goods stores also have the highest click rate while food and beverages stores win in the conversion rate department. Mass merchants have the lowest click rate as well as the lowest conversion rate.
Thank You Email Flows
This flow is triggered shortly after someone has made a purchase on your website. The average open rate for these emails is pretty high at 55.41% and the automotive industry is the clear winner here with the highest open rates in the industry. Mass merchants and office supplies stores have the lowest open rate here. 
As far as the click rate goes, automotive and electronics have the highest click rate while office supplies, sporting goods, and apparel and accessories stores have the highest conversion rate. 
Health and beauty industry has the lowest click rates and, predictably, mass merchants have the lowest conversion rate. 
eCommerce Automated Email Metrics
For an even deeper dive into the automated email metrics in the eCommerce industry, Omnisend has a telling study. Omnisend is another email marketing platform designed for ecommerce businesses.
What sets this study apart from others is the fact that it focuses more on the trends related to consumer purchasing habits and different channels. 
It includes data about promotional campaigns and automated email marketing campaigns and SMS and web push messaging campaigns within the scope of holiday purchasing. The data was pulled from more than 10 billion email messages and more than 31 million SMS and web push messages sent from the Omnisend platform in 2019 and 2020. 
First, the overall email marketing stats for promotional campaigns are as follows: 
Conversion rates for promotional emails averaged out at 6.49%
The average click rate for promotional emails is 13.2%
Open rates for promotional emails are 10.14% 
When it comes to automated emails, the stats are slightly higher:
Conversion rates for automated messages averaged at an incredible 29.8%
The average click rate for automated messages is 19.9%
The average open rate for automated messages is 32.6%
It's also interesting to note that when it comes to automated email messages, the three highest converting automated campaigns are welcome (51.9%), cart abandonment (33.9%), and lapsed-purchaser messages (21.3%). 
As far as click rates go, birthday, cart abandonment, and welcome messages have the best performance with 23.96%, 20.88%, and 20.53% respectively. 
Compare that with the highest open rates for cart abandonment at 37.8%, while post-purchase and browse abandonment both have an average 34% open rate. 
Lastly, when it comes to email marketing the two other interesting stats to keep track of include order and shipping confirmation emails Their combined stats break down as follows: 
55.9% open rate

27.3% click rate

9.5% conversion rate.
Abandoned cart email statistics: a deeper dive
Now that we've covered general email marketing statistics for the eCommerce industry, let's take a deeper dive into abandonment cart email statistics. 
In a perfect world, consumers would fill their shopping cart and checkout without a moment of hesitation or second thought, every time they make a purchase. However, the reality of cart abandonment is completely different. After analyzing 41 different studies, Baymard Institute came to the conclusion that the average abandoned cart rate of those studies is an astounding 69.8%. Nearly 3/4ths of people don't follow through on their purchase!
Shopping cart abandonment currently causes eCommerce brands to lose a staggering $18 Billion in yearly sales revenue, according to Forrester research. (Dynamic Yield, 2020) It's evident that cart abandonment is one of the major problems that eCommerce store owners across the globe face. 
While you can't eliminate cart abandonment completely, cart abandonment email sequence go a long way in gaining more sales.
According to statistics, abandoned cart emails can recover 15% of what would have otherwise been lost revenue. In some cases, implementing an abandoned cart email has increased online business revenue by 50% and recovered hundreds of thousands in sales. (Big Commerce, 2020) 
Abandoned cart emails are important. But what are the typical open rates, and click rates for abandoned cart emails, and how much revenue can be attributed to these emails? 
Fortunately, email marketing company Moosend provided valuable research to address these questions. 
Moosend analyzed thousands of abandoned cart emails from its customers. They found the following:
More than 40% of cart abandonment emails are opened:
"Out of all cart-retention intended emails that our users sent, a staggering 45% of them were opened, almost half of them, that is." 
As far as email marketing goes, a 40% open rate is certainly higher than average. However, this high open rate is understandable since abandoned cart emails are personalized messages about products that subscribers are interested in. 
21% of these emails are clicked on:
Out of the opened emails, 21% of them received click-throughs.
Now, sending a reminder message about abandoned items is a great strategy in and of itself. But you can take that a step further and really work on polishing up the design of your abandoned cart email campaigns. For example, you can use A/B testing to optimize your emails and find out which design options lead to better conversion rates. 
50% of the users who clicked purchased:
Half of the recipients who engaged with the content of the email completed their purchase. 
The above stats go to show you how effective abandoned cart emails can be for driving sales.  
Let's say that you owned a small ecommerce business. You don't do a super crazy high order volume every month but the average order value is a solid $50. Recently you set up automated abandoned cart emails. 
Let's say that 200 prospective customers abandoned their carts every month. Based on Moosend's statistics, it's likely that about 80 of those people will open your abandoned cart emails. 
Of those 80 people, about 17 will click through back to your store. Of those 17 people, about 9 will complete their purchase. This makes for a whopping $450 (9*$50) in revenue every month derived solely from abandoned cart emails. 
Over the course of a year, this can make a significant difference in the bottom line for small ecommerce stores. Imagine what abandoned cart emails can do on a larger scale!
Related: 40+ B2B Email Marketing Statistics That Might Surprise You
Final Thoughts
Email marketing, when done right, is very effective for generating more revenue for eCommerce stores.
Based on these ecommerce email marketing statistics, you can judge the effectiveness of your campaigns and have a benchmark to refer back to when you're planning out your next email marketing campaign. Use them as a guideline so you have an idea of how your email marketing efforts stack up to your niche and determine where you need to improve.