Nothing has had quite the impact on modern marketing that social media has. People who once would have had to blog to make a name for themselves can now quickly gain a following by focusing on social media such as Instagram.
The same can be said for businesses. Where once the focus was completely on SEO and blogging, now many businesses are finding that they can have an enormous reach to their audience simply by using the power of social media.
However, one of the biggest limitations of social media like Instagram is that you can only put one link in the bio section of the tool. In light of this, bio link tools became widely used.
Essentially, what these tools do is to create a landing page that you can link to from your social media profiles. This landing page is then customized and filled with links to wherever you want — your blog and your online shop, for example.
In this post, we will discuss Beacons vs Linktree in terms of key features and user experience. Let's dive in…
About Beacons (beacons.ai) and Linktree
Beacons (beacons.ai) hasn't been around nearly as long as Linktree. Nevertheless, it quickly grew to be one of the most widely used bio link tools in just a few years. While other bio link tools such as Linktree are designed for practically everyone, Beacons markets itself as a tool specifically for influencers.
Linktree was established in 2016 and was one of the very first bio link tools. Linktree is also by far the most popular bio link tools. With millions of users, Linktree is practically a household name for influencers. However, it's not only used by influencers. This platform is used by some of the most well known brands as well as casual social media users as well.
How Does Beacons Work? A Brief Walkthrough of the Dashboard…
When you first sign up for Beacons, the platform asks for various information from you so that it can start building out your bio link page automatically. For instance, it asks for your social media profile links so that links to your social media profiles can be prebuilt into your bio link page.
Once you go through the initial setup process you are presented with the main dashboard:
The "My page" area is where you can edit the blocks of your page. From here you can edit your link page by clicking the drop-down arrows to edit the following blocks:
Header: Edit the top area of the page and add your profile picture as well as any text you want.
About me: This is the initial message of the page. In the picture above this is the section with the text "Welcome to my page!"
Followers count: This block indicates how many followers on each of your social media profiles that you have set up with your account. Typically people add their Instagram profile, TikTok profile, and/or Twitter profile to their Beacons account.
Links: This block allows you to add as many links as you would like blogs, ecommerce stores, or any other website.
Support: This block allows you to collect donations from your followers.
Email and SMS: The Email and SMS block allows you to capture email addresses from your followers and add them to your mailing list so that you can keep them up to date with a newsletter. Alternatively, you can collect phone numbers for SMS marketing.
Of course, you can add, remove and reorder these blocks as you go.
Unlike Linktree, you can actually add a second page from this dashboard as well.
Once you move onto the design tab, you are presented with the following dashboard:
From here you can choose your theme of choice for your page. You can choose between the following types of themes:
Animal themes

Anime themes

Business themes

Fashion themes

Food themes

Gaming themes

Music themes

Nature themes

Sports themes

Student themes

Tech themes
Additionally, by clicking the "customize" tab, you can further edit the design of your page. You can change the font, the style of the blocks (round vs circular etc.), background images, and more.
Conveniently you can see what your page looks like as you make edits to it in real time.
Once you move onto the audience tab, you are presented with this dashboard:
Here you get powerful analytics on not only how many people have landed on your page, but how many clicks each of your links have received. Additionally, you can get detailed analytics on how many subscribers you have captured, and additional data on how users have interacted with your page.
The last tab on the far right is the earnings tab:
This is your one-stop shop for monetizing your page. From here you can connect your PayPal account or Stripe account so that you can collect donations from your followers. Here you can also get detailed analytics on earnings generated from your page.
Furthermore, with Beacons you can set up your page to sell merch or paid subscriptions.
How Does Linktree Work? A Brief Walkthrough of the Dashboard
If you want to explore Linktree and see what it has to offer, the first thing you need to do is sign up for an account. Simply add your username, enter your email, set your password, and you're set. You'll then be in your Linktree dashboard where you can start adding your links.
You can add as many links as you see fit and Linktree is very flexible when it comes to types of links you can add to your page. Besides links to other social media profiles or websites you can also add the following links:
Music links (Music from Spotify or other music platforms that can be played from your page)

Video links (Embedded YouTube videos or videos from other platforms)

Store links (Gives you the ability to display products from your e-commerce store)

Form links (Links to forms to collect email addresses)

Support me links (For collecting donations)

Request links (For receiving requests and payments from visitors)
In addition to that, if you opt to upgrade to Linktree's pro plan, you can also add the following links:
Leap links that allow you to forward all visitors directly to a destination and skip your Linktree page altogether.
Priority links that you can use to highlight your most important links.
Schedule links that allow you to schedule when your links go live.
Gated links that have to be unlocked by providing a code, entering a date of birth or by acknowledging that the information that the link takes you to is sensitive.
In addition to that, you can also add thumbnails and icons to your links as well as view in-depth analytics for each link that you've added.
You can preview how your page will look on mobile devices at any time as the mobile view is placed on the right side of your dashboard. It updates as you're making edits to your Linktree page so you can always see an up-to-date version.
Once you're happy with how your links show up on the page, you can use the Appearance tab to customize how your page looks. These options allow you to add your profile pic, your profile title, and add a bio.
From here you can choose the theme you'd like for your page. There are about a dozen themes to choose from on the free version while the paid version gives you a lot more options for themes and background as well as button designs and fonts.
When you're happy with the appearance of your page, you can move onto the Settings tab. Here, you can configure options such as eCommerce or e-mail list integrations, and more.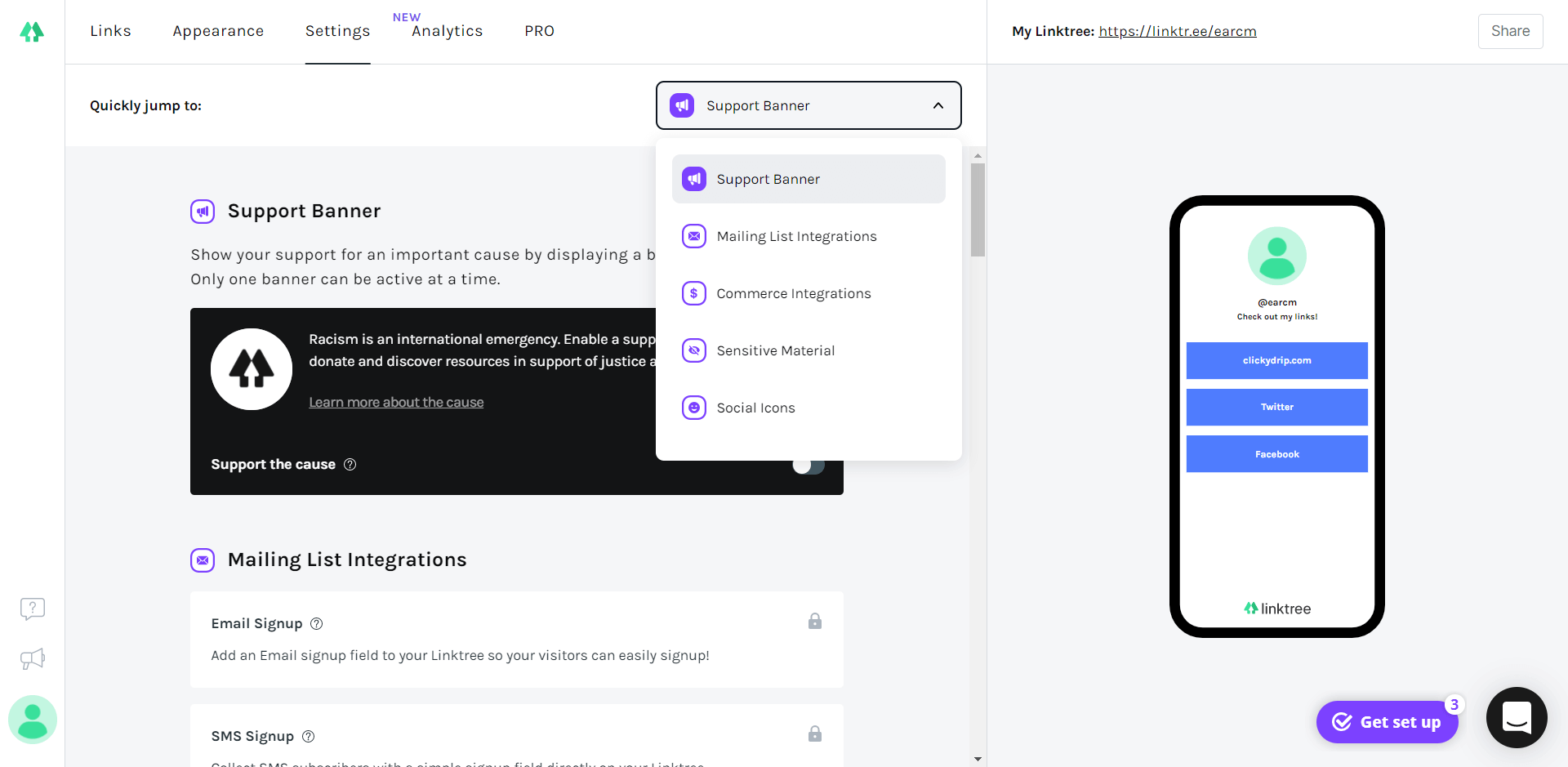 Once you're happy with everything, the only thing left to do is grab the URL of your Linktree page from the upper right corner of the dashboard.
Although it might not be relevant to you at first, once you have promoted your Linktree link on social media for a little while, you can view the performance of your marketing efforts in the analytics tab. Here you can find information such as the number of people who have landing on your Linktree page, number of clicks, and from what sources people have come from (TikTok, Instagram, or other social media).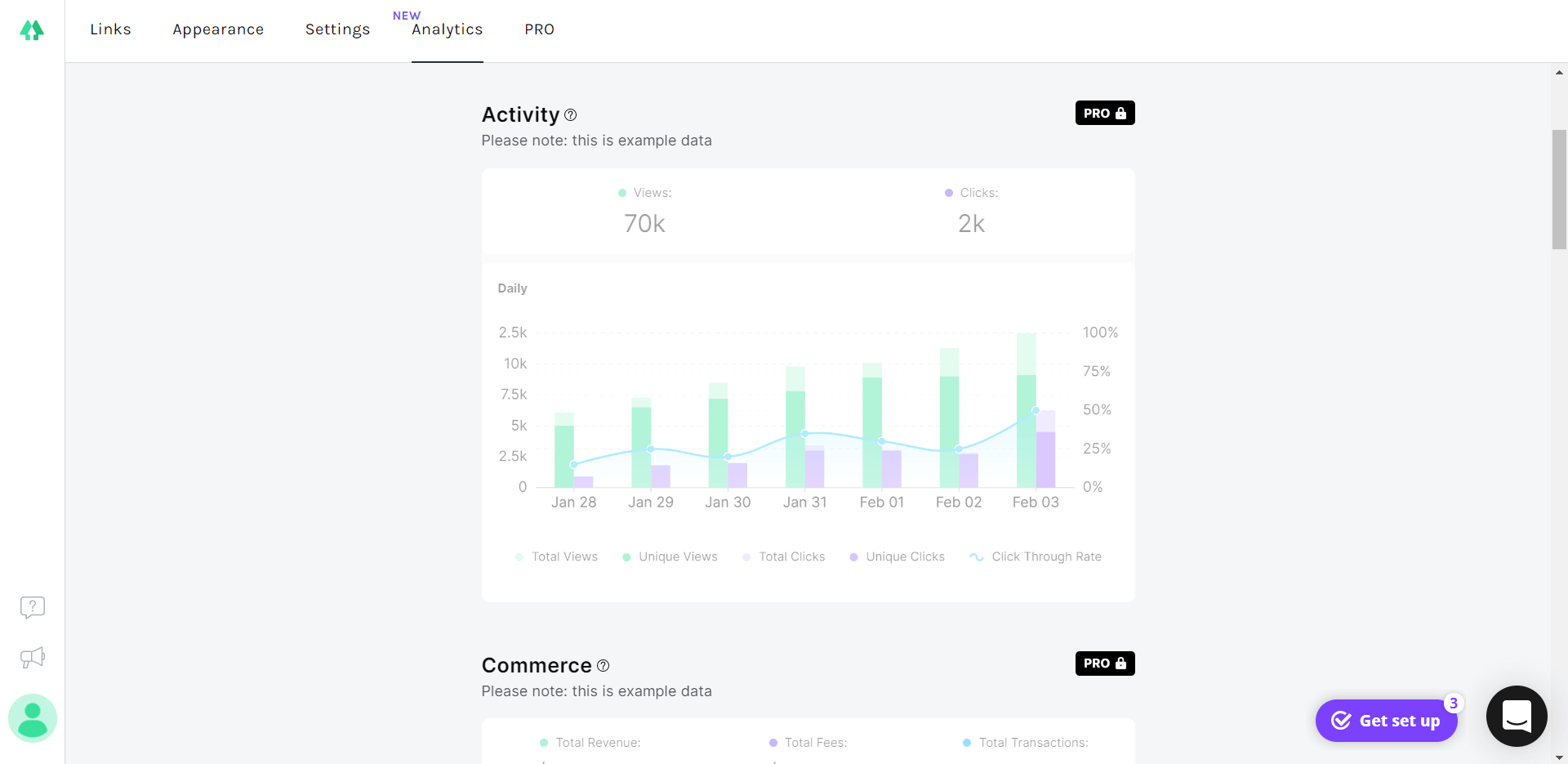 Aesthetics and Appearance
The way that your landing page looks is typically the most important thing that people care about.
Beacons has numerous themes. However, they can be a hit or a miss. Some themes look stylish and modern while others look a little bit tacky. Nevertheless, the abundance of options makes up for the few themes that might not look so appealing.
One cool aspect of Beacons themes is that you can generate cusom themes simply by filtering by a certain keyword. For instance, as you can see in the image below, a few themes came up with pasta dishes as the background after a search of the word "noodle".
Linktree also has a wide selection of themes to choose from and many of the themes are comparable to Beacons' in terms of style. However, the appearance of Linktree's pages might be slightly more customizable. It appears as though Linktree has a larger font selection and more customizability in terms of how clickable buttons look.
All in all, both Linktree and Beacons have a great selection of themes and the appearance of the pages is much more customizable relative to other bio link tools.
Pricing Comparison
Relative to Linktree, Beacons pricing is relatively straightforward. Beacons has two pricing plans: Free and Entrepreneur. The free plan is very generous in terms of the features it includes. Most users would be just fine with the free plan, however, for those that really want to step up their game, the paid plan might be the way to go.
The Entrepreneur plan comes with extra features such as multiple user access to your account, ability to add a custom domain to your page, removed Beacons branding, and 0 commissions on sales (compared to a 9% commission cut with the free plan).
Linktree offers four plans:
A free version 

Starter: $5/month 

Pro: $9/month

Premium: $24/month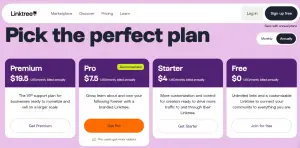 The paid plans give you additional features such as access to different link types, custom background, integrations with other marketing platforms, advanced analytics, the ability to add other admins, and more. 
All in all, Taplink's plans are slightly more affordable than Linktree's comparable plans. 
Beacons vs Linktree: Which is Best for me?
Determining if Beacons vs Linktree is best for you depends on your objectives with your bio link page.
If you are an influencer who is focused on monetizing your social media accounts, Beacons is probably the way to go. The platform is designed for influencers and has powerful functionality for selling products, taking donations, setting up membership communities and more.
Additionally, the platform has themes that are certainly more appealing to some users than Linktree's themes.
Linktree on the other hand is a great solution for influencers as well as brands and anyone else. It's certainly the most well established link in bio tool, and for some, featuring the most recognizable bio link tool on their social media is important.
However, all in all, both tools are very comparable in terms of their features, price and ease of use. If you are stuck deciding between the two platforms, try both out for free to determine which one feels best to you.
Related: Linkpop vs Linktree