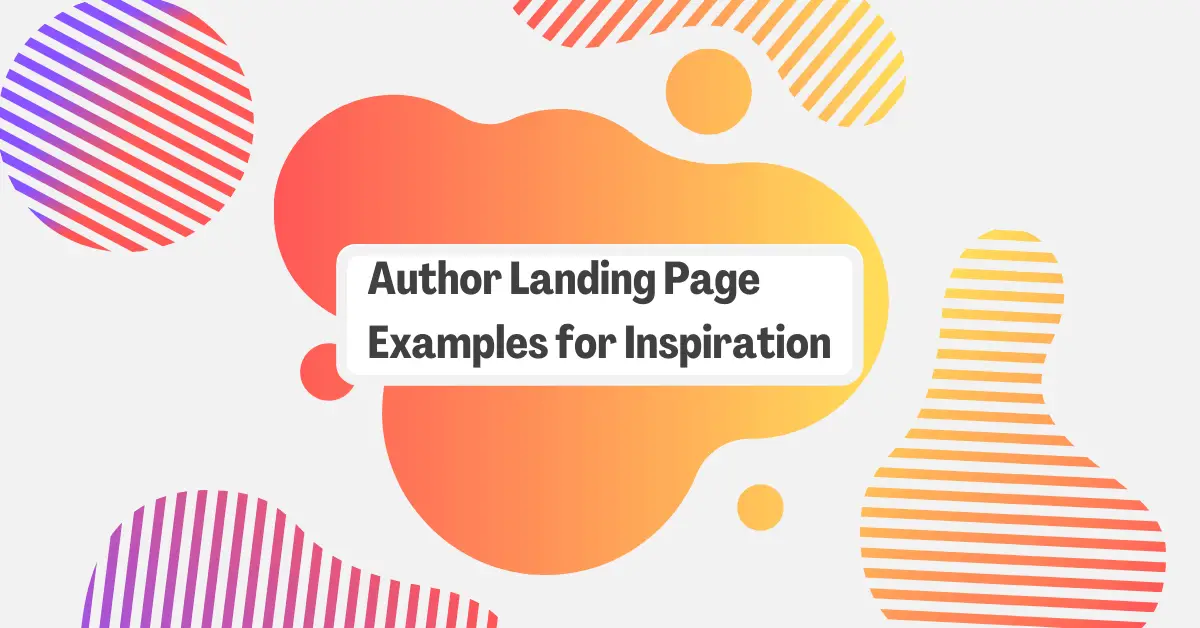 Writing sensational books is obviously the most important goal of an author. However, marketing your work, as well as yourself as the author is also extremely important. 
After all, it's difficult to grow your readership if you don't get your name out there. 
With that in mind, it's important to create an engaging author landing page for your work. A well-designed landing page that shares your background and your inspiration for your writing can give you the publicity you need to grow your work's popularity and connect with your readers as well. 
"So how do other authors design their landing pages?" you might ask. 
We have you covered.
Here you can find 23 author landing page examples that should give you some ideas for building your own.  
This stunning landing page from James Maxwell immediately gives visitors an insight into the kind of genre the author focuses on. The picture of James in the background with a fantasy filter grabs your attention and highlight's the writer's style. Use of language like "Chapter 1" to introduce the "About" section of the page demonstrates clever creativity. The content throughout the page is wonderfully immersive, with plenty of insights into James' accomplishments. 
Simple but effective, this landing page from R.L Stein focuses heavily on the history of the writer. The interactive timeline on the page explores the writer's journey in writing, starting with his passion for writing in school, and covering important milestones like the introduction of Goosebumps. It's a great way to learn about Stine's life. 
Beautifully made and professional, the Kate Morton landing page focuses on large, eye-catching pictures to capture the attention of the visitor, and encourage them to keep reading. As you scroll through the page, you get plenty of information about the author's life, as well as opportunities to "find out more" by clicking on various buttons throughout the page.
Related: 15 Local Landing Pages for Inspiration 
Jo Nesbo opts for clean and classical minimalism in his landing page. A large background image showing the author himself creates an instant human connection. You also get useful insights into the past of the writer as you scroll through the page. Jo packs his landing page full of helpful videos where he talks about his writing, and there are even reviews from notable people too. 
Like many authors, Ruth focuses her landing page on making an emotional connection with the audience. A large, professional image of the smiling author gives you a sense of what she's like, while the "About section" offers an insight into the kind of content she produces. There's even a fun FAQ section where Ruth answers common questions fans might ask about her writing.
Eye-catching components draw the eye and engage the visitor multiple times throughout this page. There's a "fun facts" section with information about R. J's life, animated drawings, and a comprehensive FAQ section. Throughout the page, the bright colors and hand-drawn elements are wonderfully engaging. Videos of the author also offer an immersive insight into her writing style.
Inspirational is the first word that comes to mind visiting the Brene Brown landing page. The heading at the top of the page tugs at readers heart strings, while a unique background image of the author as a child helps us to connect with her on an emotional level. As you scroll through the page, you'll find plenty of segments designed to help you connect with the author, like a photo album of her life.
Marie Forleo's creative landing page starts with a fun introductory paragraph at the top of the page, where an animation scrawl "Hey!" in a handwritten style. Scrolling through the page reveals a series of additional animations, used to break up blocks of text about Marie's life and writing history. For social proof, Marie also includes pictures of herself with Opera, and Richard Branson.
Davis chooses an inspirational and fantastical theme for his landing page. The background of a dragon flying over a rocky landscape instantly informs you of the kind of writer Davis is. The fun introduction where Ashura uses a lot of hyperbole to describe his writing followed by "Just Kidding", brilliantly sets the author apart from the competition. The copy throughout this page is captivating enough to make anyone want to learn more. 
The imagery and font choices on Jacqui Shephard's page let visitors know she's a children's author long before you notice the headline introducing that fact. Jacqui uses a combination of hand-drawn colorful images and professional photos of herself to capture the attention of the reader and keep them focused on the page. The insight into Jacqui's past is a wonderful way to learn about her sources of inspiration, and the kind of writing she does. 
The sophisticated colors, serif fonts and professional layout of Rick Riordan's page immediately introduce readers to a writer with heritage and academic acumen. Before you even start reading the "About" section, you get a sense you're looking at the portfolio of a teacher or an award-winning journalist. Rick's reel of Instagram photos gives followers another way to find him, and there's a link to his Twitter too. Both are a great way to keep readers connected to the author. 
A slogan under the Mark Manson logo on this landing page instantly captures attention. "Life advice that doesn't suck" tells us we're going to be learning about a straight-talking, even humorous author. A picture of Mark sits at the top of the page, followed by an "About" section which immediately focuses on accolades like selling over 14 million copies worldwide, and winning the #1 New York Times Best Seller position twice. 
Laid back, creative, and fun-loving, Paisley's landing page tells the visitor all about her with authentic non-candid photos and short, engaging paragraphs of text. The use of emojis is as nice touch here, designed to help Paisley connect with her younger audience. There's also a series of Instagram photos at the bottom of the page to take readers straight to her social profile. Though simple, this landing page does a great job of telling you what Paisley is all about. 
Greg instantly captures his audience's attention with a video at the top of his landing page, showing him speaking to an engaged audience. This video tells us everything we need to know about Greg as not just an author, but a business thought leader and professional speaker. Scrolling down the page introduces you to some of Greg's key accomplishments, like becoming a best seller for multiple publications and being voted as the number one leadership and success author. 
Dan Brown's author landing page focuses heavily on the theme of his books, with mysterious background imagers paired with eye-catching golden font and animations. There's a picture of the author to show his human side, and a series of buttons for social media pages where you can learn more about Dan. Scrolling through the page gives you access to photos of Dan's works, as well as press kits and an offer to learn directly from Dan Brown with a CTA for his writing course. 
Melissa McPhail's landing page seems to be built around a desire to connect with her audience. There's a photo of Melissa at the top of the page, followed by an eye-catching contrasting button allowing visitors to "Contact Melissa". Underneath this, we see a host of buttons for social media pages and the option to sign up for newsletter updates before we get to the story of Melissa's life and her writing. The above-the-fold contact options are excellent for getting readers engaged.
Using an attractive minimalist approach, Austin Kleon uses his landing page as a no-fuss introduction to his life and career. There's an appealing photo at the top of the page to grab audience attention, and the copy beneath it is filled with evidence of Austin's accomplishments. The section talks about his status as a New Your Times bestselling author and which publications have featured him before. We like the simple approach, and the included video interview with Austin where you can discover more about him. 
Incredible hand-drawn illustrations throughout Henry Neff's page make it impossible to look away from the screen. The design of the page has a mysterious and historical air to it, offering an insight into Henry's writing genre. Streams of Henry's latest posts on Facebook and Twitter, combined with buttons to his social media pages are great for showing us how active the author still is with his fans today. 
Vera Cook's landing page tells us everything we need to know about her in a couple of sentences. She's an award-winning author exploring several different genres. Scrolling through the page teaches you more about Vera's history and her sources of inspiration. Authentic photos taken throughout Vera's life in theatre also gives readers an insight into what she did before you started her career as an author. 
The first thing you notice when visiting Daniel Gibbs' landing page is the humor. A statement that Gibbs is a "recovering computer engineer" immediately gets readers smiling as they begin learning about his history. Animated transitions as you scroll through the page immediately grab attention with eye-catching professional photos, quotes from Daniel, and more. There's even a blog section where you can check out updates from Gibbs himself. 
Swedish-German economist, Dr. Carl Benedikt Frey, introduces you to his career with a picture of him speaking at a large event. This immediately tells the reader that Carl is a source of inspiration through more than just his books. The simple but attractive landing page is straightforward, so as not to overwhelm the visitor, with a few paragraphs of accomplishments, followed by a request to contact Carl if you want to book him for an engagement. 
Jed Emerson's landing page swaps candid headshot-style photos with insights into his life inspiring and motivating others. The copy immediately introduces you to some of the incredible things Jed has done throughout his career. There's also a section for awards and recognition and part of the page telling us what Emerson is doing right now – like advising family offices around the world. Contact information is included in large, contrasting font to encourage people to get in touch. 
Finally, Gretchen Rubin's smiling face introduces readers to her landing page, where they can learn all about her history in writing and the books she's written so far. There's plenty of information covered here, including live videos and events Gretchen is taking part in, and social proof in the form of awards from leading publications like Business Insider. At the bottom of the page, Gretchen includes a list of her most recent blog posts to keep viewers engaged.
Ready to Make Your Landing Page?
As an author, a landing page can be an excellent way to introduce readers to your background and portfolio of accomplishments. The right page will attract more attention from your followers and could pave the way for speaking engagements and events. Hopefully, these author landing page examples offer some excellent inspiration to help you create your own landing page.