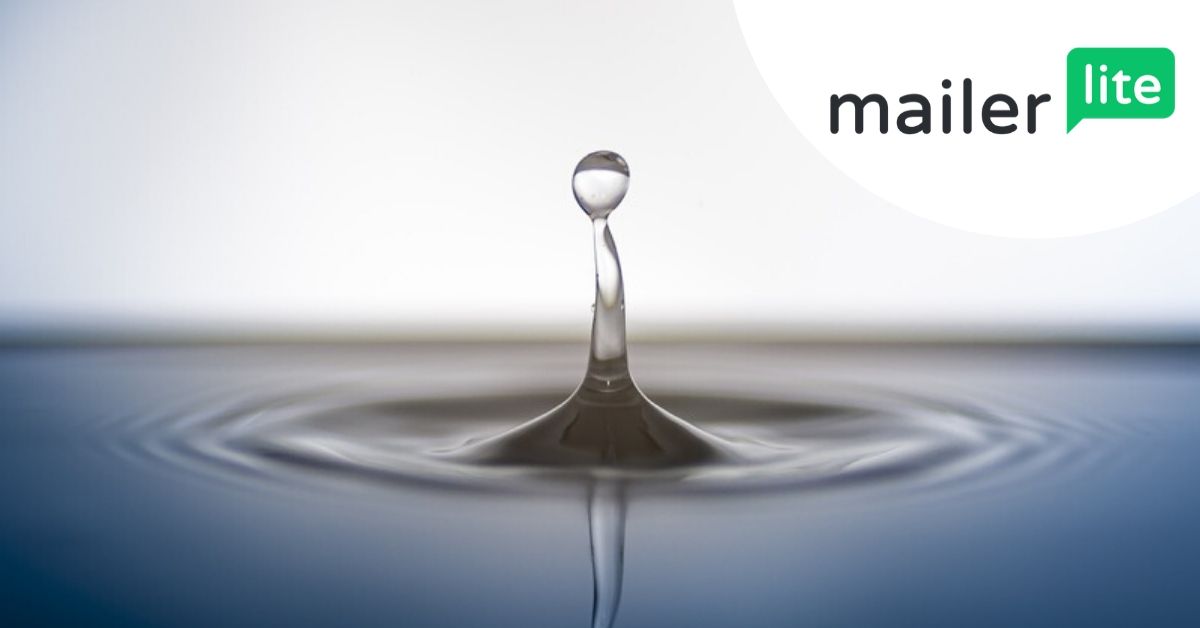 Everyone knows that just one email isn't enough to build a relationship with your subscriber list. However, manually sending out a series of emails can be incredibly time-consuming.
That's where drip campaigns come into play. Strategic drip campaigns can be extremely effective for nurturing your email subscribers and ultimately generating more business for your company.
MalerLite happens to be an excellent platform for drip campaigns. With Mailerlite's visual workflows it's easy to set up even complex drip campaigns.
This post discusses how to set up drip campaigns with MailerLite step by step and why MailerLite is so effective for drip campaigns in the first place.
Steps for setting up a drip campaign with MailerLite
I will demonstrate how to create a drip campaign as if I owned a camping themed ecommerce website.
Go to the automation tab, and click the "create workflow" orange button.

From here, you will arrive at the visual workflow editor. Name your workflow in the "Workflow name" box and under "Workflow trigger" select the trigger that makes sense for your situation. The following triggers are available:
When subscriber joins a group

When subscriber completes a form

When subscriber clicks a link

Updated field

The anniversary of a date

The exact match of a date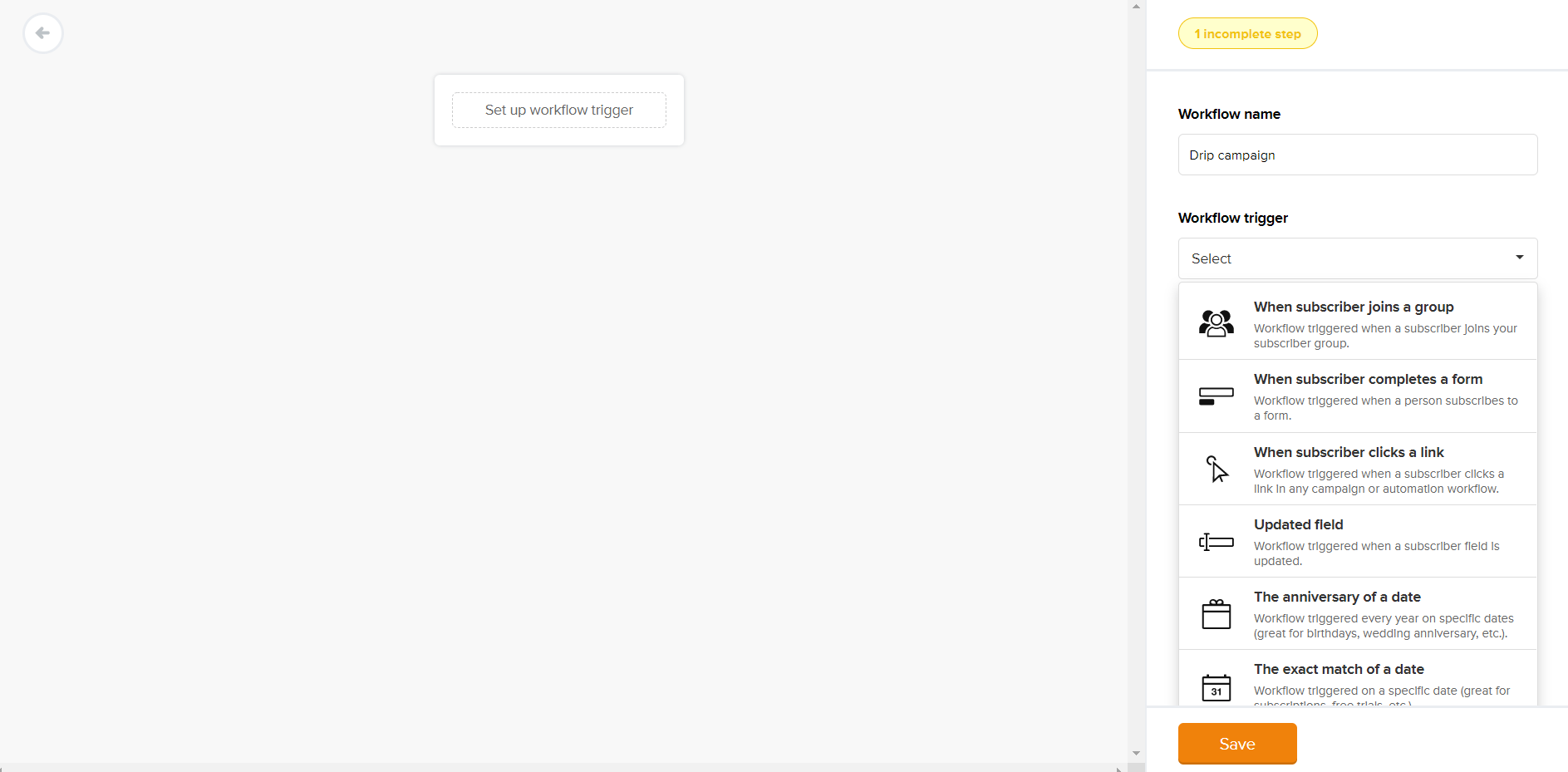 After you select a trigger you will be prompted to specify your trigger. For instance, if you select "When subscriber joins a group" you will be asked to select the specific group you had in mind. Click the orange "Save" button and you will be taken to the next step.
Let's say that my fictitious camping ecommerce website has an email opt-in form that promotes a free Ebook on "5 ways to start a fire if you get lost in the woods". I would like to have a series of emails sent out to my subscribers that have subscribed through that form on my website.
In your visual workflow, click the plus emblem for the next step of the workflow. You can select one of the following:
Email

Delay

Condition

Action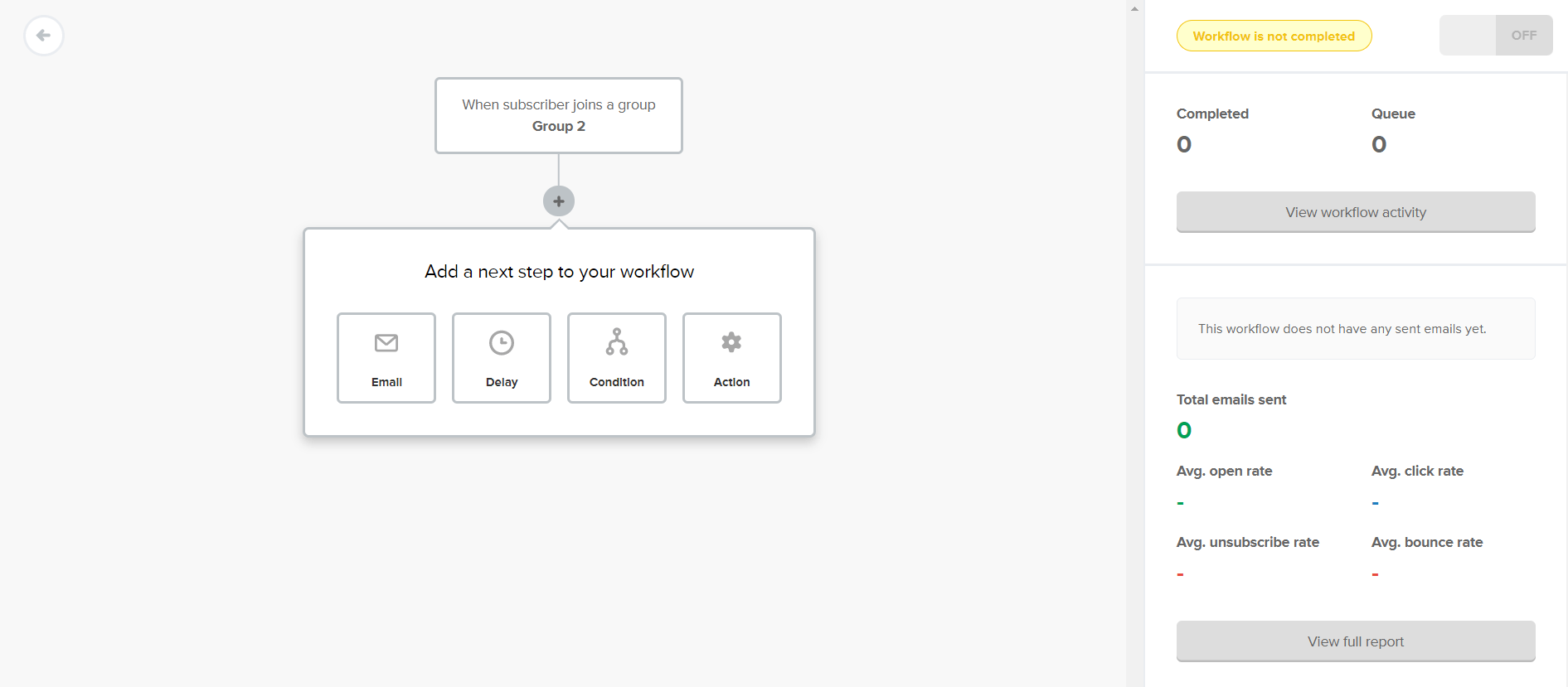 Delays, conditions, and actions may be used depending on how complicated you want your drip campaign to be. However, in any drip campaign, subsequent emails are obviously very important. That being said, for this example we will create another email. To create another email in your email series, click "email".
From here, fill out the following boxes on the right:
Subject (the subject line of the email)

Sender name (your name or your company name)

Sender email (your email or company email)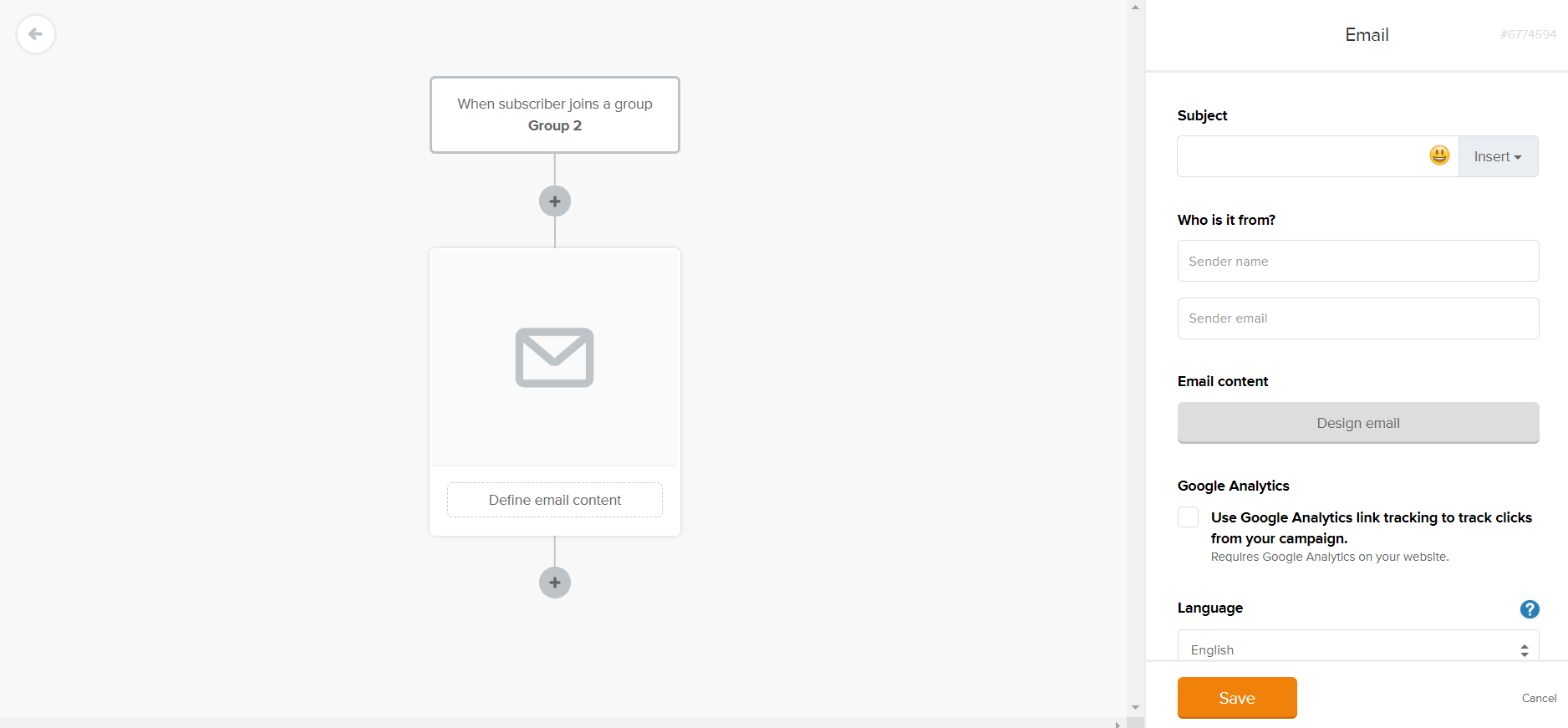 Next, click "Design email". From here you will be taken to a page where you can create an email design with the drag and drop editor, the rich-text editor, the legacy rich-text editor or the custom HTML editor. The most common choice is the drag-and-drop editor because with this tool you can easily create professional-looking emails with a few clicks of the mouse.
You may also select email templates to edit. These premade templates just need to be modified based on your marketing goals. You can edit them in the drag-and-drop interface also.
Lastly, you can always select and email design that you have created and saved earlier.
From here you can choose to add another email, delay, condition or action to the series.
For my fictitious company,  I decided to create the following drip sequence:
1st Email (I give my subscriber their copy of my Ebook)

Delay (2 days)

2nd Email (I say "thanks for downloading my Ebook the other day. I hope you enjoyed it. Here is a list of some similar blog posts on building fires in the wilderness". At the end of this sentence, I insert links to a few blog posts about building fires in the wilderness.)

Delay (2 days)

3rd Email (I link out a first starter kit sales page on my ecommerce website and I say "check out this cool fire starter. I think you might like it!")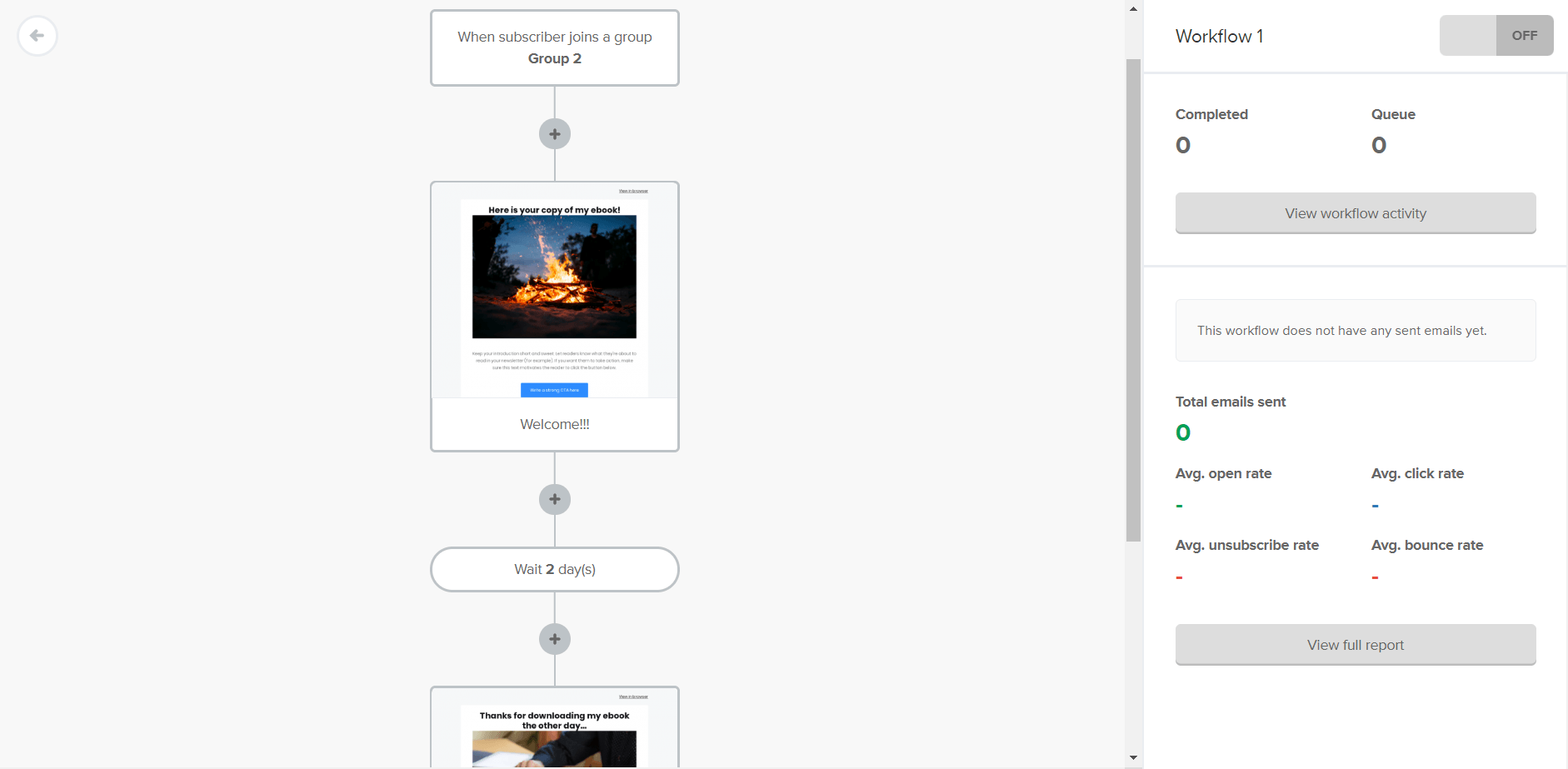 A brief video demo…
Why MailerLite is excellent for drip campaigns
The biggest reason why MailerLite is excellent for drip campaigns is that the platform is incredibly intuitive. MailerLite is built to be easy to use even if you don't have any technical expertise. That being said, although setting up automation can be a headache with many other email marketing tools, it's a breeze with MailerLite.
However, despite MailerLite's ease of use, it is by no means simplistic. MailerLite's automation features give you the ability to create complex workflows for more advanced drip campaigns.
Best practices for drip campaigns

Personalize your marketing
Before you even start to create your drip campaign, you should have a rock-solid understanding of the audience you are marketing to.
What messages speak to your audience? What could you provide that would benefit them? How can you take a marketing approach that will make for a sustainable relationship?
These are the questions you should have answers to. If you don't have a clear idea of the answers to these questions then you might need to do a bit more research on your audience. This way when you start creating your drip campaign you will know for sure what messages will resonate with your subscriber list.
Create something of value
It is important to take the time to create and send your audience content that they can really benefit from. If you send your subscribers weak content that doesn't really benefit them or isn't worth looking at, your subscriber list will lose interest in what you have to say.
Discounts on company products, informative newsletters, and helpful information on the topic your audience is interested in goes a long way in building trust.
Continuously test
There are always changes you can make to improving your email marketing. You can use A/B testing to measure pretty much any variable and the slightest tweaks can make a big difference.
For instance, you can test subject lines numerous times over with different variations to see which one produces the best open rate.
If there is a CTA in your email, playing around with the color scheme, text, font, and the language can always make a difference.
Yes, drip campaigns are designed to be passive. However, there is always something new you can try the next time around.